Men's Basketball Hosts Loyola in Patriot League Quarterfinal Today
Players, coach confident after "wild ride" of a season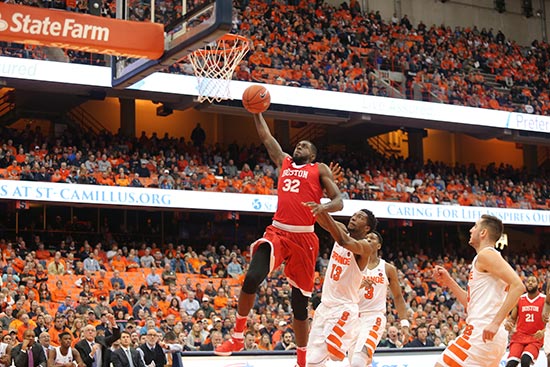 When the Terrier men's basketball team hosts Loyola in a Patriot League quarterfinal matchup tonight, forward Justin Alston will be playing to extend what is easily the strongest season of his BU career.
"I'm having the best season that I've had here, and I think that's just because I'm so comfortable right now," says Alston (CGS'14, SHA'16, MET'17). "The coaching staff really has my back, and my teammates have my back. It really pushes me every day to become a better player."
At 6-foot-8, he has indeed loomed large this season, playing in each of the Terriers' 30 games, leading the club in rebounds, and averaging 11.8 points per game.
He and two teammates received league honors this week: Alston was named to the All-Patriot League Second Team, Eric Fanning (CAS'16, MET'18) was chosen for the First Team, and Tyler Scanlon (CAS'20) for the All-Rookie Team.
It's a far cry from last year's campaign, when Alston missed all but eight games because of a broken foot. That experience, he says, has made him a better leader.
"Last year, watching how Nathan Dieudonne (CGS'14, SAR'16) and John Papale (CGS'14, CAS'15, MET'17) led and just being here for so many years and seeing so many different ways to lead has helped me," he says. "I really just try to show the guys and lead by example. I'm not a big talker, but when I do talk, I make sure I get my point across."
For men's basketball head coach Joe Jones, Alston's impact stretches beyond his play between the whistles. When he was injured, Jones says, "he had a chance to kind of step back and have a clearer picture about what needs to happen in order to have success. You couple that with being a good person and being a person that puts others before him, and he's a guy that's surely going to be missed."
Heading into tonight's game at the end of what he calls a "wild ride" of an up-and-down regular season, the six-year coach says the Terriers are emphasizing continuing to play well defensively and ensuring they're strong around the boards.
"I think this team is closer to being a team that can make a run, because we've hung our hat on defense. We have the number one defense in the league right now," Jones says. "Any time you've got a good defensive team and a good rebounding team—we need to really improve in that area—and have some talented guys, I feel good about what I think we can do in the playoffs."
The Terriers didn't find out what team they'd be hosting until the regular season contests ended Tuesday, but Jones says it doesn't affect their preparation. This late into a season, he says, it's more about taking care of what you can control than implementing a new game plan on the fly.
"You can tweak some stuff, but it's hard to make changes at this time of year," he says. "Right now, we're trying to have some really high-energy practices and really compete. What's important is that we worry more about who we are right now than who we're playing."
Cedric Hankerson (Questrom'16, MET'18) has also rebounded from last season's injury, a torn ACL, to have a strong year. He's heading into tonight's contest averaging 9.7 points per game and leading the team in steals.
Hankerson says playing at home during the Patriot League quarterfinals is an advantage for the team, which has gone 11-4 at Case Gym, but just 6-9 on the road. "We have one of the best fan bases in the conference. We're really a momentum team, and when we're able to get energy from the crowd, that makes us go even harder," he says. "It's extremely important to be able to play at home."
The big names certainly fulfilled expectations en route to the team's second-place regular season finish and 17-13 record, but Jones says he's most impressed with the contributions from players coming off the bench.
"What I've been most pleased with is we've gotten good energy, and I think our bench has really played well and given us a boost," he says. "That's an area that has been a huge help for us. I think when we're right, we have the strongest bench in the league."
Although the team is focused on winning tonight's quarterfinal round, Hankerson has allowed himself to think about what winning a Patriot League title would feel like for the team.
"It would mean everything. We've fallen short the past four years, so that would mean everything," he says. "It would be amazing for the school and put our basketball program on the map. It would be incredible."
The BU men's basketball team hosts Loyola tonight, Thursday, March 2, in a Patriot League quarterfinal matchup, at 7 p.m. at Case Gym, 285 Babcock St. The game will be streamed live on the Patriot League Network. Tickets are free for students with a BU ID, $7 for students from other Patriot League schools with ID, and $14 for general admission. Purchase tickets here. The winner will advance to the semifinal round on Sunday, March 5, and the Patriot League championship game will be on Wednesday, March 8.
Taylor Raglin can be reached at traglin@bu.edu.