CAS Alum Wins Schwarzman Scholarship
Will spend next year working on a master's degree at top Chinese university
Having grown up in a small town in rural New York, Clarinda Blais reveled in the intellectual opportunities awaiting her when she arrived at BU. In particular, the University's many Chinese students exposed her to the world beyond her own. She took Mandarin freshman year, "on a whim," she says, and while "I was horrible at it," the challenge enticed her to continue studying about China.
That intellectual journey has taken Blais (CAS'17) to the People's Republic of China. This year, she's living in a Chinese province similarly rural to her hometown, researching Chinese education by working with teachers and administrators in kindergarten through 12th grade. And as a recipient of a Schwarzman Scholarship, next year Blais will live in Beijing, earning a master's degree in global affairs at Tsinghua University, one of the world's most well-regarded (Times Higher Education ranks it 30th in the world) institutions of higher education.
Blais is among the third class of students from around the world to be chosen for the highly competitive Schwarzman Scholarship. The program, based in New York City, launched in 2016 with a mission of preparing the next generation of global leaders. Scholars spend the year studying at Schwarzman College on the Tsinghua campus, concentrating in one of three areas: public policy, economics and business, or international studies, immersed in "an international community of thinkers, innovators, and senior leaders in business, politics, and society," according to the program's website. The goal is to provide an "opportunity to develop their leadership skills and professional networks." The scholarship covers tuition and room and board.
Blais will also receive a $4,000 stipend, a laptop computer, class materials, and round-trip airfare to Beijing.
"I will be living and working with 142 of some of the brightest and most accomplished young people from around the world," she says of this year's crop of scholars. "This is a real dream come true for me. Particularly given my background, it's something I never would have imagined possible for myself.'
As a BU senior, Blais earned coverage in the Washington Post for creating the Free Philosophy Project, philosophy discussions groups she, fellow BU students, and Harvard students run for women in Boston-area homeless shelters. As a philosophy major, she thought the subject might enrich their lives as it had hers.
Volunteers are running the project while she's in China. After getting her master's, Blais hopes to return to Boston to study for a PhD in US-Chinese comparative education and resume her work with the project.
When she was a sophomore, Blais joined the BU chapter of the China Care Fund, which raises money to pay for surgeries for Chinese orphans and to arrange adoptions by American parents. As the only non-Asian member, "I felt extremely out of place for the entire first year," she recalls. But she stuck with it, helping to develop and teach Mandarin classes for Chinese adoptees and their American families. The work so interested her that she spent a semester in Shanghai through BU Study Abroad, followed by a summer working at a rural Chinese elementary school.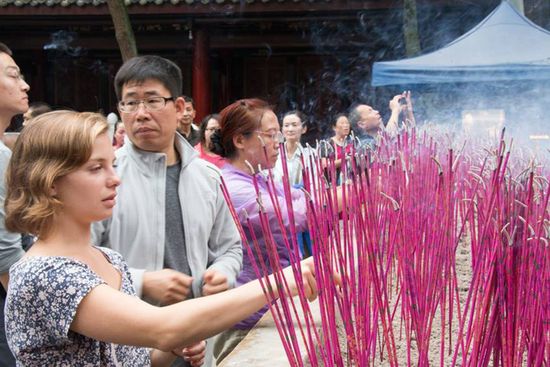 With her interest in the differences between US and Chinese education blossoming, Blais came to believe that "it's important to make a more concerted effort to learn more about China and our Chinese counterparts, and connect two parts of the world that have little if any exposure to one another"—the hinterlands of both nations.
"When I first arrived in rural China, people would stare at me, take my picture, ask to touch my skin, and even ask for clippings of my hair," she says. That may sound odd, but it resonated with the rurally raised Blais, who remembered her own intense curiosity about her BU Chinese classmates.
While an undergraduate, she received one of BU's Case Scholarships, which recognize outstanding juniors for scholarly accomplishment and extracurricular activities that contribute to the University.
"It's wonderful to see that Clarinda's drive, creativity, and commitment to effecting change in the world have been recognized," says Jeffrey Berg, BU's director of national and international scholarships. "There couldn't possibly be a stronger candidate for this award." Berg hopes her success spurs other Terriers to strive for such selective awards.
"Hopefully, more BU students will be inspired to reach out and explore these incredible opportunities," he says. "My door is always open."