Stay Cool with SHA Grad's "Chillwear"
Amin Adjmi wants you to get your retro on, with a nostalgic twist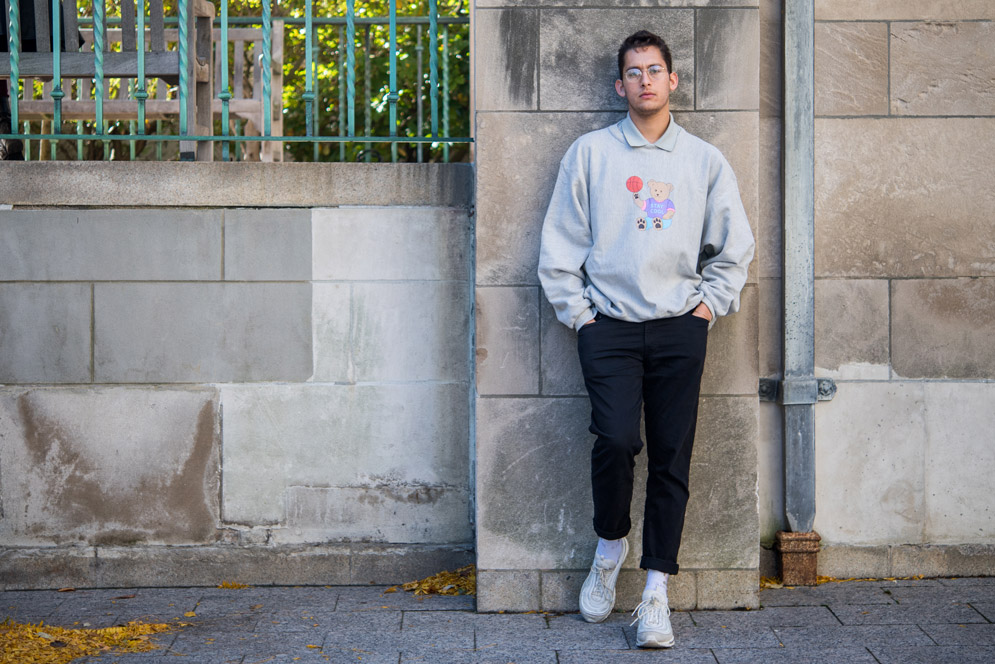 Amin Adjmi wants you to stay cool and rock a retro vibe. Specifically, he'd like you to wear his StayCoolNYC clothing, a line of T-shirts, hoodies, caps, and more emblazoned with the words "Stay Cool" and graphics in a 1980s-esque palette of mellow pinks and greens and blues.
"I call it chillwear," says Adjmi (SHA'18), to separate it from broad existing categories like streetwear. "They're pieces you throw on every day, whether you're going for a walk or to work or to class. A lot of my customers tell me they sleep in my pieces or wear them around the house."
And why the '80s-'90s graphic look? "I wanted to put a nostalgic twist on it," he says. "It's a positivity, because it brings you back to when you were a kid."
The graphics for his three collections so far have been put together with help from friends in the College of Fine Arts and the College of Communication, working off his concepts, he says. The latest include faceless couples, a Teddy bear twirling a basketball—and a mountain cabin inviting you to "Stay Cool National Park Est. 1985."
Prices range from $12 for a pair of teddy bear socks to $25 for a Stay Cool logo ball cap and $70 for a Stay Cool athletics hoodie. In addition to his web store, Adjmi's clothes have been available at the store VFiles in Soho, he says.
He says he was always the guy picking through rack after rack to find something he liked when clothes shopping. The idea for his own line started back around 2015, when he got a couple of "Hey, cool shirt"–type compliments on something he was wearing. "I'd say 'Thanks, I like it too, that's why I'm wearing it.' But it wasn't mine," he says. "I wanted ownership. Why do other people have to be in charge? Why can't I be in charge?"
He went to a make-your-own-T-shirt site online, made a shirt with a Stay Cool graphic for himself, and ordered a dozen more. Then he texted his friends, saying, "Hey, do you wanna buy this T-shirt?" They did. And more people wanted to buy the next one. And pretty soon he had started the Instagram feed @staycoolnyc, and began ordering from a manufacturer instead of a website.
Now that he's graduated from the School of Hospitality Administration, the hospitality administration major says he's going to try to go full-time on the clothing line. And the two fields might even mix someday, he says—he's thinking about a Stay Cool Lounge with an '80s theme, or a Stay Cool Inn. Mostly, though, he's focusing on the next sale.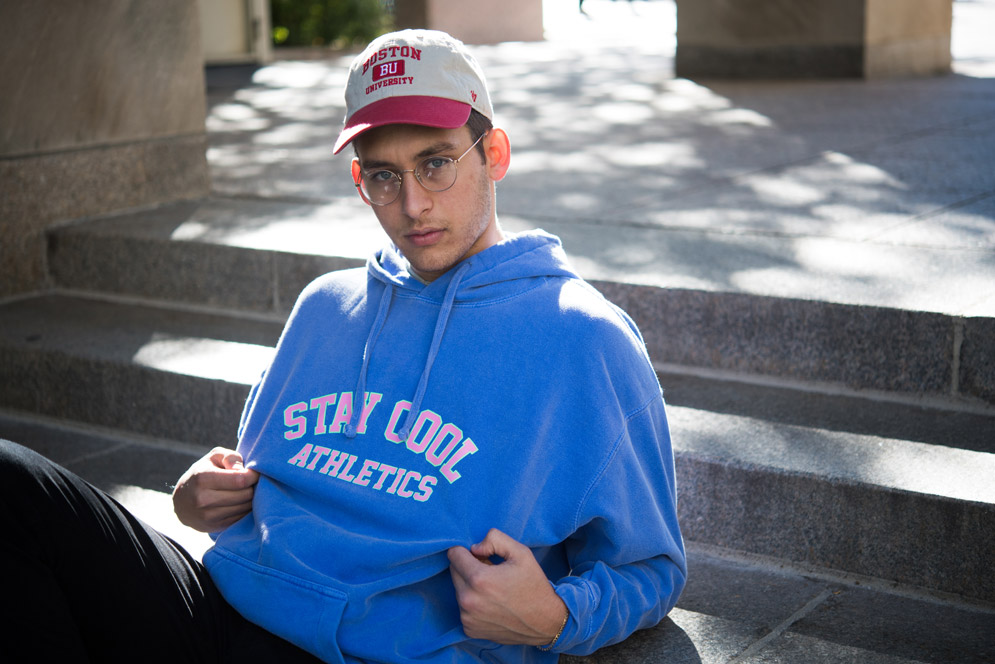 "My clothing is unisex, and I try to make my graphics good for anybody," Adjmi says. "My mom wears my stuff. My dad wears my stuff."
Adjmi may have had his eye for fashion passed down from his father. Richard Adjmi is CEO of Essential Brands, Inc., a Manhattan-based clothing and lingerie company. "As a dad, I am truly proud to see Amin create the DNA of the brand Stay Cool as well as the quality products that he works so hard on creating," he says. "Many thanks to BU for being instrumental in helping Amin bring to reality this concept."
Any fatherly advice passed down? The usual sort of things, the senior Adjmi says, like staying focused and not forgetting your biggest fans—your family. Really? Nothing practical about, say, fashion trends?
"I'll be perfectly honest," Richard Adjmi says. "Every time I tried to give Amin practical advice like that, he ended up doing it his way."