Allen Questrom Professor and Dean Kenneth Freeman to Leave Post in June
National search planned to find a successor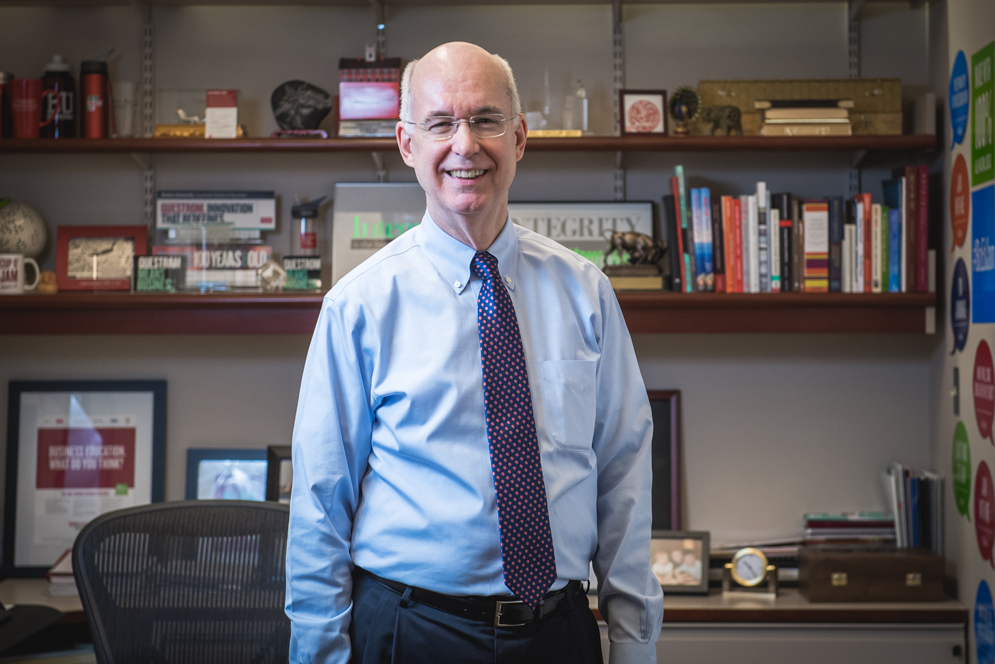 When Kenneth Freeman became the Questrom School of Business Allen Questrom Professor and Dean in Management in 2010, he opted for a tiny, highly visible, glass-walled office facing the building's interior atrium instead of a fifth-floor executive suite.
"I find you've got to be genuine as a leader—accessible, transparent, and genuine," Freeman says. "That's why I live in this crazy office in the middle of the action, because we are here for the students in the end."
He'll be giving up that office in June when he steps down as dean. He says it's the right time, both for him and for the institution. "I've never had a job I enjoyed more than this one, and we've made a lot of progress here, but it's time for a change."
Freeman jumps to a white board to sketch a quick chart of the stages of corporate growth—including the decline that can follow when leadership stays on too long. He'd like to avoid that corollary. "I think it's important for organizations to go through the process of having a change in leadership on a fairly regular basis to ensure that the momentum is continued and sustained," he says.
Under Freeman's leadership, Questrom has undergone a period of remarkable growth. He presided over the $50 million transformative gift from BU trustee Allen Questrom (Questrom'64, Hon.'15) and Kelli Questrom (Hon.'15) and their foundation that led to the renaming of the school in 2015. "Previously we were one of only a small handful of top-50 business schools in the United States without a name," Freeman notes. "The name Questrom is iconic in the world of business, and particularly retail—representing the highest integrity, genuinely caring for and treating people in all walks of life with dignity, fairness, and respect, and providing outstanding leadership. As the BU Questrom School of Business, we now have a permanent identity that enables us to raise the bar in recruiting and retaining outstanding faculty and staff and represents a source of distinction for applicants."
Another significant change during Freeman's tenure as dean has been the introduction of ethics and global citizenship as a major component in the Questrom curriculum and the endowment of the Susilo Institute for Ethics in the Global Economy by Indonesian businessman Harry Susilo, parent of two BU graduates.
"We firmly believe that our job is to help try to create students who, when they graduate, understand what it might mean to make an informed judgment," he says. "Ethical leadership is really consistent with one's values, what you think needs to be done in those very gray areas where it's not always clear what the right and the wrong are."
Freeman has also overseen an expansion in enrollment and significant curricular revisions at the school. Undergraduate enrollment has increased by nearly 30 percent and enrollment in the full-time MBA and professional evening MBA programs has also grown. He's led the development of innovative MOOCs (massive open online courses) in digital product management and digital leadership, which has enabled students from around the world to earn a MicroMasters credential, as well as the growth of graduate offerings in mathematical finance, management studies, and digital innovation.
In addition, he has also helped to create two emerging University-wide research institutes at Questrom, the Institute for Sustainable Energy and the Institute for Health System Innovation & Policy.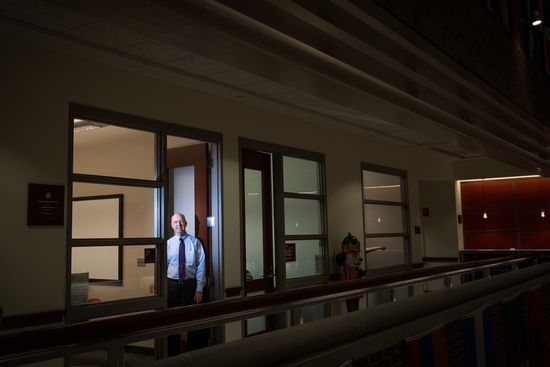 "Dean Freeman has had a significant impact at the Questrom School of Business over the last eight years, dramatically strengthening its academic offerings and elevating its stature as a global destination for business education," says Jean Morrison, University provost and chief academic officer. "From growing the school's research portfolio in strategically vital areas around the global economy to expanding its digital presence to reach important new audiences, he has made Questrom an innovator and model in the training of business professionals and scholars.
"We are grateful for Dean Freeman's service and energetic leadership and look forward to recognizing his many contributions to BU with an event next spring."
One of the biggest lessons he has learned during his years at Questrom, Freeman says, is the interdependency between higher education and business. Schools need business to provide learning experiences, hire their students, and inform their research. Businesses need highly qualified, well-prepared graduates to hire. "It was an eye-opener for me to see how truly dependent we are on each other, and how in many respects far apart we have been in understanding each other and deciding we could be an effective ecosystem," he says.
He was piqued in 2014 by Gallup poll data showing that more than 90 percent of academics thought they were doing a good or a great job preparing students for employment, while only about a third of employers felt the same way. "That's a big gap. If I was in industry as a CEO, I'd say this is a turnaround situation. The customer called employers doesn't seem to think we're doing a great job, but we think we're doing great. That usually leads to problems."
So, he spurred Questrom to host the first-ever online Business Education Jam that year, essentially a three-day giant global chatroom bringing together industry, academia, and government to discuss the future of business education. Stickers from the event line one wall of the office he'll be leaving in June.
A Questrom Dean Search Advisory Committee will be appointed soon to conduct a national search for Freeman's successor.
Freeman, now 67, came to BU from a successful four-decade career in business. He joined Corning Incorporated in 1972 and moved to Corning Clinical Laboratories in 1995. The company was spun off as Quest Diagnostics. As its CEO and chairman, Freeman presided over a dramatic turnaround at Quest. By the time he stepped down in 2004, the company had become the leading provider of diagnostic testing and services. He then joined the private equity firm Kohlberg Kravis Roberts & Co. as a managing director and partner.
As to what's next, Freeman says a "very viable possibility" would be to remain at Questrom and teach. "I love engaging with the students to help them get where they want to go," he says. "There's something very special about the mission of helping the next generation get ready to make an impact on the world."
Married for 45 years, father of two, and grandfather of four, he has also not ruled out a return to industry or some kind of public policy role. While he says he has no specific plans yet, he's firm on one point: "I am not retiring."
There's one other, less likely, possibility for the next entry on his résumé. Freeman is an accomplished pianist and once considered a career as a musician. But he acknowledges that that's a dicey way to make a living. "Eating is still important," he says with a smile.