Women Golfers to Defend Patriot League Title
Conference championship begins tomorrow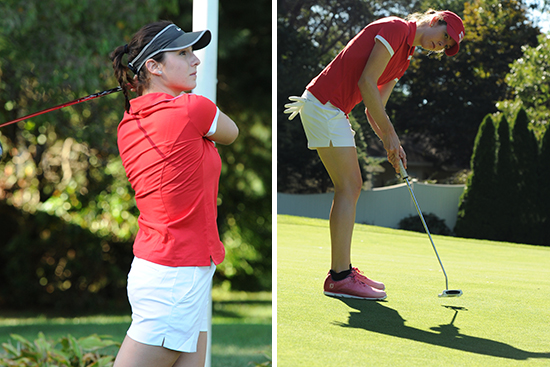 A year after winning their first-ever Patriot League title, members of the BU women's golf team will work to defend their conference title this weekend at the 2016 Patriot League Championship, being held at Bucknell University, in Lewisburg, Pa. The two-day, 54-hole event begins tomorrow morning, and the forecast promises sunny skies with temperatures in the mid-60s.
Head coach Bruce Chalas is optimistic heading into the championship, noting that the Bucknell course offers optimal conditions. "It's an excellent driving course and we're a good driving team," says Chalas, who was 2014 Patriot League Coach of the Year. "We're also really good at putting and the greens there are firm and small, just how we like them. It honestly is the perfect course for us."
The Terriers attribute their improved putting to a new technique, AimPoint putting: golfers' read the green using their feet, instead of their eyes, walk up and down the path of their line, where they plan on hitting the ball when on the green.
This modified routine has essentially eliminated any three-putts and converted a lot of would-be two-putts into one-putts, says Adela Cejnarova (CAS'17).
Another factor contributing to the team's performance is a new indoor practice simulator, installed in February, that allows golfers to play an entire course—equivalent to 18 holes—virtually. Featuring more than 100 courses, the simulator gives players a chance to work on their putting, driving, and short game, all while recording an actual score—a vast improvement over the black net they had previously relied on.
The Terriers say the new simulator is especially crucial given Boston's climate. Unable to play outdoors most, if not all, of the winter, golfers can practice using the simulator, obtaining tangible results and learning what they need to work on to improve their game.
"The new facility is a tremendous help," says Emily Tillo (Questrom'16), the first-ever player to be named Patriot League Women's Golf Scholar-Athlete of the Year for two consecutive years. "It's given us a lot of confidence, hitting into something that actually shows us where the ball is going. It's so important, because Boston is so cold. It's just been a huge success."
Tillo and Cejnarova have led the way for the Terriers this season. Team cocaptain Tillo played exceptionally well in the first three spring tournaments, averaging a score of 75.44 over nine rounds, en route to a pair of top-10 finishes. Her high point came in the Battle at Boulder Creek, where she set a BU record with a 4-under-par score of 68. A four-time Patriot League Golfer of the Month, Tillo has earned the respect of her teammates.
"She's won woman of the year multiple times for a reason," says Cejnarova, the reigning Patriot League Golfer of the Year. "She's very, very important to the team. She's a role model for not just the younger players, but for everyone."
Tillo says she feeds off of Cejnarova's play. "She helps everyone," says Tillo. "She motivates the rest of the team because she approaches everything with a lot of attention and a lot of intensity. She knows what she wants to do, and just does it."
A native of the Czech Republic, Cejnarova recently had a tonsillectomy, but she says she is 90 percent ready for tomorrow's round. The Terriers will need her swing: she not only has the lowest average score on the team this season, she is also tied for the team lead in top-5 and top-10 finishes.
The Terriers will need more than just a strong finish by Tillo and Cejnarova. The winner of the championship is decided by the lowest combined four scores in each of the three rounds. In other words, in order to have a chance at repeating, the Terriers need at least four of the six players they are bringing to Bucknell to play well each round.
"It's a team game," says Chalas. "We need everyone. It doesn't matter if someone breaks every record at the tournament, because if it's only one person, we're not going to win. We need a total team effort."
The team has its eyes set on bigger goals, he says. "Winning would be great. And that's what we want to do. And we want to make it back to the NCAA Regionals. Last year, we made it and were just kind of excited to be there. This year, we want to make some noise."
The BU women's golf team plays in the 2016 Patriot League Championship Tournament tomorrow, Saturday, April 23, and Sunday, April 24, at the Bucknell University Golf Club, 366 Smoketown Rd., Lewisburg, Pa. If the Terriers win, they head to the Division 1 NCAA Women's Golf Regional Championship, May 11 to 13. 
Emmanuel Gomez can be reached at mannygo@bu.edu.