Two BU Scientists Win Sloan Fellowships
Astronomer Catherine Espaillat, physicist Alex Sushkov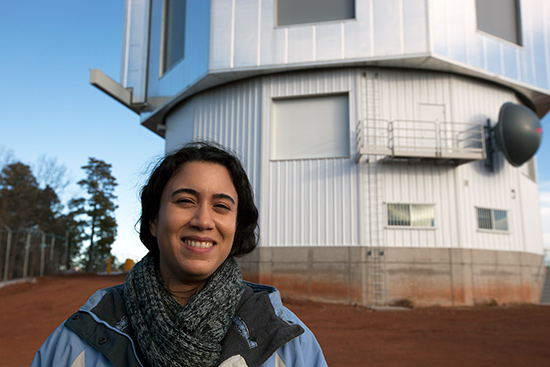 "Learning where we came from" is how Catherine Espaillat sums up her research into planetary infancy. Collecting data from telescopes that glimpse the ice-gas-and-dust disks that baby stars emerge from looking for indicators of the birth of nearby planets, Espaillat, a Boston University College of Arts & Sciences (CAS) assistant professor of astronomy, has been awarded one of the two 2016 Sloan Research Fellowships going to BU faculty.
Alex Sushkov, a CAS assistant professor of physics, won the second for his work searching for dark matter—a hypothetical but as-yet-unobserved substance believed to make up most of the matter in the universe—and also for his research into magnetic resonance imaging (MRI) on a microscopic scale.
The Alfred P. Sloan Foundation awards the fellowships. Created in 1934 and named for the former president and CEO of General Motors, the foundation supports research in the fields of science, technology, and economics. The two-year fellowships are given annually to 126 early-career scholars "of outstanding promise" who have shown "a unique potential to make substantial contributions to their field," according to the foundation.
Each fellowship comes with $50,000 for the recipient to apply to his or her research. "I will use it to support three graduate students and one postdoc in my research group," says Espaillat, "and to help fund my stay at the Kavli Institute for Theoretical Physics early next year at the University of California, Santa Barbara, where I will be collaborating with senior scientists for two months."
Sushkov says his award will go toward supporting the graduate students in his Quantum Lab, who are doing the MRIs and helping him seek dark matter, "one of the most important open questions in fundamental physics."
"We are searching for dark matter consisting of light particles called axions, using precision magnetic resonance methods," says Sushkov. "A discovery of the axion would not only be the discovery of dark matter, but would also provide insights into the high-energy scales from which the axion arises."
His magnetic imaging of molecules and materials uses a "nanoscale MRI machine" of quantum magnetic sensors. "We apply a broad array of techniques developed in quantum information science to enhance the sensitivity, and temporal and spatial resolution, of these sensors," he says, work that ultimately may help develop new materials, medical treatments, and drugs.
Espaillat's research could provide insights into the question of life on other planets. Earth's solar system emerged 4.5 billion years ago from a "planetary nursery" disk of the type she studies, under circumstances that allowed life here to evolve. The disks can give hints that planets are forming around their stars—for example, holes in the disk can indicate that some of its material is coalescing into a planet. The problem is that current technology doesn't afford a good look inside disks.
So Espaillat takes her data from orbiting telescopes watching the disks and runs it through computers, which model how much debris has been cleared in the disks. Those computer models, in tandem with telescopic observations, allow her to estimate the sizes of the gaps and whether they're the remnants of forming planets.
"We were very pleased, but not particularly surprised, to hear about the awards," says Ann Cudd, dean of Arts & Sciences. "From the formation of planets to the fundamental nature of matter, both recipients address questions of enduring interest. They follow in the footsteps of other recent Sloan Research Fellows from the College of Arts & Sciences and provide additional evidence of the rising quality and stature of the research enterprise at Boston University."