BU Alum Stars in Latest Real Housewives Series
Katie Rost (COM'01) one of six featured in new spin-off
When The Real Housewives of Orange County debuted in 2006, it became an instant hit for parent network Bravo, with its cast of affluent, attractive women engaging in diva-like behavior. The show just finished its 10th season with an average 2.7 million viewers, its success inspiring a series of spin-offs set in Atlanta, New York City, New Jersey, Beverly Hills, Washington, D.C., and Miami. By 2012, the franchise was valued at half a billion dollars.
In expanding the franchise yet again, producers—including Andy Cohen (COM'90), host and executive producer of Watch What Happens Live and executive producer of The Real Housewives franchise—chose Potomac, Md., a wealthy, exclusive suburb outside Washington, D.C. The Real Housewives of Potomac debuted this month airing Sunday nights. The show's website promises plotlines about "the upscale lives of six intriguing, well-to-do women…all of whom have fought for their places" in Potomac's tony society "by way of legacy or marriage." One of those intriguing women is Katie Rost (CGS'99, COM'01).
"I felt like it was just one of those once-in-a-lifetime opportunities to really share my life with people and to highlight Potomac," says Rost, who auditioned for one of six coveted spots. "It's exciting to show what's special about the place where I grew up."
Rost, who was born and raised in the affluent community, says her parents wanted her to be a doctor or a lawyer. But she decided on a degree in broadcast journalism instead. "BU's College of Communication is second to none," she says. "During my time there I felt it was the best broadcast journalism program in the country. I learned so much."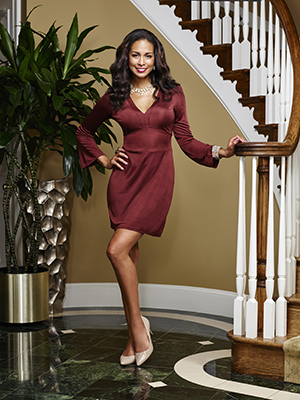 After graduating, she headed to New York to try her hand at modeling. She had a successful career working for companies like H by Halston, American Eagle, CoverGirl, and Izod. In 2009, she was asked by Vogue editor Anna Wintour to join the Vogue 100 List, a group of fashionable women who act as arbiters of style. She then was a television host on the CW's Direct Access with Big Tigger. When her marriage ended in divorce, Rost left New York and returned to Potomac in 2013 with her three young children.
"I got married and had kids, but that didn't work out," she says. "It ended very quickly, and I was shocked and surprised. I came crawling back home because you always need the people who have known you when you were a little kid to pick you up and dust you off."
Today, she serves as director of the Ronald F. Rost Charitable Foundation, which she founded with her mother in 2006. Named in honor of her economist father, who died in 2000, the nonprofit helps children achieve their potential through recreational, enrichment, and leadership activities.
Rost credits the skills acquired at COM with prepping her for a role as a reality television star. "I think it prepares you for any experience where you're on camera or have to interact with people," she says. "It's a very special skill to have an awareness of your whole environment and how to communicate at a high level."
Joining Rost in the new Housewives cast are Charisse Jackson Jordan, the wife of former NBA player Eddie Jordan, now the Rutgers University men's basketball head coach; Robyn Dixon, the ex-wife of former NBA player Juan Dixon; Karen Huger, billed by the show as "the grand dame of Potomac society" and wife of Raymond Huger, the president and CEO of Paradigm Solutions International; Gizelle Bryant, the former wife of Baltimore mega-church pastor Jamal Bryant; and former Miss D.C. and restaurateur Ashley Darby, who is married to real estate developer Michael Darby.
"It's been wild," Rost says of her experience on the show. "They come into your house, trail around, and watch what happens. I thought it was a lot more scripted than it actually is. They really allow the process to reveal who you are. It was definitely different than anything I've experienced before."
Rost says her personal storyline will focus on her budding romantic relationship with Andrew Martin, a Washington, D.C., investment broker and advisor her mother introduced her to. She's been dating Martin for over a year, and in the premiere episode she describes him as her "hopeful husband to be." Their relationship is expected to be one of the season's highlights.
"I was a woman on a mission to snag my man and pin him down," she says. "I didn't get marriage right the first time, and I really am a perfectionist. I want to do it and do it right. I knew the second I met him that he's the one for me; he's just a little evasive."
When the show concludes its run (no word yet on a second season), Rost will continue to focus on raising her children, 3-year-old James Rocco and 14-month-old twins Kathryn and Renee. She says she also hopes to get back into modeling. Given the show's strong debut—more than 2.5 million viewers tuned in for the first episode, making it the franchise's highest rated premiere—it's likely audiences will be seeing more of Rost and her Potomac neighbors.
Not content to rest on its laurels, Bravo plans to launch another Housewives franchise later this year, this one set in Dallas.
The Real Housewives of Potomac airs at 9 p.m. on Sundays on Bravo.
Jennifer Bates can be reached at jennb7@bu.edu.