Increased Visibility, Programming Pondered for Thurman Center
Task force holds public forum tonight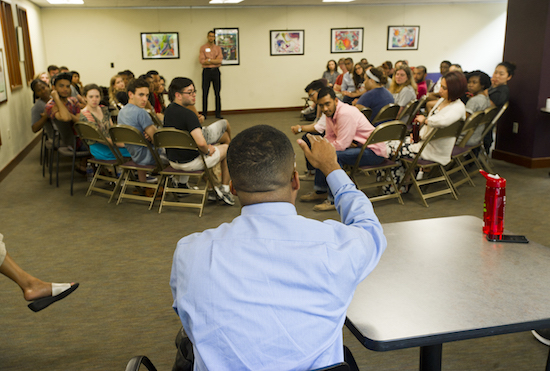 Since its creation 30 years ago, BU's Howard Thurman Center for Common Ground has become a welcoming place for students to discuss racial and cultural divides on campus and to explore their shared humanity. The center's mission has become more important than ever in an era when racism—from police killings of young blacks to slurs and death threats at the University of Missouri—has sparked campus demonstrations across the country, including at BU.
In December, President Robert A. Brown announced the establishment of a task force "to propose an expanded and more visible" Thurman Center "that can be a place to establish the inclusive community we all desire." Tonight at 6, the task force will hold the first of two public "listening sessions" at the center. The second session will be on February 17, at 5 p.m.
"We're going to want people to give us real specific thoughts," says Kenneth Elmore (SED'87), dean of students and task force cochair along with Mary Elizabeth Moore, dean of the School of Theology. "What kinds of programs should be part of the Thurman Center going forward? What kinds of activities should be part of it? And, by the way, where should the Thurman Center be?"
"Right now," says Elmore, "you've got to walk to the GSU, go to the basement, to go to this thing." He sees an alternative model in the Engineering Product Innovation Center on Commonwealth Avenue, whose street-level floor-to-ceiling glass frontage gives passersby a view of its technology-laden work spaces.
"There've been plenty of times I've walked in just to ask a question or two. And they do displays in the window," says Elmore. "Can the Thurman Center be like that?"
Task force member Andrew Cho (CAS'16), Student Government president, says the Thurman Center gives BU students "a grounding philosophy and the space to explore our own capacities and opinions." He cites the center's Culture Shock opinion blog and its volunteer student ambassadors.
"I have benefited from the gentle challenge to broaden my perspectives at Tea Time," Cho says, referring to the weekly gathering that brings together students of diverse backgrounds to chat over refreshments.
The task force was created after Brown, Elmore, and Jean Morrison, University provost, met during the fall with numerous students, including leaders of groups representing communities of color and LGBTIQ students.
"These conversations have helped us to understand the climate on campus, as well as areas in which we need to focus our attention and expand existing efforts to promote inclusion," Brown wrote in a December letter announcing the task force. "We will provide the space and financial resources to enact the committee's recommendations." Those recommendations are expected to go to Brown and Morrison sometime in March, with a subsequent presentation to the University trustees.
Elmore says current student thinking goes, "'I'm only going to have this conversation about racial and cultural issues around people who know my heart and know who I am. I'm not going to get into an argument with anybody about it.' Students said we have to find a way for us to interact more with people who are different from us and have different points of view."
Furthermore, he says that "you don't want people to feel disparaged by other people's comments, but you also don't want people to not try to talk about things because they're terrified.
"It was clear that the Thurman Center was a place where students found not only some comfort, but also a place where they were challenged to think more about the pluralistic society. And if it's doing that well, the president asked, 'Well, why don't we expand it and make it more visible?'
"We don't talk about the pluralist society," Elmore continues. "We just like to talk about ourselves and our pain, which I think is part of the conversation. But it's also got to be about how we move forward as leaders in a society that is pluralistic…what that means about where you live, what that means about where your kids will go to school, where you work, and how you socialize with each other."
The center was named for the late Howard Thurman (Hon.'67), dean of Marsh Chapel from 1953 to 1965, the first black dean at a mostly white American university.
The first of two public sessions being held by the task force created to propose an expanded and more visible Howard Thurman Center for Common Ground is tonight, Tuesday, February 2, from 6 to 7 p.m., at the center, in the George Sherman Union basement, 775 Commonwealth Ave. The second session will be on Wednesday, February 17, from 5 to 6 p.m., also at the center.