POV: It's Time to Legalize Marijuana
Why I'm voting yes on ballot question 4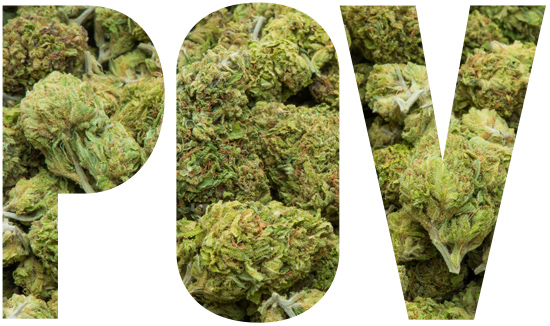 Amidst the current political debate over marijuana legalization in Massachusetts (Question 4 on this year's ballot), state Representative Hank Naughton, chairman of the Public Safety and Homeland Security Committee, recently argued: "Marijuana is a gateway drug to the problems of the opioid crisis that we're having today. It's not just a business and it's not like a six pack of beer. There's a lot more to it."
I've spoken with many well-intentioned politicians and police officers who prioritize protecting citizens and share legitimate concerns about the influence of marijuana on their communities. I understand the intuitive fears about increased marijuana use. However, they are often articulated through a long-held belief in the gateway theory. This stepping-stone narrative—that marijuana is relatively benign but leads to something much worse—has served as the foundation of a prohibition approach that treats young white users as victims and criminalizes the "invading pusher." Looking at the gateway theory's long, strange history, this central argument for opposing legalization lacks credibility.
As early as 1931, Dr. A. E. Fossier claimed that marijuana use led to heroin addiction. In 1937, however, as the first director of the Federal Bureau of Narcotics, Harry J. Anslinger eliminated any possibility that cannabis could be a gateway drug. When asked during Congressional hearings if "the marijuana addict graduates into a heroin, opium, or cocaine user," Anslinger responded, "I think it is a different class. The marijuana addict does not go in that direction."
Still, Anslinger explained the racialized difference between marijuana's predators and its victims, as he warned that Mexicans were "selling cheap joints to white children." In 1951, he pivoted and argued that marijuana led to heroin use in the context of the new American fear, the Cold War. Thus, the shift in American fears, from local concerns about adolescents, crime, and sexuality to panic over the foreign invasion of soul-numbing narcotics, encouraged antimarijuana activists to advocate cannabis' gateway potential. In many ways, Anslinger's adoption of the gateway theory acknowledged that Americans increasingly doubted marijuana's "reefer madness" was worse than opioids.
In 1972, spelling out marijuana's new gateway potential to Chicago Mayor Richard Daley, President Richard Nixon explained, "Once you cross that line, from the straight society to the drug society—marijuana, then speed, then it's LSD, then it's heroin, etc., then you're done." Nixon, the first president to declare a War on Drugs, railed against marijuana's role in the youth revolt and drug culture as he urged his aides to "hit it hard" and "enforce the law, you've got to scare them." But even as the War on Drugs began in the early 1970s, gateway rationale focused on enforcement and busting pushers while sparing first-time offenders—plenty of cover for white suburban pot smokers who avoided the punitive justice system.
Ronald Reagan's drug advisor, Carlton Turner, offered a contradictory fear of cannabis that once again adapted the gateway theory. Turner connected the drug to a new scourge, AIDS, claiming that homosexuality "follows along from their drug use" and puts pot smokers at a higher risk of getting the disease.
Though these comments cost Turner his job, this Reaganesque fantasy of pot and social depravation showed once again why historians and more Americans have become skeptical of the gateway theory. In fact, the website for the DARE (Drug Abuse Resistance Education) program recently removed marijuana from its list of gateway drugs. The rise and fall of the gateway theory provides a clear picture of what is changing now and why the legalization effort has achieved so much success.
As historian Matt Lassiter explains, "The marijuana-as-gateway mystique…helped institutionalize two interlinked but spatially distinct approaches: public health campaigns in white middle-class neighborhoods and militarized interdiction in urban minority areas." Despite the changing rhetoric that drove antimarijuana politics over the decades, the gateway theory connected these two principal motivations, one based on enforcement and the other on protection. Recently, the American Civil Liberties Union reported that blacks in Boston were 7.1 times more likely to be arrested for selling drugs, 3.3 times more likely than whites to be arrested for possession.
The dubious gateway theory and the resultant racial inequalities have convinced me to support Question 4 and the end of marijuana prohibition.
Seth Blumenthal (GRS'13), a College of Arts & Sciences Writing Program lecturer, can be reached at sblument@bu.edu. He will be teaching a course, Marijuana in American History, this spring.
"POV" is an opinion page that provides timely commentaries from students, faculty, and staff on a variety of issues: on-campus, local, state, national, or international. Anyone interested in submitting a piece, which should be about 700 words long, should contact Rich Barlow at barlowr@bu.edu. BU Today reserves the right to reject or edit submissions. The views expressed are solely those of the author and are not intended to represent the views of Boston University.