Free Meals and Sporting Events for BU Faculty, Staff
BU Athletics expands decade-old employee appreciation events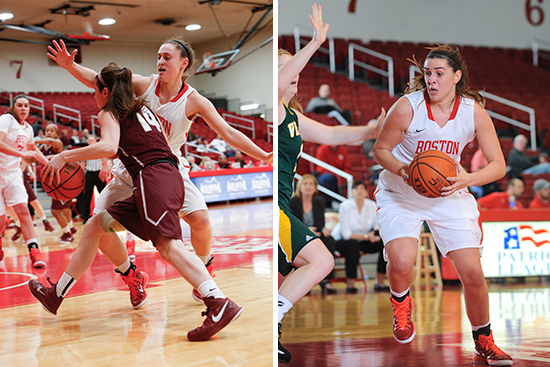 Boston is among the most expensive cities in the country to live in—in case you hadn't heard—and a night on the town with dinner and a sporting event is no exception. Yet BU staff and faculty can enjoy four such nights at no expense this semester, courtesy of BU Athletics.
Each event features a buffet dinner of pasta, salad, sandwiches, and dessert (except for a midday game, with a luncheon), followed by the game—men's and women's basketball at Case Gymnasium, men's and women's lacrosse at Nickerson Field. Each faculty and staff member can get up to six free tickets, to share with family or friends.
The first Faculty/Staff Appreciation Night is tomorrow, February 4, when the women's basketball team takes the court against Navy.
In addition to being free, the games offer a chance to see some of BU's most successful teams in action. The women's soccer team, which played one of the fall Appreciation Night games, made it to the second round of the NCAA tournament; men's soccer, another fall Appreciation Night event, snagged a berth in the national tournament's first round.
The appreciation event began 10 years ago as a once-a-year night sponsored by the women's soccer program. "It is a great way for our student athletes to acknowledge special professors, as well as have our academic community see how very talented and passionate their students are outside of the classroom in a sport they love," says Nancy Feldman, women's soccer head coach.
"Everything just grew from that" this year, with the number of appreciation events mushrooming to seven, says Leo Pare, Athletics senior staff assistant for communications. The third fall semester appreciation evening was with the women's ice hockey team.
In addition to tomorrow's kick-off dinner and game, the other employee appreciation events scheduled this semester are:
Wednesday, February 17: men's basketball vs. Colgate, 6 p.m.

, Case Gym

Saturday, April 9: men's lacrosse vs. Army, noon, Nickerson Field
Wednesday, April 20: women's lacrosse vs. Holy Cross, 6 p.m., Nickerson Field
Appreciation Nights require preregistration, which opens just before each event. Case Gymnasium and Nickerson Field are on West Campus, at 285 Babcock St.