Free Admission at Institute of Contemporary Art Tonight
Visitors can enjoy artwork, tours, and music every Thursday evening
Ever since the Institute of Contemporary Art moved from cramped quarters on Boylston Street to its new home overlooking Boston Harbor in 2006, it has been a leading player in the city's cultural landscape, drawing visitors from all over the globe. One of its most popular offerings has been free admission on Thursday nights, from 5 to 9 p.m., making contemporary art more accessible to museum-goers. The tradition was an instant hit and today, three times as many visitors come on Thursday night than any other night. As well as free entry, at 7 p.m. guests can take a free Place and Space Tour that aims to demystify the museum's art collection and special exhibitions and enrich visitors' experience.
Tonight, in addition to the ICA's permanent collection, which contains works by Eva Hesse, Cindy Sherman, and Andy Warhol, visitors can peruse the four special exhibitions currently on display. Transcending Material: ICA Collection showcases the diversity to be found in modern sculpture and the ways artists are using commonplace materials and found objects to create a range of forms and techniques. The show includes works from artists Mark Bradford, Taylor Davis, and Tara Donovan, among others. Ugo Rondinone: Moonrise Sculptures consists of two of Swiss artist Ugo Rondinone's Moonrise Sculptures, a collection of 12 sculptures that are an homage to the moon, each named for a month of the year. The two on view are installed outside the museum through the summer. The Sandra and Gerald Fineberg Art Wall features site-specific works by a different contemporary artist each year; it is currently home to Ethan Murrow's Seastead, which is inspired by the ICA's harbor home. The work is drawn entirely in Sharpie and is the artist's largest piece to date.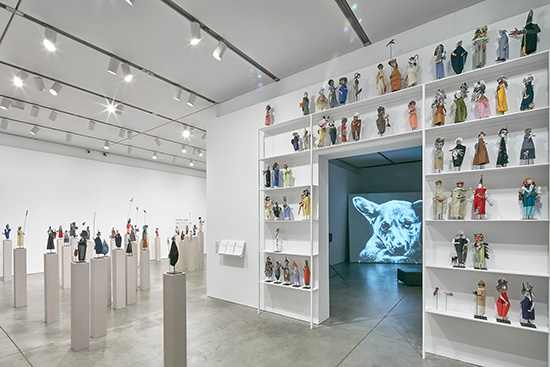 Last is Geoffrey Farmer, an exhibition of sculptures by installation artist Farmer, best known for his sculptural photo collages. The exhibition is a survey of the artist's paper works and includes hundreds of small sculptures made from photographs and fabric mounted on supports. The paper works explore the link between history and contemporary culture by suggesting that common images and themes link the past and the present.
The ICA will also continue its annual Thursday night Harborwalk Sounds series this summer, starting June 30. The series, which begins at 6 p.m., showcases performances on the museum's harbor deck by promising musicians from Berklee College of Music and runs thorough September 1. It kicks off with Dashina, a trio of talented female vocalists and musicians who play an eclectic variety of world music, and continues through the summer with nine diverse acts, ranging from folk and Americana to French electro-pop and neo soul.
Thursday nights at the ICA have something to offer almost everyone. Whether you are confounded by contemporary art, an avid collector, or simply someone who enjoys listening to live music outdoors on a warm summer night, the museum is sure to please.
The Institute of Contemporary Art is at 25 Harbor Shore Drive, Boston. Find hours and directions here. Find a list of upcoming exhibitions here and a list of upcoming events here. Find directions here. Email questions to info@icaboston.org or call 617-478-3100.   
Liz Vanderau can be reached at vanderau@bu.edu.