Hatch Shell Outdoor Summer Movie Series Starts Tonight
2016 Free Friday Flicks kick off with Minions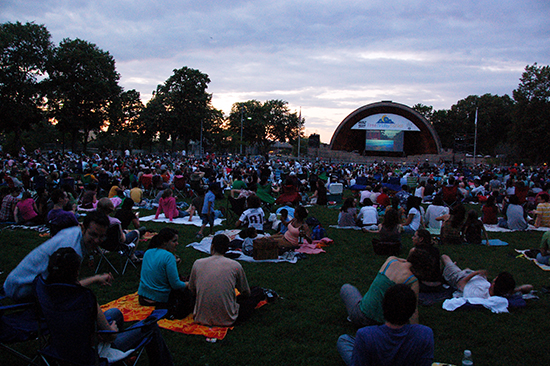 A popular Boston summer tradition—Free Friday Flicks—returns to the Hatch Shell for its 31st season with a screening of the 2015 animated hit comedy Minions. The kid-friendly comedy, starring those small yellow creatures first introduced in 2010's animated film Despicable Me, is classic summer fare, so grab a blanket or a lawn chair and some snacks and head to the banks of the Charles River. The film begins at dusk.
Minions is as a prequel of sorts to Despicable Me, recounting the history of the babbling creatures as they bounce from serving one master of evil to the next, including a T. rex, Dracula, the Abominable Snowman, and Napoleon. The 90-minute film follows a trio of minions, Kevin, Bob, and the one-eyed Stuart, as they embark on a mission to find a new villain to serve. They eventually wind up in the clutches of Scarlet Overkill (voiced to comic effect by Oscar-winner Sandra Bullock), the world's first-ever super-villainess, who is hell-bent on stealing Queen Elizabeth II's crown and taking over England.
Despite mixed reviews, Minions grossed more than $1.1 billion at the box office worldwide, making it the 11th highest grossing film of all time, and the highest grossing non-Disney animated film.
Actor Jon Hamm (an Emmy winner last year for HBO's Mad Men) is the voice of inventor Herb, Scarlet Overkill's husband, and Michael Keaton (Birdman) and Allison Janney (West Wing, Mom) are the husband-and-wife bank robbers. Codirector Pierre Coffin voices Kevin, Stuart, and Bob, and Oscar-winner Geoffrey Rush is narrator.
Free Friday Flicks, sponsored by WBZ NewsRadio 1030 AM and the Massachusetts Department of Conservation and Recreation, offers free screenings of classic and family-friendly films on the Esplanade each Friday at dusk through July and August. Minions begins tonight at 8:25 p.m.; be sure to get there early to get a good seat on the lawn.
Minions screens tonight, June 24, at sundown, 8:25 p.m., at the Esplanade's Hatch Shell, 47 David G. Mugar Way, Boston; free and open to the public. Take an MBTA Green Line trolley to Park Street, transfer to the Red Line towards Alewife, and get off at the Charles/MGH stop. In the event of inclement weather, call the WBZ Free Friday Flicks Hotline at 617-787-7200 for cancellation information.
The other films in the 2016 Free Friday Flicks series: Cinderella, July 15; Inside Out, July 22; Star Wars: The Force Awakens, July 29; The Good Dinosaur, August 5; Jurassic World, August 12; Up, August 19; Ant-Man, August 28. Start times will change, as sunsets occur earlier each week.
Jennifer Bates can be reached at jennb7@bu.edu.