BU Research Benefits from First Federal Funding Boost in Years
Stalled projects advance under last month's budget agreement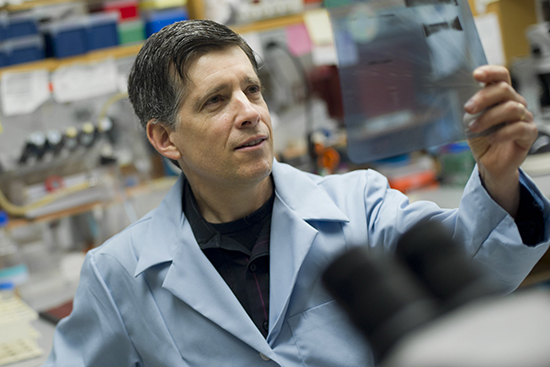 Christmas may have fallen on December 25 last year, but it came a week earlier for Ben Wolozin, when Congress passed its 2016 spending plan. The School of Medicine pharmacology professor had feared that he'd retire before Uncle Sam increased research funding, sucker-punched in recent years by sequestration and recession-induced belt-tightening. Instead, the bill boosted federal support across agencies and bulldozed roadblocks to certain types of research.
The new budget, coupled with an unexpected infusion of federal funds last summer, means "funding for research on Alzheimer's disease has almost doubled in the past six months, from $448 million to $936 million, which is amazing, and at least to me, unexpected," marvels Wolozin, who heads BU's Laboratory of Neurodegeneration, which researches Alzheimer's, Parkinson's disease, and Lou Gehrig's disease. The timing was fortuitous, given a new hypothesis from his lab: that Alzheimer's brain-crippling effects stem from tau protein the organ accumulates to defend against the disease, but which then becomes dysfunctional.
"As a result of this funding, we are well on our way to identifying the mechanisms underlying this process," Wolozin says, which would lead to "powerful new targets for drug discovery." New federal money will be "wind in the sails" as well for BU colleagues researching Alzheimer's and for costly clinical drug trials, he says. "There is a strong sense in the field that we can stop Alzheimer's disease; Congress appears to agree."
It agreed, in part, because BU officials across the academic disciplines joined colleagues nationally to lobby for federal research funding. Washington listened, as a rundown of some of the winners under the spending plan shows:
The National Institutes of Health (NIH) received $32 billion, a 6.6 percent increase over last year.
NASA's science budget received $5.6 billion, a 6.6 percent increase over last year.
The National Science Foundation (NSF) received $7.46 billion, a 1.6 percent increase, plus the striking of legislative restrictions on social and behavioral science support.
That latter was of interest to Strom Thacker, a Pardee School of Global Studies professor of international relations and of political science, who trekked to D.C. twice in the last two years to urge additional research funding, particularly for social sciences. In earlier years, a concern had been the so-called Coburn Amendment, which had required that funded research promote American security or economic interests—a "political litmus test" that stood researchers' hair on end, Thacker says.
Coburn was repealed several years ago, and it was not resurrected by this Congress.
One result is that $347,000 is flowing from the NSF to Dino Christenson and his team to develop statistical models for analyzing social networks—"how ties or relationships develop among individuals, organizations, and groups," says Christenson, a College of Arts & Sciences associate professor of political science.
He welcomes the untying of the Coburn noose on research: "The study of economic interests and national security does not occur in a vacuum," he says. "They are motivated by, and involved in, an ongoing discussion with more general considerations of political institutions, behavior, and theory. The idea of limiting the funding…to particular topics or criteria suggests a fundamental misunderstanding of the scientific process."
BU's humanities faculty also pressed the case in Washington. Gene Jarrett, a CAS professor of English and African American studies and associate dean of humanities, participated in a delegation of Massachusetts academics, administrators, and students that met with several of the state's Congressional delegation last March. As part of the budget bill, the National Endowment for the Humanities (NEH) and the National Endowment for the Arts will each receive $148 million, an aggregate increase of $4 million, says Jarrett. That means "more grants and fellowships could be available for professors" doing research. The boost in funding for the NEH is the agency's first budget increase in six years.
"Any progress made by Congress to break the gridlock in their negotiations and to advance scholarly or intellectual research is a positive sign," Jarrett adds.
Karen Antman, dean of MED and provost of the Medical Campus, who is chair of the Council of Deans of the Association of American Medical Colleges, rallied support from fellow medical deans nationally during the November meeting of the association.
"Fortunately, congressional delegations generally have excellent relationships" with academic medical centers "and are exquisitely aware of the job creation that results from research funding," she says. "It's the first significant increase in the NIH budget since 2003, when I was at the NIH." (Antman assumed the helm of MED in 2005.)
Gloria Waters, BU's vice president and associate provost for research, describes the budget measure, particularly the NIH funding, as "a huge boost to our faculty, both on the Medical Campus and those involved in biomedical research on the Charles River Campus." Also encouraging are increases for humanities and social sciences, as well as "particular areas that correspond to our research peaks, such as infectious disease," says Waters.
Jennifer Grodsky, vice president of federal relations, concurs. "It's thrilling that legislators from all political persuasions recognized that support for research is a down payment on the future," says Grodsky, who represents the University in Washington. "Republicans and Democrats alike made research a priority in this spending bill."