BU's Newest Club Sport: Women's Hockey
Inaugural season off to a successful start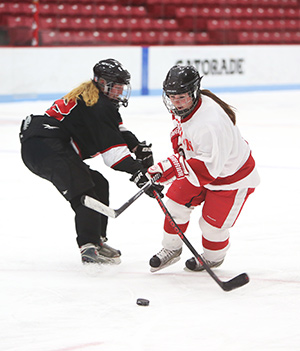 During its first two seasons, the BU women's club hockey team made quite an impression. Since beginning in 2014, it's gone 31-6-2 and won back-to-back Independent Women's Club Hockey League (IWCHL) championships. Last spring, the team got more good news: the University had decided to sanction the club, making it the newest officially recognized club sport.
Players say that that decision has been a watershed moment for the team, now in its third season. Captain Katherine Bienkowski (CAS'17) says players have had to trek to Daly Rink in Newton on weeknights for practice, often not returning to their dorms until midnight. As an officially recognized club team now, players can practice at Walter Brown Arena, tripling their practice time to three hours, and most important, can now qualify for nationals.
"It's been everything," says Bienkowski. "We don't have to go so far so late at night and more people are able to make it. Also, having more practice obviously makes players better and builds more camaraderie. It's just made everyone's lives so much easier."
Bienkowski, averaging 1.15 points per game, helped lead the club to the IWCHL championship in 2014. But she says that Cinderella ending would never have happened if it hadn't been for an inspirational pep talk from forward Emily Lafond (CAS'16), team founder, moments before the title game.
"I gave the Miracle speech," says LaFond, referring to the famous scene in the film Miracle, where Herb Brooks, head coach of the 1980 gold medal–winning US Olympic hockey team, fires up the his players just before their medal-round victory over Russia. "We couldn't make one mistake, and we didn't," says LaFond, now a volunteer team coach. "Every person on that team played to the best of their abilities."
Following LaFond's off-the-cuff speech, the team went on to defeat Salem State University, which had been undefeated the previous three years and was playing its last game before becoming a D-3 varsity sport. That surprise victory was validation that the nascent BU team had a future.
"We were winning a lot, so we were a little confident," says Bienkowski. "But after that game, we knew we were good. I mean, they even had the national anthem played before the game, which was crazy, and we beat them. We were as confident as it got after. We knew, from that point on, we could compete with anyone."
The BU club team is playing for the first time in the American College Hockey Association (ACHA) Division 2, as well as the IWCHL, competing against teams from Harvard, Northeastern, and Boston College. The women are 8-2, with both losses to Division-1 opponent University of Rhode Island. They will look to continue their winning ways when they host Westfield State University tonight at Walter Brown Arena and play tomorrow at Merrimack College.
The team, open to full-time undergrad and graduate students with varying experience, owes much of its success this year to goaltender Lindsay Hulley (ENG'17), who boasts a 1.88 goals against average. In a recent contest against Saint Anselm, Hulley led five penalty kills in the first quarter, sprawling left and right to make save after save. Following their 3-2 win, team members huddled around their goalie, with every player—one at a time—tapping her on the head in recognition of her performance.
"She's our wall," says Monique Rondeau (Questrom'18), who leads the team in points this season. "She's really our backbone. She's our best player. She's so composed, which is rare for a goalie—nothing throws her off."
Winning seven of their last eight games, BU has been ranked the number one team in the East region in the first of four D-2 ACHA rankings. If the club remains in the top-six after the fourth and final rankings, it will qualify for nationals.
"If we keep playing the way we're playing, we know we'll make it," says head coach Jim Pascarelli. "We just have to keep doing what we're doing."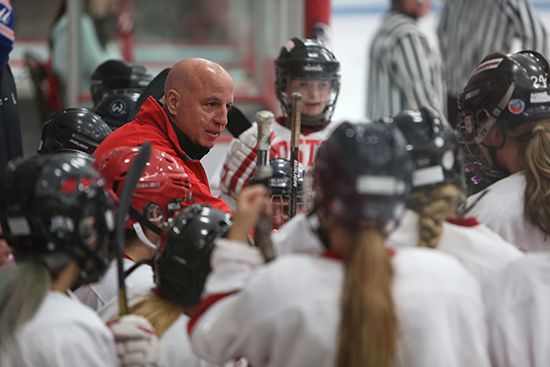 One concern for the team is finances. Dues are approximately $2,000 per player and if they do make nationals, being held in Columbus, Ohio, this year, players will have to come up with another $1,500 or more for travel expenses. Bienkowski says the team is already looking into ways to help cover that cost. Options include fundraising and possibly starting a gofundme page.
Looking ahead, she sees a bright future for the team. Several of the underclassmen team members played varsity hockey in high school, with a few even receiving offers from Division 3 universities. In addition, the club has 20 players, a rarity for a hockey club, says the club captain.
"Everyone is so committed to this team," she says. "Some people even reconsidered study abroad because of the team. It's crazy how tight-knit and committed we all are."
The Boston University women's hockey club team plays Westfield State University tonight, Friday, December 2, at 6 p.m. at Walter Brown Arena, 285 Babcock St. The game is free and open to the public.
Learn more about joining here. Find the schedule here.
Emmanuel Gomez can be reached at mannygo@bu.edu.