Women's Ice Hockey Team's Unstoppable Marie-Philip Poulin
Two-time Olympic gold medalist prides herself on hard work and dedication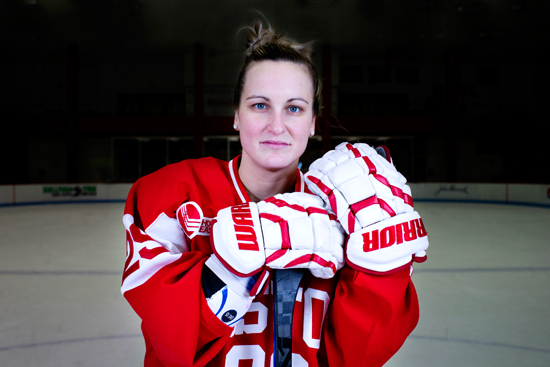 On a chilly night last fall, Marie-Philip Poulin, captain of the BU women's ice hockey team, was showing her trademark prowess on the ice. With the Terriers shorthanded in the first period, the Connecticut Huskies were trailing by a goal and trying desperately to even up the score. A UConn player sent a pass across the ice intended for a teammate, but Poulin, like a tiger sniffing its prey, seemed to come out of nowhere and pounced on the puck to force a turnover.
Five seconds later, 23-year-old Poulin (CAS'15) put the puck in the back of the net to give her team a two-goal lead that helped the Terriers clinch the game.
Poulin's lethal shot, catlike agility, and ability to elevate her teammates both on and off the ice has made her one of the most gifted and admired women's ice hockey players in the world and a two-time Olympic gold medalist (more about that later).
"She's a great player, she's very innovative on the ice" says teammate Sarah Lefort (SAR'16). "There's always something she's pulling out of her back pocket. Always keeps me on my toes."
How does one go about coaching someone with so much natural talent? It's a challenge, says women's ice hockey head coach Brian Durocher (SED'78). "One thing I'll do is try not to over-coach her. Part of that is that she doesn't have very many flaws. She plays defense first, she's committed to hard work, she challenges herself all the time, and she's a good teammate."
"I don't think you can play with anyone better than her," says Lefort, echoing Durocher.
A native of Canada, Poulin grew up in Beauceville, Quebec, a town with only 6,000 residents. She took up figure skating at age four, but didn't like it, and by age five was emulating her older brother and role model, Pier-Alexandre, by taking up hockey. By the time she was 16, she was so accomplished that she left her family and moved to Montreal to play for the Montreal Stars, part of the Canadian Women's Hockey League (CWHL).
"Moving out of my hometown and away from my parents was a big step," Poulin says. "Switching to an English school when I had no idea how to speak English was hard, for sure."
Poulin dominated on the ice, helping the Stars win the CWHL title and becoming the leading scorer in the U18 World Championship tournament. Along the way, she received valuable mentorship from some of the game's greats, such as Caroline Ouellette, Kim St-Pierre, and Jayna Hefford.
And at just 18 she found herself a celebrity at home after scoring both goals in Canada's 2-0 gold medal round win against the United States at the 2010 Winter Olympics. Shortly after that, numerous colleges began to recruit her. Poulin says she chose BU because the school offered both a strong academic curriculum and an elite hockey program.
"When I came here, I said, 'Wow, I love it,'" Poulin says. "I think I fell in love right away when I visited. Boston is a great city. BU is a great school. I felt part of the family right away, so it was a great choice, and I'm still really happy with it."
As a freshman, Poulin was named Hockey East Rookie of the Year. By sophomore year, she was a team assistant captain, and during junior year she was cocaptain. Along the way, she led the Terriers to two NCAA National Championship games before taking last year off to train and compete at the 2014 Winter Olympics in Sochi, where she again struck gold playing for the Canadian Olympic team.
With just 54.6 seconds left in regulation in the gold medal game against the United States, Poulin tied the score at 2-2. She followed that a few minutes later with a game-winning overtime goal, helping Canada claim its fourth consecutive gold medal in women's ice hockey.
Despite her celebrity north of the border, Poulin remains modest about her accomplishments, happy to be unrecognized on the streets of Boston.
"To be honest, I'd rather have it that way," she says. "My hometown is a small town so people do know me. But I'm a shy girl and humble, so I love being under the radar. I love doing my own thing and giving credit to my teammates."
Like most athletes, her success has been tempered with a few bumps, including a ruptured spleen sophomore year and a high ankle sprain last year. Those kinds of injuries can be trying, Poulin admits. "You can't be on the ice with your teammates. You can't share whatever happens on the ice with them. But it makes you stronger and makes you want to come back and be strong."
With the women's Beanpot tournament less than two weeks away, Poulin, who has 16 goals, 9 assists, and 25 points so far this season, is hoping to help the Terriers—currently ranked second in Hockey East—capture a conference championship as well as an NCAA title, an accomplishment that would be a first for the program.
As for her long-term goals, Poulin says she hopes to compete in the 2018 Olympic Games in South Korea and then become a coach.
"I would love to coach," she says. "It would be amazing. I was fortunate enough to see and know a lot of great players who really affected my career, so I would love to give back."
When asked what she hopes her legacy will be, Poulin characteristically makes no mention of her Olympic gold medals or her personal accomplishments on the ice. Instead, she says she hopes she will be remembered for "the hard work…the dedication, and how I always wanted to make others around me better. And how much fun I had when I was playing."
Andre Khatchaturian can be reached at andrekh@bu.edu.