Women's Ice Hockey Takes on Two Conference Foes This Weekend
Terriers striving for first national championship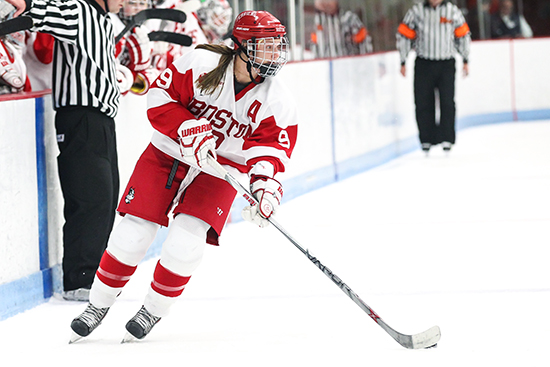 Coming off of four consecutive Hockey East titles and five consecutive seasons of 20-plus wins, the women's ice hockey Terriers go up against two conference foes this weekend. Despite their recent dominance, the Terriers were chosen to finish second in the annual Hockey East preseason poll, edged out by crosstown rival Boston College. But the team is more committed than ever to pursuing the one prize that has thus far eluded them in their first decade as a team sport: an NCAA national championship.
After two conference wins, the Terriers will continue their pursuit of a national title when they take on Northeastern University tomorrow, Saturday, October 24, at Matthews Arena, followed by a home game against the University of Vermont Sunday at Walter Brown Arena.
"Ultimately, we'd like to hang a flag for winning an NCAA title at the end of the year," says head coach Brian Durocher (SED'78). "That's our goal, that's what we have in mind. And we know we can get there. Individually, we have to stay healthy. Aside from that though, I think we've got a really good chance."
The number 10 Terriers (3-3) (2-0-0 Hockey East) know that they have to improve on their early season record, having lost three of their last four games, all at home. Two of those games were against number four–ranked Clarkson University this past weekend.
"We know we haven't gotten some of the results we wanted," says forward Sarah Lefort (SAR'16), the team's assistant captain. "But I think playing this competition going into conference play is a good thing—it shows us where we are and what we need to improve. I'd rather play some of the best early on, and I like some of the stuff I've seen. We're not there yet, but we will be."
Several Terriers players have contributed so far this season to filling the void left by Marie-Philip Poulin (CAS'15), the two-time Olympic gold medalist who was selected third overall by Montreal in the 2015 Canadian Women's Hockey League Draft. Victoria Bach (CGS'16), 2014–15 Hockey East Rookie of the Year, has recorded the second most points (six) on the team thus far, and Sammy Davis (CGS'17) has a team-leading five goals. Forward Rebecca Leslie (Questrom'18) has also played exceptionally, registering a team-high eight points so far.
"We've got a lot of young players that can play at a high level," says Durocher. "From Sammy to Mary Grace Kelley [CAS'19], they can all play at this Division I level. It's just a matter of getting them the reps, the time. We know what they can do—they can be the difference at the end of the year."
The Terriers claim one of the best players in the country in forward Lefort. The eighth overall selection in the inaugural 2015 National Women's Hockey League Draft, she entered the season with consecutive seasons of 50-plus points. A New England Division I All-Star among her numerous accomplishments, Lefort has put up some of the best numbers in the country over the last two years.
"She's very consistent. Every day, she brings the same attitude and the same effort. That's something that the team can feed off of," says captain Kayla Tutino (COM'15, MET'17). "She's a really good scorer; she can shoot the puck. She does everything well. She makes everyone around her better, and it's been a pleasure playing alongside her now for four years."
While Lefort headlines an elite group, BU's season will go only as far as goaltenders Victoria Hanson (Questrom'17) and Erin O'Neil (SHA'18) take them. Despite splitting time, the two have combined for a .910 save percentage and a 2.67 goals-against average. If the duo can continue to put up such impressive numbers, the Terriers should be a lock for a deep postseason run.
"We've gotten some good goaltending this year," Durocher says. "Whether it's Victoria or Erin back there, we feel really confident. It would be nice for one of them to step up and take the job. But it's a good problem to have. Hopefully, they'll keep playing as well as they have."
Even with the strong bench of recent years, the Terriers have been knocked out in the first round of the NCAA tournament for the past two seasons. But veteran players say the mix this year gives them an advantage they haven't had.
"I think we're a different team," says Lefort. "We have depth everywhere, on all four lines. We have players that can do different things. We just have to play as a team, not try to do too much individually. As the season goes on, I think we'll get better. Hopefully, we'll be in the thick of things at the end of the season."
The BU women's ice hockey team plays Northeastern University at Matthews Arena, 238-262 St. Botolph St., Boston, tomorrow, Saturday, October 24, at 2 p.m. Tickets are $5 at the door. The next day, Sunday, October 25, the Terriers take on the University of Vermont at 3 p.m. at Walter Brown Arena, 285 Babcock St. Tickets are $6 for the general public, $4 for students, faculty, staff, children, and senior citizens, and free for students with a sports pass. 
Emmanuel Gomez can be reached at mannygo@bu.edu.