The Impact of the Supreme Court Same-Sex Marriage Decision
LAW's McClain analyzes much-awaited ruling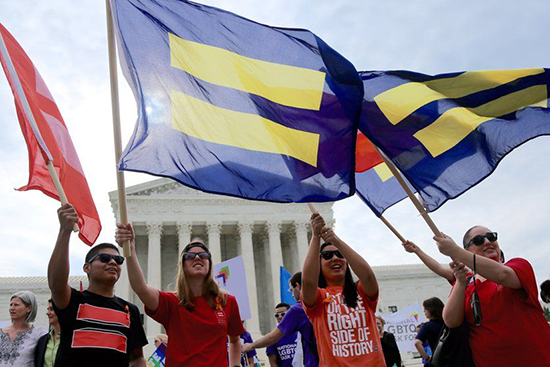 "The Constitution guarantees a nationwide right to same-sex marriage."
In just those few words, the New York Times summed up the history made last Friday when the Supreme Court ruled that gay couples throughout America have a right to marry. The 5-4 opinion in the case of Obergefell v. Hodges, written by Justice Anthony Kennedy, capped years of debate and legal zigzagging; just last fall, the court declined to take appeals from five states that green-lighted gay marriage, hinting at the direction Friday's ruling might take. (In a 2013 case, the justices had struck down a ban on federal benefits for same-sex couples living in states that allowed gay marriage.)
Before Friday's climactic decision—handed down just a day after liberals cheered another anxiously awaited decision, the upholding of Obamacare—36 states had permitted same-sex couples to wed (Massachusetts was the first, in 2004).
"It was a relief that the majority opinion recognized the evolution of marriage over time, including in the direction of greater equality," says Linda McClain, a School of Law professor of law and the Paul M. Siskind Research Scholar. McClain's expertise is in family law and law and gender. She and colleague James E. Fleming, the Honorable Frank R. Kenison Distinguished Scholar in Law and also a LAW professor of law, coauthored the book Ordered Liberty, which supports the constitutional interpretation used by the majority in the case. BU Today asked McClain for insights into the court's decision and its implications for the future.
BU Today: Did the court's ruling surprise you? What do you think of the justices' reasoning?
McClain: I was not surprised that Justice Kennedy wrote this landmark opinion, because Obergefell makes use of a trio of significant decisions authored by Kennedy about the constitutional liberty and equality of gay men and lesbians. The opinion has the earmarks of his jurisprudence in those cases: a focus on equal dignity, on intimacy as a form of self-definition and expression, and an insistence that law not demean, disparage, harm, or humiliate people on the basis of their sexual orientation. Also unsurprising is Kennedy's insistence that there is a "synergy" between the liberty (due process) and equality (equal protection) clauses of the 14th Amendment and that they both support the fundamental right of same-sex couples to marry.
I was also not surprised by the theme that evolving understanding and generational progress are important to the meaning of both liberty and marriage. Justice Kennedy states that marriage is an institution that "has evolved over time." This echoes a central theme in Massachusetts' landmark same-sex marriage case, Goodridge v. Department of Human Resources.
This approach to history and tradition is perhaps the sharpest difference between the majority and the four dissenting opinions. Justice Kennedy states that justices must apply "reasoned judgment" when interpreting the scope of constitutional liberty and be open to "new insight." The dissenters fault the majority for failing to exercise "judicial self-restraint." They insist that the history and tradition of what marriage has been—a union between one man and one woman and focused on procreation—is dispositive. I was not surprised that three of the dissenting opinions charged that the majority's ruling branded opponents of same-sex marriage as bigots. I predict that critics of the majority's ruling will be quick to echo this language as they warn of inevitable threats to religious liberty stemming from the court's ruling. However, Justice Kennedy's opinion refers to opponents of same-sex marriage as reaching that conclusion "based on decent and honorable religious or philosophical premises."
Historically and legally, how big a deal is this ruling?
As the size print of newspaper headlines suggests, this ruling is a big deal. In Griswold v. Connecticut 50 years ago, in a case striking down a state law banning the use of contraception by married couples, the court spoke about marriage as a "noble" and worthy association. Obergefell quotes this language and says even more about the central importance of marriage in our society. Significantly, Justice Kennedy concludes that "the reasons that marriage is fundamental under the Constitution apply with equal force to same-sex couples."
However, some legal issues are not resolved by the court's opinion. The court did not rule on, or even mention, whether classifications based on sexual orientation warranted heightened scrutiny. Nonetheless, Justice Kennedy twice refers to sexual orientation as "immutable," and this may prove important in later litigation over protection from discrimination on the basis of sexual orientation.
How is the ruling likely to affect day-to-day life in this country?
The impact of the court's ruling is that same-sex couples should now be able to marry in every state and to have their out-of-state marriages recognized in other states. Obergefell involved challenges to the laws of four states: Kentucky, Michigan, Ohio, and Tennessee. However, its holding speaks more broadly to the obligation of all states to respect the fundamental right to marry of same-sex couples. It remains to be seen how much resistance there will be in those states that had not yet allowed same-sex marriage. Rhetoric in the dissents about "judicial tyranny" may fuel efforts by public officials to refuse to abide by this ruling.
One issue that will likely be front and center is religious liberty. No one doubts that religious clergy have the First Amendment freedom not to perform a religious wedding ceremony contrary to their beliefs. The battles will likely be over whether a public official with religious objections to same-sex marriage may refuse to issue marriage licenses or solemnize marriages, and whether business owners with such objections may refuse to provide wedding-related goods and services. Religious opponents of the court's decision are also raising concerns about the tax-exempt status of religiously affiliated educational institutions. The scope of state antidiscrimination laws, on the one hand, and religious freedom restoration acts, on the other, will be critical to resolving these conflicts.
Did anything in the rulings or the justices' votes surprise you?
I was hoping, but not expecting, that Justice Ruth Bader Ginsburg, whose pioneering litigation in the 1970s and 1980s shaped the court's modern approach to sex equality under the Equal Protection Clause, might write a concurring opinion explaining why restrictive marriage laws are a form of sex discrimination. Nonetheless, it is notable that Justice Kennedy's majority opinion, which Ginsburg joined, includes a paragraph on how "invidious sex-based classifications in marriage" that "denied the equal dignity of men and women" were common throughout the mid-20th century; the court, "responding to a new awareness," "invoked equal protection principles to invalidate laws imposing sex-based inequality on marriage."
I was surprised by Chief Justice John Roberts' invoking the Dred Scott opinion in his critique of the majority's approach to interpreting the Due Process Clause, since that case infamously struck down a restriction on the institution of slavery. That seemed needlessly inflammatory.
Is there any further recourse, either in the courts or legislatively, open to opponents of gay marriage?
Since the court has ruled that the fundamental right to marry extends to same-sex couples, that sets a constitutional floor with which states and the federal government must comply. Some Republican presidential candidates have called for a federal marriage amendment, echoing calls a decade or so ago. However, given the growing public support for same-sex marriage and the number of states that now allow such marriages, it seems highly improbable that such an amendment would succeed.
The more likely strategies opponents will pursue will be to call for state legislatures and Congress to enact laws robustly protecting "conscience" and religious liberty. Some religious leaders have already stated that they will resist "unjust" laws and "judicial tyranny" and the rule (as the dissenters put it) of five lawyers over the nation.
Roberts and the court have a reputation for conservatism, but a recent New York Times story found a surprising liberalism in recent decisions. When we look back on the legacy of the Roberts court, do you think the right or the left will be cheering?
Chief Justice Roberts' decisions in the Affordable Care Act case and in the marriage case are consistent in the sense that, in each instance, he argues that the role of the court is to defer to the democratic process rather than to impede it. I must leave it to court-watchers to assess the likely legacy of the Roberts court.