Nightlife: Stage American Vaudeville Nightclub
A throwback to 1920s glitz and glam, with electronic dance music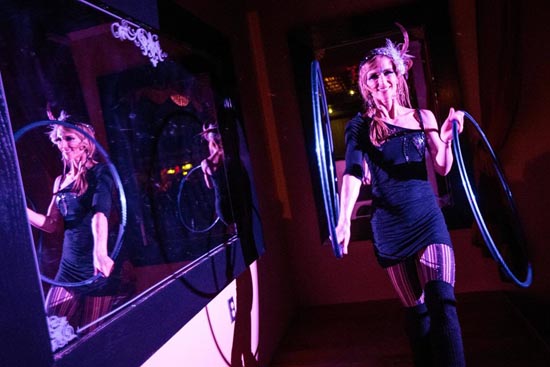 Prepare to be dazzled at Stage American Vaudeville Nightclub, the newest addition to Boston's late night scene. Visitors to the club, which opened in January, are met with Gatsby-era grandeur (chandeliers, a secret entrance, leather banquettes) and vaudeville-inspired entertainment (knife throwers and illusionists, for example). Intrigued by the promise of a Cirque du Soleil–style immersive entertainment experience, we stopped by the much-ballyhooed hotspot on a recent Friday for a night out on the town.
Stage is in the Theater District, across from Boston Common in the alley below the Transportation Building. The club aims to make the old new again by having knife throwers and flappers perform in a sleek, contemporary nightclub pulsing with electronic dance music.
We came off the street into the Library, a long, dimly lit room outfitted with dark wood, a wall-length bar on one side and a collage of vintage programs and posters of bygone singing, dancing—even self-decapitating—acts on the other. Velvet ropes and a red carpet give an aura of opulence and class, which is reinforced by staffers elegantly fitted out in top hats, tuxedos, and suspenders. One stood by a nondescript bookcase, which we thought nothing of until the wall of books began shifting outward, revealing the secret entrance to the rest of the club.
Inside, a group of burlesque performers danced and teased on a large elevated main stage. Framed with scarlet curtains and cordoned off by the club's VIP section, this was where the more elaborate acts performed throughout the night. Later in the evening, an Elton John impersonator took a break from mingling with partygoers to croon a medley of the Rocket Man's greatest hits.
While some patrons crowded around the area, ogling the dancers' suggestive moves, others gathered nearby at one of the club's bars. Stage's craft cocktail menu plays off the Prohibition-era theme, albeit with prices steep enough to make a flapper swoon. A Bathtub Gin 75 (Tanqueray gin, lime juice, simple syrup, and sparkling wine) sets you back $14, as does the Vaudeville Vixen (Absolut Raspberri, raspberries, and sparkling wine). It's no surprise then that the majority of patrons could be found out on the dance floor, bumping and shimmying to the DJ's contemporary mix of EDM and Top-40 hits, or huddled in the dimly lit booths.
When the main stage goes dark, the entertainment continues elsewhere in the club. To ensure a continuous and immersive experience, the nightclub features multiple smaller stages as well as an aerial ring hung from the gilded copper ceiling. The goal is to both entertain and showcase local talent. The night we went, a graffiti artist was painting a canvas in one nook, in another a magician was deftly manipulating a crystal ball, seemingly defying physics. Meanwhile, an Elvis impersonator drifted among the crowd, dancing and photobombing patrons' selfies, replaced a short time later by a chorus of Vegas showgirls.
The acts straddled the line between tacky and novel, but succeeded in keeping us entertained. At no point did we see a performance repeated. And with a promise from Stage's owners—nightclub veterans all—to provide new entertainment every week, we'll be back.
Stage American Vaudeville Nightclub, 19 Boylston Place, Boston, is open Friday and Saturday from 9 p.m. to 2 a.m.; phone: 617-982-3000. The cover charge is $10 (no cover before 10 p.m.), and patrons must be 21 or older. There is a dress code (leave the hat, tank tops, and sneakers at home). By public transportation, take any inbound Green Line trolley to Boylston Street.
This is part of a series featuring Boston nightlife venues of interest to the BU community. If you have any suggestions for places we should feature, leave them in the Comment section below.
Paula Sokolska can be reached at ps5642@bu.edu.