Meredith Vieira Chosen as 2015 Commencement Speaker
Honorary degree recipients, Metcalf Award winners also announced at Senior Breakfast
This just in from the Class of 2015 Senior Breakfast: Emmy-winning syndicated talk show host and former Today coanchor Meredith Vieira will deliver Boston University's 142nd Commencement address on Sunday, May 17, at Nickerson Field.
University President Robert A. Brown made the announcement Friday morning at the George Sherman Union Metcalf Ballroom, where 2,500 students gathered over a breakfast of caramelized onion quiche, blueberry and cranberry scones, and coffee.
"I'm very proud to be part of BU's graduation day," Vieira said in a recorded message broadcast to students on the ballroom's big screen. "See you then."
Vieira will receive an honorary Doctor of Humane Letters. The president also named this year's other honorary degree recipients: BU trustee Allen Questrom (Questrom'64), Doctor of Humane Letters; philanthropist Kelli Questrom, Doctor of Humane Letters; Grammy Award–winning jazz impresario and musician George Wein (CAS'50), Doctor of Humane Letters; and National Association for the Advancement of Colored People (NAACP) president and CEO Cornell William Brooks (STH'87), Doctor of Laws. Brooks will also give the Baccalaureate speech on Commencement morning at Marsh Chapel. Seung-Joon Lee (CAS'15) has been selected as this year's student speaker.
Vieira's name got a big round of applause from the crowd—the biggest ever at a Senior Breakfast, said event emcee Kenneth Elmore (SED'87), dean of students. Seniors who weren't able to be seated in the Metcalf Ballroom ate in the GSU BackCourt and the Ziskind Lounge.
During the breakfast, the winners of the University's highest teaching honor were also announced. Janice Furlong, a School of Social Work clinical associate professor of clinical practice and human behavior and a School of Medicine clinical associate professor, will receive the Metcalf Cup and Prize for Excellence in Teaching. Binyomin Abrams, a College of Arts & Sciences senior lecturer in chemistry, and Pamela Templer, a College of Arts & Sciences associate professor of biology, will receive Metcalf Awards for Excellence in Teaching. The three faculty members will be honored at the Commencement ceremony.
Born in Providence, R.I., Vieira graduated from Tufts University and began her journalism career in 1975 as a radio news announcer. She gained national recognition as a television reporter for CBS News. During her more than decadelong career there, she worked for the news magazine shows West 57th and 60 Minutes. In 1993, she moved to ABC News as chief correspondent for another news magazine show, Turning Point, before becoming the first moderator of the daytime television show The View, in 1997.
Vieira joined NBC in 2006, replacing Katie Couric (Hon.'11) as Today coanchor, and was a special correspondent for NBC News and Sports programming and later a cohost of the Beijing, Vancouver, London, and Sochi Olympics coverage. In 2014, she became the first woman to anchor NBC's primetime coverage of the Olympics. She left Today in 2013 to pursue a number of other projects. She founded her own production company, which develops film, television, and theater projects, and launched a YouTube channel, LIVES with Meredith Vieira.
As host of Who Wants to Be a Millionaire for 11 seasons, Vieira has the distinction of hosting more episodes of a game show than any other woman. Currently, she is host and executive producer of The Meredith Vieira Show, a nationally syndicated daytime program that airs on WCVB in Boston. She has received 14 Emmy awards.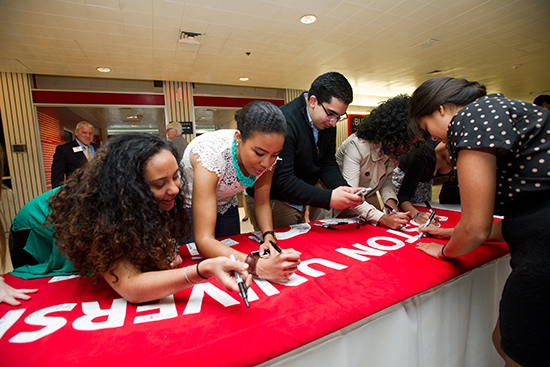 Earlier this spring, Allen Questrom and his wife, Kelli Questrom, donated $50 million to BU, the largest gift in University history, through their eponymous foundation. The gift renamed the School of Management the Questrom School of Business, and will be used to endow 10 faculty chairs and provide for planning to establish a new graduate program facility.
After graduating from BU in 1964, Allen Questrom rose rapidly from management trainee to executive positions in the retail industry. He directed the successful turnarounds of such prominent retailers as Barneys New York, Federated Department Stores, Neiman Marcus, and JCPenney. Today, Questrom is a senior advisor of Lee Equity Partners, a director of the Glazer Family of Companies, and a board member of Men's Wearhouse, Inc., and the At Home retail chain.
In 1986, after a successful and influential career in fashion promotion, which included stints at Abraham & Straus, Mademoiselle, and Ralph Lauren, Kelli Questrom became active in civic life, supporting a broad range of philanthropic causes. She advocates for preventive medicine, cofounded the Greater Los Angeles Partnership for the Homeless, and served on the first national board of directors of Design Industries Foundation Fighting AIDS. Through the Allen and Kelli Questrom Foundation, Kelli Questrom has actively supported the arts, endowing educational programs at the Aspen Art Museum and the Dallas Museum of Art, where she has served as a trustee. Along with her husband, she is a member of the National Council of the American Enterprise Institute for Public Policy Research.
Wein grew up in Boston, and a year after graduating from BU's College of Liberal Arts in 1950, he opened the jazz club Storyville, which became a Boston hotspot showcasing renowned artists such as Billie Holiday, Louis Armstrong, Charlie Parker, Ella Fitzgerald, and Dave Brubeck.
He produced the first Newport Jazz Festival in 1954, one of the most influential music festivals in the world. He cofounded the Newport Folk Festival in 1959, founded the New Orleans Jazz & Heritage Festival in 1970, and has produced and inspired hundreds of other music events over the last half-century. As a noted jazz pianist, Wein has recorded several albums and toured internationally with his group, the Newport All-Stars.
A longtime philanthropist, Wein established the Joyce and George Wein Chair in African American Studies at BU, the Alexander Family Endowed Scholarship Fund at Simmons College, and an annual artist prize given through the Studio Museum in Harlem in honor of his late wife, Joyce Alexander Wein.
This year he received a Grammy Trustees Award. In 2012, he was honored with the Association of Performing Arts Presenters Award of Merit for Achievement, given annually to an individual "whose genius, energy, and excellence has defined or redefined an art form."
As president and CEO of the NAACP, Brooks oversees the nation's oldest, largest, and most widely respected grassroots-based civil rights organization.
A graduate of both Head Start and Yale Law School, Brooks earned a Master of Divinity degree from BU's School of Theology in 1987. He has said that he considers himself "a grandson, heir, and beneficiary" of the Supreme Court's 1954 landmark decision Brown v. Board of Education, declaring unconstitutional state laws establishing separate public schools for black and white students. Over the course of a distinguished career, Brooks has worked as a civil rights attorney, a social justice advocate, an ordained minister, and a coalition-builder. He ran for the US Congress from Virginia's 10th District in 1998 as a Democrat, and has advocated for public education, affordable health care, and fiscal responsibility.
Prior to his position at the NAACP, Brooks was president and CEO of the New Jersey Institute for Social Justice, where he was involved with legislation that enabled formerly incarcerated people to rebuild their lives, helped reduce juvenile detention rates in New Jersey to historic lows, and developed workforce training programs that placed more than 500 low-income residents in higher-wage jobs.
While serving in previous positions with the Federal Communications Commission and the US Department of Justice, he promoted small business and media ownership diversity, increased financing for minority- and women-owned businesses, and settlements for victims of housing discrimination.
Brown reminded the Class of 2015 of some of the things they experienced during their four years. When they arrived on campus in 2011, unemployment was almost 10 percent, but "now it's close to 5 percent," he said. This year's record-breaking winter meant students had more holidays from class than the total from the last decade. They "lived through the tragedy of the Boston Marathon bombing," and together with the University, mourned BU student Lu Lingzi (GRS'13), killed there. The Yawkey Center for Student Services opened, and this year, the first class from the newly named Questrom School of Business will graduate.
As students move on to the next "page of life," Brown said, "what I hope you have done is find your passion."
More information about Commencement can be found here.