Men's Hockey Home Opener Tomorrow
High hopes for NCAA tournament despite loss of Eichel
Coming off a season that saw the men's hockey Terriers claim their eighth Hockey East tournament title, their 30th Beanpot crown, an appearance in the NCAA tournament, and a berth in the Frozen Four final, expectations are running high. The team is hosting the nonconference University of Wisconsin Badgers in Saturday night's home opener at Agganis Arena.
While last year ended in bitter disappointment when the Terriers fell to Providence 4-3 in the NCAA championship game, they come into their home opener confident of having a good shot at capturing the national title. BU was picked third in the preseason USCHO.com Division 1 Men's Poll, behind Boston College and Minnesota Duluth, the program's highest ranking since the 2009–2010 season. The Terriers had won their fifth—and most recent—national title in spring 2009.
"Hopefully we can do even better than the 2009 team," says head coach David Quinn (CAS'89). "But that's the thing about college sports—there's not much correlation from one year to the next. Every team takes on its own identity, and we're still trying to find ours right now, as is every other team in the country. We're a work in progress, and we're hoping we can figure this out sooner rather than later."
Looking to fill the considerable void left by Jack Eichel (CGS'16), the team will welcome back 15 of last season's 18 top scorers. Eichel, the 2015 Hobey Baker Award winner, was the number two pick in last June's 2015 NHL Entry Draft, and left BU to join the Buffalo Sabres. The Terriers also boast the third best 2015 recruiting class, according to College Hockey News.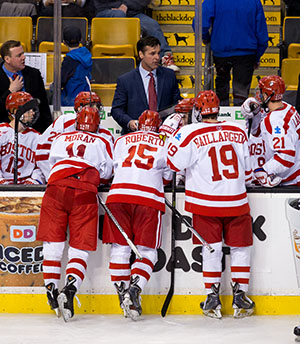 Fowards Jordan Greenway (CGS'17) and Jakob Forsbacka Karlsson (CAS'19), along with defenseman Charlie McAvoy (CGS'17), lead a talented rookie class. Six-foot-five and 225 pounds, Greenway spent two seasons playing with U.S.A. Hockey's National Team Development Program, as did McAvoy. Together, the two helped the U-18 team claim gold at the 2015 International Ice Hockey Federation Under-18 World Championship. Karlsson is another exciting prospect, recording 53 points in 50 games last season for the Omaha Lancers of the US Hockey League. The Swedish native has already demonstrated his scoring prowess, netting a pair of third-period goals in a 4-2 exhibition victory over Acadia October 3. Both Karlsson and Greenway were picked in the second round of this summer's NHL Entry Draft, Karlsson by the Boston Bruins and Greenway by the Minnesota Wild.
"They're all really good players," says assistant captain Danny O'Regan (COM'16). "I'm playing with Greenway right now, and he makes everything a little easier. Even off the ice, he's a great kid. They're all as talented as they come, and they're all really going to help us out, both on the ice and in the locker room."
With returning captain and defenseman Matt Grzelcyk (COM'16) forced to sit out the first weeks of the season recovering from knee surgery, McAvoy is expected to play an early crucial role. First Team All-American Grzelcyk, who scored the winning goal in overtime in last year's Beanpot tournament, is doing his best to make the transition as smooth as possible for McAvoy. "Charlie is one of the key guys coming in," says Grzelcyk. "I think everyone knows that. I'm just telling him, coming into a building like this, 'Don't let your head swivel during the games. Just play your game and be responsible on your own end.' He's a pretty mature kid for his age so I think he'll be just fine."
The Terriers will also be relying heavily on seniors O'Regan and Ahti Oksanen (COM'16). The talented upperclassmen combined for 88 points last year, with Oksanen leading the team on power-play goals, with nine.
"They're two great players to have," says Quinn. "They always listen and do exactly what they're told. We even made Ahti switch positions last year. He was a little feisty about it, but he cooperated. That's what you want out of your better players—to do whatever it takes for the team. It sets an example for everyone else."
Quinn, last year's Hockey East and New England Coach of the Year, enters his third season as head coach. He was runner-up for NCAA Division 1 Hockey Coach of the Year after presiding over the fifth-best turnaround in college hockey history last season: the BU team had recorded just 10 victories during the 2013–2014 season.
"He's the best leader there is," says Grzelcyk. "He's everything you want in a coach. He knows when to be tough and he knows when to lighten up. We had a rough year in 2013, but he never really panicked. That kind of demeanor really gave us confidence going into the next year, and hopefully it will carry on into this year."
The BU men's ice hockey team kicks off its home schedule tomorrow, Saturday, October 17, at 7 p.m. against the University of Wisconsin at Agganis Arena, 925 Commonwealth Ave. Tickets are free for students with a sports pass, $17 for BU students, faculty, and staff without a sports pass, and $22 for the general public. Purchase tickets at the Agganis Arena ticket office. The Terriers host an exhibition contest against the US National Under-18 team tonight, Friday, October 16, at 7:30 p.m. at Agganis. Prices range from $17.50 to $27.50; free for students with a BU sports pass.
Emmanuel Gomez can be reached at mannygo@bu.edu.