Men's Hockey Advances to NCAA Championship
Terriers take North Dakota 5-3, face off against Providence Saturday
The BU men's hockey Terriers beat the University of North Dakota 5-3 in exciting Frozen Four semifinal action at the TD Garden Thursday night to win a spot in Saturday's NCAA championship game. They will play for their sixth national championship.
Coach David Quinn's Terriers scored two first-period power play goals and two more goals in the second, then held off a resurgent North Dakota in a frantic final frame. Freshman star Jack Eichel (CGS'16) had two goals and an assist in the win.
The BU men will shoot for the national championship title against the Providence Friars at the Garden on Saturday night at 7:30 p.m., a game that will be televised on ESPN and TSN2. Providence defeated the University of Nebraska Omaha 4-1 in the other semifinal Frozen Four game earlier Thursday night.
The Terriers struck first against North Dakota, on a power play at 15:01 of the first period, after a North Dakota player was called for tripping Ahti Oksanen (COM'16). To no one's surprise, it was Eichel who scored, backhanding the puck in off assists from Oksanen and Danny O'Regan (COM'16).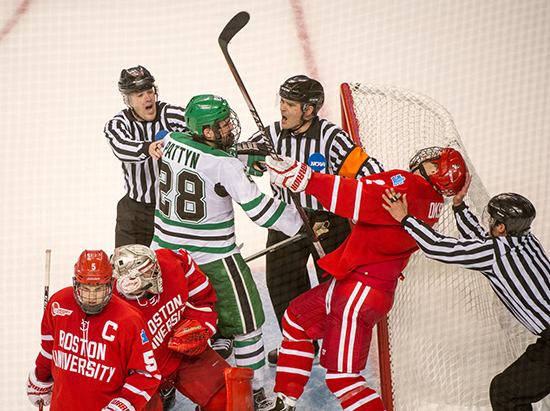 Despite BU scoring first, much of the momentum in the first frame seemed to belong to North Dakota. BU goalie Matt O'Connor (Questrom'16) was challenged repeatedly, but answered the call. North Dakota took another penalty with 2:09 left in the first as defenseman Brandon Hickey (CGS'16) was smashed into the boards in his own end by North Dakota's Colten St. Clair, the replay drawing boos from the crowd. About 1:20 into the ensuing power play, Hickey got his revenge and made it 2-0 with a shot from the left point, with assists going to Cason Hohmann (Questrom'15) and Robbie Baillargeon (CGS'15).
The Terriers had the best offense in the country this season, scoring 32 power play goals in their last 25 games.
But North Dakota's Luke Johnson took advantage of a power play the other way less than a minute into the second period, short-siding O'Connor up high to make it 2-1. Much of the next 10 minutes proved tense for BU as O'Connor was kept on his toes by an aggressive North Dakota, while his teammates had trouble getting it out of their own end.
But with about 8:40 left in the second, Eichel made a key pass just after entering the ice, feeding an open A. J. Greer (CGS'16) for a drive from outside the right circle that made it 3-1 BU. Eichel and Brien Diffley (CAS'18) got the assists.
Less than two minutes later, Terrier defenseman Doyle Somerby (CGS'15) launched a bad-angle prayer from the left boards that skipped in under North Dakota goalie Zane McIntyre to make it 4-1. It was Somerby's first goal of the season. Diffley was credited with a second assist.
The third period raced past with end-to-end action. BU went on the power play again at 8:26 after an interference call, and North Dakota's situation looked desperate. But a slipup by O'Connor, who had lost track of the puck, gave North Dakota defenseman Troy Stecher an easy tap-in to make it 4-2.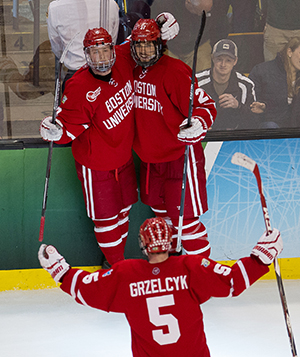 The Terriers were called for too many men on the ice with 4:48 left, and North Dakota's Connor Gaarder blasted it past O'Connor from the left circle just over a minute later to make it 4-3 and turn it into a true nail-biter for BU fans. After a round of extracurricular action led to matching penalties for Evan Rodrigues (Questrom'15) and North Dakota's Stephane Pattyn, North Dakota pulled McIntyre. Eichel was able to score an empty-net goal with 18.5 seconds left to make it 5-3, and the game was over.
"Well, obviously an incredible game," Quinn (CAS'89) said after the game. "Funny game in a lot of ways. You're up 4-1, seven minutes to go, eight minutes to go, and you think you go on the power play and you think everything's in good shape, and your goalie lets in a goal that he hasn't let in all year. And a too-many-men-on-the-ice penalty that we haven't had all year, and then it's 4-3 and we're hanging on for dear life."
"We just tried to weather the storm," Eichel said. "They get a couple of goals. Maybe the momentum was on their side. We just wanted to battle. Like I said, weather the storm. And all season we've really worked hard on our D zone coverage, playing our man, bearing down in our own zone in practice…at the end of the day it really pays off. And you could tell at the end of the game when all of our D, all our forwards are really bearing down, chipping pucks out of the zone and taking their man out of the play. So a lot of credit to the coaches there."
"There are all sorts of ways to win," said Quinn. "We've been very fortunate this year, we've won games a lot of different ways, we won one tonight in a way we hadn't had to win one all year. It's a great sign. And I'd like to congratulate North Dakota on a great year. It's a heck of a hockey team. We know how fortunate we are to live another day, but we also think we deserve to live another day. There's only two teams standing, both from Hockey East. I congratulate Providence as well. It's going to be heck of a game, a heck of an atmosphere. We're looking forward to Saturday."
BU and Providence split their two games during the season, each losing at home. The Terriers last won the national championship in 2009 in a 4-3 overtime thriller against Miami (Ohio). Down two goals with less than two minutes to play, they scored twice in the final minute of regulation to send it to the extra frame. If they win on Saturday night at the Garden, it would be the first time a Boston team has won the title in Boston.
On Friday, 18-year-old Eichel, from North Chelmsford, Mass., will learn whether he has won the 2015 Hobey Baker Award, college hockey's top prize; the other finalists are North Dakota goalie Zane McIntyre and Harvard University forward Jimmy Vesey. The announcement of the winner will be televised live on NESN and on the NHL Network at 5 p.m. EDT.
The Boston University men's ice hockey team takes on the Providence Friars in the NCAA championship game on Saturday, April 11, at 7:30 p.m. at TD Garden, 100 Legends Way, Boston. The game will be televised on ESPN and TSN2.
Emmanuel Gomez can be reached at mannygo@bu.edu.