The Spirit of the 76ers
Former Terrier guiding young NBA team on long road to victory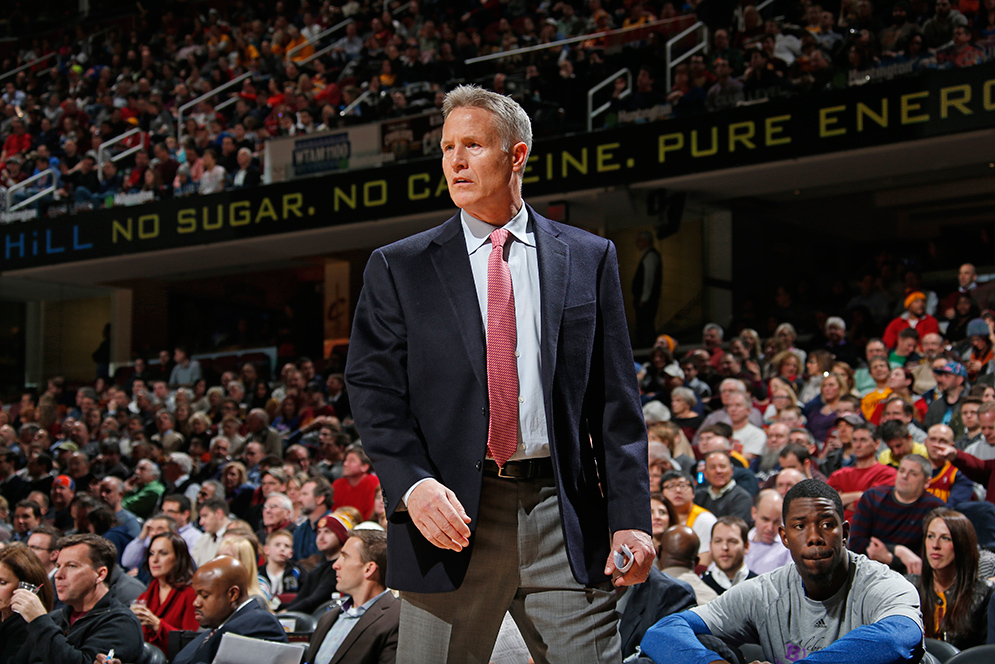 This has to be demoralizing, right? The Philadelphia 76ers are about to wrap up their second straight season with fewer than 20 wins. At home against Miami , they will try to close out the National Basketball Association season with their 19th win, out of 82 games. That's right, the Sixers are are 18-63, right now. They went 19-63 last year.
And yet, if you ask 76ers head coach Brett Brown, the Sixers are right where they want to be. "I'm beyond thrilled and confident with the infrastructure that we're setting up," says Brown (MET'83). The win-loss record "is about 15th on the list of things that matter most to us right now."
The players talk about their great locker-room chemistry and how motivated they feel. "I've never met anybody more positive than Coach Brown," one Sixer told ESPN the Magazine. "We could lose by 30, and he'd still be like, 'You guys played your hearts out! I'm proud of you!'"
And strangely, it isn't just the coach and his charges who seem upbeat. The Philly faithful are far from glum. Season ticket sales and average attendance have actually risen this year. About 14,000 fans have turned out per home game in the team's 19,000-seat arena—pretty respectable for a losing team. "They are optimistic, yeah," says a Philadelphia Inquirer sportswriter of basketball fans in the City of Brotherly Love. "God, I love this team," wrote one Philly sports blogger in February, and from another in early April: "Nobody in their right mind has left the Wells Fargo Center this year discouraged about the team's future."
What is going on here?
It helps that most of the wins have come in the second half of the season, generating a sense of momentum, while the team's poor record overall gives it a good shot at a high pick in this summer's NBA draft. Indeed, during these two seemingly dismal seasons, the Sixers have made a dizzying series of moves aimed at securing draft picks and young players with potential—ensuring, team brass and fans hope, success in the future.
It's more than that, though. A great deal of the optimism has to do with Brown, the former Terrier at the helm.
New England roots
Brett Brown was born to be a coach. A native of South Portland, Maine, he is the son of Bob Brown, a legendary high school and college coach in Maine and a New England Basketball Hall of Fame inductee. The younger Brown was an All-State point guard for South Portland High, and his senior year the Red Riot went undefeated, winning 29 games en route to the 1979 state championship.
At Boston University, Brown played under Rick Pitino in the latter's first head coaching job. (Pitino would go on to steer Kentucky and Louisville to national titles, in addition to stints coaching the NBA's Knicks and Celtics.)
"My first memory is just how difficult and challenging that environment was and how it really shaped me, even now," Brown says of his time at BU. "There's no team in America that was in better shape than we were. Pitino really—and I say this as an extreme compliment—just broke us down, to where I pressed in every second of every game that I ever played for him for four years."
Leading the team in assists, Brown earned BU basketball's Lou Cohen MVP Award as a sophomore. He was a team captain junior and senior years. During the summers, he and Pitino traveled around New England giving basketball clinics to young players. "I just loved doing that with him," Brown says. "I've always felt like one of his primary skills is player development." It's a skill that Brown would hone in the decades to come.
Tragedy struck the Terriers at the beginning of Brown's senior year. His cocaptain then was star forward Arturo Brown (CGS'81, Questrom'83). The two weren't related, but teammates nicknamed them "the Brown brothers," a riff on their contrasting hues (one white, the other black) as well as their close relationship. During a practice in the Case Center on September 17, 1982, Arturo suffered a fatal heart attack.
"I looked over and saw Arturo lying on his back," Brett Brown told the Boston Globe. "Then he got up on his feet for a moment, looked around, and collapsed on his back again. It was as if he got up to look around the whole gym one last time. I'll never forget that."
The team pulled together to post one of BU's best seasons ever, going 8-2 in the conference, 21-10 overall, on the way to the ECAC North Atlantic (now America East) conference final. The championship game, against Holy Cross, came down to the wire. His team down by two, BU guard Shawn Teague (SED'85) went for a layup. He made the shot and drew a foul. With one second left, Teague sunk a free throw to beat the Crusaders 63-62. It was the Terriers' first conference title in basketball, and they moved on to their first NCAA tournament since 1959.
The Terriers lost to LaSalle in the preliminary round, but they had few regrets. "If there ever was a team that deserved the respect of friend and foe alike, it is this BU bunch," wrote a Globe columnist. "It is truly a team of character."
When Brown graduated, he says, "I left Boston University feeling like there's nothing you physically couldn't accomplish, given what I had just been through." He remains on the University's all-time top-10 list for career assists (404), steals (141), and free-throw percentage (.769).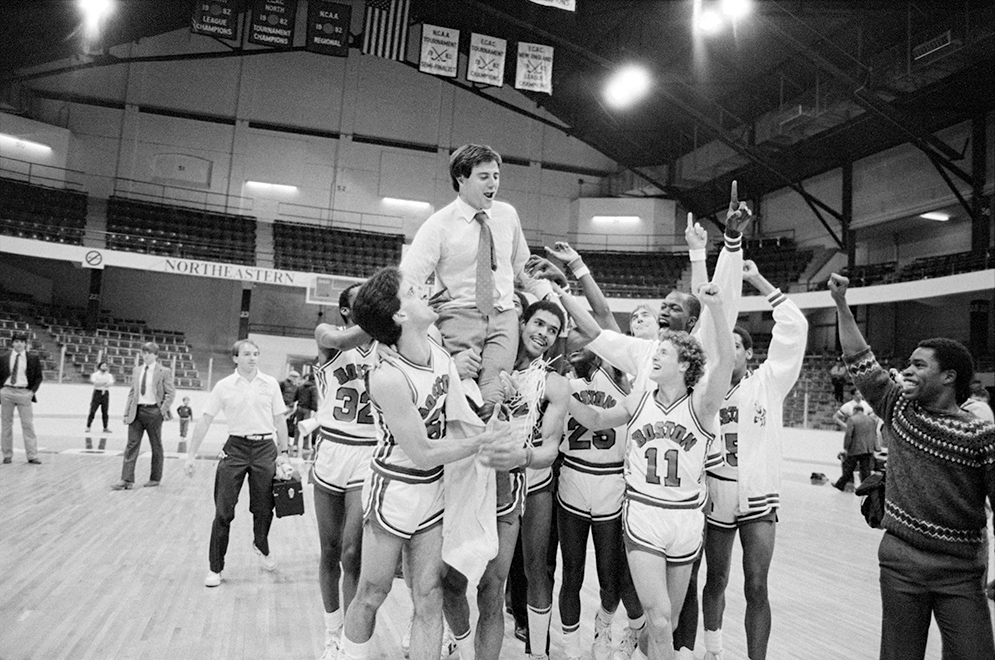 Down Under and back again
For a few years after graduation, Brown stayed in Boston working in sales for AT&T. Once he'd saved up enough money, he took off on a backpacking trip across Fiji, New Zealand, and Australia. In 1987, in the land of Men at Work and Crocodile Dundee, he met the woman who would become his wife and the mother of his three children.
So the Mainer settled in Australia—and got back into basketball. The hoops game was on the rise there (at least in cities such as Melbourne). With the Melbourne Tigers (recently renamed Melbourne United), Brown was assistant coach under Sport Australia Hall of Fame coach Lindsay Gaze for five years. At the peak of the sport's popularity in the 1990s, when basketball was challenging Australian-rules football for dominance, Brown became head coach of the North Melbourne Giants. In his first season, he led the Giants to a national championship and was named 1994 Coach of the Year.
For most of the 2000s, Brown divided his time between his native and adopted continents. He worked primarily for the NBA's San Antonio Spurs, first as director of player development, then as assistant coach under yet another legendary head coach, Gregg Popovich. Brown won four championship rings with the Spurs. Meanwhile, he was also head coach of the Australian National Team, culminating in the Boomers' appearance in the 2012 London Olympics, where they made it to the quarterfinals.
Throughout Brown's international experience, he was impressed by the level of expertise devoted to the health and conditioning of athletes. "I think that America is just catching up to the world," he says. "I saw how the foreign players understood at a real young age about ice baths, massage therapy, nutrition, hydration."
All of that would feed into Brown's next role.
Bad to worse to better
A pugnacious city with a Revolutionary past—some locals call it the Cradle of Liberty—Philadelphia boasts a proud sporting tradition, with fans who are loyal to a fault.
The 76er rosters down the decades have included some of basketball's greats—Wilt Chamberlain, Julius Erving, Charles Barkley, and Allen Iverson, to name a few. But the Sixers haven't won a championship since 1983, and playoff appearances this century have been few and futile.
In 2013, the Sixers hired a 35-year-old general manager in the Moneyball mold, guru of data analysis Sam Hinkie. With Hinkie in charge of personnel decisions, the team has essentially started over—gotten rid of some veterans who were good but not great, begun acquiring young players showing promise in nuanced statistical areas, and traded and angled for draft picks. Some moves have sent fans frantically googling to identify obscure rookies. ("Is Furkan Aldemir a character from Game of Thrones?" asked one local sports blogger.)
Soon there was an opening for a head coach, a position critical to the long-term plan. Excited at the prospect of rebuilding a team from scratch, Brown applied and underwent a thorough vetting process. The series of interviews, he told ESPN the Magazine, was a bit like "the gauntlet on one of those game shows where you have to run over a bridge and then something flies out and hits you, and the pole is slippery, and then another thing swings out and hits you."
Defense is "the number-one thing on the court we talk about," Brown acknowledges. "Anything that matters when you have to play in championships comes through your defense."
With his strong attention to detail and his proven focus on player development and health, Brown got the nod. He began a four-year contract with Philadelphia at the start of the 2013–14 season. At last, he told Grantland, an online magazine founded by Bill Simmons (COM'92), he was coaching in a climate with basketball-appropriate weather during basketball season.
In the almost two years since, Brown has proven that he "is the man for this job," as CBSSports.com puts it. The team's collective greenness—"We have the youngest team in the history of the sport," Brown points out—has meant playoff contention was out of the question during this period. Indeed, the Sixers started this season 0-17. The hometown crowd winced, but remained hopeful. Crystallizing that sentiment, one fan told NBA.com in November that he had just bought season tickets, even though it's "a little expensive, with what they're charging you to watch a grease fire of a team, which is what it is. I mean, this is a hazmat spill we're watching. But what you've got to look at is, they have a plan."
That plan is why the team's win-loss record thus far is beside the point. With the incredible performance of 20-year-old center Nerlens Noel in the second half of this season (an average of 13.1 points, 10 rebounds, 1.9 assists, 2.3 blocks, and 2.1 steals since the February All-Star break), the Sixers have not only a serious contender for this season's NBA Rookie of the Year, but a likely linchpin for a noticeable turnaround starting next season.
What Brown has done to date is to improve the team in myriad ways less visible to the casual fan. "To get technical, the Sixers' defense, for example, is ranked in the top 10 in terms of efficiency—that's points allowed per 100 possessions," says sportswriter Paul Flannery (COM'97), a College of Communication journalism lecturer. "That's insane. Other than Nerlens Noel, with the talent they have, they shouldn't be in the top 10. But they are, and that's a direct credit to Brett Brown."
Defense is "the number-one thing on the court we talk about," Brown acknowledges. "Anything that matters when you have to play in championships comes through your defense. Ultimately, you're gonna need both offense and defense. But when you have a starting point, you try to draw a line in the sand someplace, and I'm going to defense."
With the help of a phalanx of experts—including analytics specialist Lance "Doc" Pearson (GRS'05), who holds a Ph.D. in cognitive and neural systems from BU—Brown ranks players on an "effort chart" encompassing a variety of metrics. On defense, for example, players earn grades for contested shots, tips, and deflections.
Because Brown balances his meticulousness with genuine warmth, the chart doesn't feel to players like the standardized tests they took in high school. He cares about his players, and he won't allow them to conflate losing with being losers. That has been perhaps his biggest success in this early stage of the rebuilding process: keeping the locker room together, not to mention excited and goal-oriented, during losing seasons. "We're trying to build a system," he says. "We're trying to build a culture."
Playing Monopoly while other teams are playing checkers
Of course, that system has its detractors, who call it by a different name. The criticism—indeed, the conventional wisdom—is that the Sixers are "tanking" the season: deliberately finishing low in the standings to better their chances of a high pick in the off-season draft of graduating college players. The team's front office personnel have not been shy about their long-term strategy—the Sixers CEO acknowledged to Sports Illustrated, "We want to be contending for a long time, and the way to do that is through the draft, so our focus is on youth and player development." But they disagree that this means they are tanking. It's also not entirely clear why the 76ers get the most flak for the practice. They aren't the worst team in the league, after all. (The Knicks and Timberwolves are tied for that dubious honor.)
"This is a very cynical league," Flannery says of the NBA. "Basketball is the only sport where it's called 'tanking,' not 'rebuilding.' Say you're a pro football team and you're 3-9. You're gonna play your young players down the stretch, and if you get in a position where you get a first-round draft pick, yay! Apparently, in basketball that's not allowed, and it's called tanking."
To be clear, the tanking charge generally centers on GM Hinkie; critics say he's assembled a team that can't win. That is not the same thing as suggesting the Sixers on the court have been throwing games. (Why would they throw a game by, in one case, 53 points? That is genuine futility.) Most experts agree that Brown has been doing an amazing job with the raw recruits he's been given.
That hasn't stopped conspiracy theories circulating among casual fans, and even some owners. "When a dude who's never taken three-pointers is now taking 15 three-pointers a game, it offends people," says Flannery. "It's like an honor-among-thieves thing: 'C'mon, at least look like you're trying!'"
"I love coming back to Boston," says the former Terrier. "To come back here and take a walk up Commonwealth Avenue.…I just think it's a great University and a great city."
In reality, say their defenders, the 76ers' increasing reliance on three-point attempts is another example of Philadelphia playing Monopoly while other teams are playing checkers. Indeed, they've hired a shooting coach, one of just a handful in the league, to train in that very skill. That's because they believe the three-pointer is trending upward in importance, and they want to be ahead of the curve.
For math whiz Hinkie, that belief is probably the result of intense calculations, Brown told a local podcast, half-joking when he said, "I go into his office, I'm seeing crumpled-up Starbucks cups and Jimmy John's wrappers and hieroglyphics all over the walls, and graphs here." But based on his own careful observations as well as old-fashioned coach's gut feeling, Brown agrees with the trend's importance.
"Can you improve three-point shooters? I think you can," he said in the same podcast. "Look at the improvement Jerami Grant's made—he took about 20 three-point shots at Syracuse in two years, and now he's a 34 percent NBA three-point shooter. Luc Mbah a Moute has made more three-pointers this year than he even attempted in six seasons."
So, will the Sixers' bold gamble work? Will the plan pan out? You'll have to keep an eye on the coach and his boys next season to find out. Perhaps you can catch up with Brown in his old stomping grounds when the 76ers play the Celtics again at the Garden.
"I love coming back to Boston," says the former Terrier. "To come back here and take a walk up Commonwealth Avenue. More times than not, I go straight to T Anthony's and get my large steak-and-cheese sub, extra cheese, extra mushrooms.…I just think it's a great University and a great city."
Patrick Kennedy can be reached at plk@bu.edu.