Women's Ice Hockey Terriers Head to NCAAs
Hoping for momentum from third consecutive Hockey East championship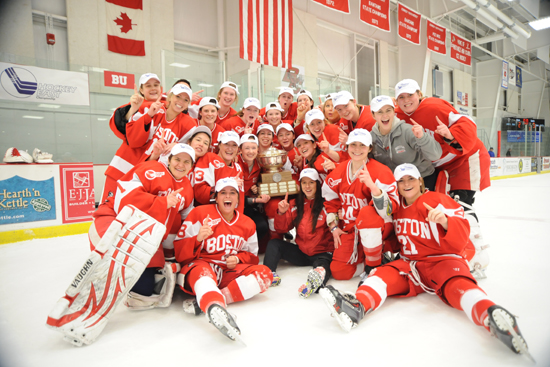 The women's ice hockey Terriers have a shot at redemption tomorrow when they take on the Minnesota Golden Gophers in the quarterfinals of the NCAA tournament. Nearly a year ago, the BU women fell just short of a national title when the Gophers took the championship game 6-3.
After dropping three of their five final regular season games, the Terriers pulled off a trio of one-goal victories—over Providence, Northeastern, and Boston College—last weekend in Hyannis to claim a third consecutive Hockey East title and earn their fifth consecutive NCAA berth. Finishing the year with a 24-12-1 overall record, the Terriers come into the NCAA tournament as the lowest seed and will face the top-seeded Gophers on their home ice in Minneapolis tomorrow.
"We were a little bit up and down in the final months of the season," says Terrier head coach Brian Durocher. "So getting on a roll with three wins in a row and hanging another banner in the arena should really help us regain some momentum in time for the national tournament."
Going up against a Minnesota team that has lost just one game all season and is currently ranked number one in national polls will be a formidable task, but the Terriers who competed in last year's NCAA finals say they'll be able to draw on that experience and use it to their advantage.
"We know what the crowd's going to be like," says Hockey East Player of the Year Sarah Lefort (CGS'14). "We know they're going to bring a lot of intensity and that we're going to be the underdogs, but for everybody except the freshmen to have been there and skated on that ice with even more on the line last year, it should take a little bit of the nerves away and let us play our game."
For goaltender Kerrin Sperry (CAS'13, GRS'16), tomorrow's game marks her fourth consecutive year starting in an NCAA tournament contest. Sperry was named the Hockey East Tournament Most Valuable Player for the second straight year after stopping 119 of 125 shots during BU's three wins last weekend. She stopped all 18 Boston College shots in the fourth quarter of the championship game and helped the Terriers defeat their archrival for the first time in this season's five meetings.
"Three straight Hockey East titles is an amazing accomplishment. It's great to be part of a team that is so skilled and so determined," Sperry says. "We know that we have a lot to get done before we can even consider what it would mean to win a national championship, and we're just going to take it one minute at a time, one play at a time, and in my case, one puck at a time."
If the Terriers get past Minnesota, they will earn a trip to the Frozen Four in Hamden, Conn., next weekend. Win or lose, Durocher counts the season as a success. "We've earned a Hockey East championship, won 24 games, and seen the evolution of a lot of young players that have shown that they can play here at a high level," he says.
With 13 underclassmen playing pivotal roles, Durocher believes the program has a promising future. He credits the team for refusing to concede this season as a rebuilding year.
For Sperry, there are no thoughts about next year—only the next opponent. "For the seniors, it comes down to the fact that we win or go home," she says. "If that means that you have to swallow whatever nervousness you have and just go out and play, then we'll have to do it. Some people said this will be a rebuilding year, but we've really turned that on its head. We've been underdogs all year and it's really motivated us, so it shouldn't be much different when we go to Minnesota as underdogs again."
The Boston University women's hockey team face the Minnesota Golden Gophers in the NCAA quarterfinals at 5 p.m. EST on Saturday, March 15, at Riddler Arena in Minneapolis, Minn. Follow the action on CBSSports.com's game tracker.
Nate Weitzer can be reached at nweitzer@bu.edu.