Researchers Cite Experts' Findings of NEIDL Safety
Arguments counter city councilman's attempt to ban Biosafety Level 4 research
In a discussion whose outcome may determine if Boston University's National Emerging Infectious Diseases Laboratories (NEIDL) will conduct research involving pathogens such as the Ebola and Marburg viruses, speakers for and against research at Biosafety Level 4 (BSL-4) faced off last night at a lengthy Boston City Council hearing on a proposed ordinance to ban that level of research in the city. The ordinance was put forth by Councilman Charles Yancey, who told the standing-room-only crowd that he feared that BSL-4 research could pose a serious risk to the health and safety of the community.
While Yancey and several opponents of BSL-4 research tried to persuade the city council to support the ban, proponents, including Barbara Ferrer (SPH'88), director of the Boston Public Health Commission (BPHC), and M. Anita Barry, director of the BPHC Infectious Diseases Bureau, argued that reliable safety precautions have been put in place. Representatives of the biotech industry also spoke in favor of BSL-4 research, maintaining that banning BSL-4 research would inhibit the growth of life sciences research in Boston.
Ferrer told the council that Boston has the toughest safety regulations on infectious disease research of any city in the country. She said that while there are 15 labs in the country that conduct research at BSL-4, Boston is the only city whose public health authorities regulate the permitting and inspection of the labs. She said the nine labs in Boston that currently conduct research at Biosafety Level 3 are also strictly regulated by the Public Health Commission. Ferrer told the council that her agency has been preparing for BSL-4 research since 2006 and has trained hundreds of police officers and firefighters to respond to potential emergencies.
Gloria Waters, a BU vice president and associate provost of research, told the council that she cares very much about NEIDL not only in her BU role, but also as a person whose family lives in the area. "BU and Boston Medical Center attract researchers and students who want to make the city a safer place to live," said Waters. "No research will be classified, and details of all research are open for public consumption."
Ronald Corley, NEIDL associate director and a BU School of Medicine professor and chair of microbiology, emphasized the promise of a research lab that can bring together expertise in many disciplines, such as chemistry, microbiology, and engineering.
"The great discoveries in science these days are coming from these kinds of multidisciplinary efforts," he said. "The University's mission is educating the next generation of scientists." Corley said the mission of NEIDL is to develop vaccines, diagnoses, and therapeutics for emerging infectious diseases. "The NEIDL is not going to produce biological weapons, and it is not going to do classified research," he said.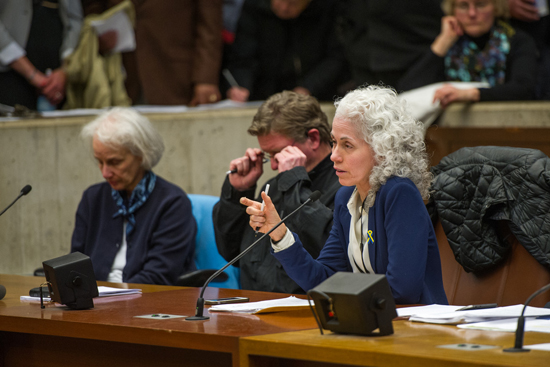 Thomas Robbins, chief of the BU Police Department and executive director of public safety at BU, described the elaborate procedure designed to transport pathogens to NEIDL. He said every delivery is tracked with two GPS devices, one on the delivery vehicle and one in the package containing the pathogen. Robbins also talked about extensive background checks, including psychological screening and drug screening, of all NEIDL employees.
Opponents of BSL-4 research at the hearing argued that safety studies of the lab conducted by the National Institutes of Health (NIH) were inadequate, and that NEIDL was constructed in "an environmental justice community" without sufficient dialogue with residents. Roxbury-based community activist Claire Allen claimed that BU failed to adequately communicate with local residents during the initial planning stages of the NEIDL construction. "We have never tried to compete with BU," she said. "We are the most polite protestors in the world."
Mel King, a longtime community leader and former executive director of the New Urban League of Greater Boston, said the community surrounding NEIDL was never asked if it wanted a biological research lab in its backyard. King, who repeatedly referred to the lab as a "bio-terror lab," called for ending all research at all biosafety levels.
Mary Crotty, a nurse attorney for the Massachusetts Nurses Association, said she had opposed NEIDL since 2005, and feared that local hospitals were not prepared to handle a "surge" of medical emergencies that might result from an accident.
Construction of the $200 million NEIDL facility was completed in September 2008, but controversy and litigation have kept much of the building's 192,000 square feet of laboratory space closed. The lab is part of a national network of secure facilities dedicated to the development of diagnostics, vaccines, and treatments to combat emerging and reemerging infectious diseases.
Last year, after legal challenges to a NIH assessment of risks associated with BSL-3 and BSL-4 research, US District Court Chief Judge Patti Saris ruled that a Final Supplementary Risk Assessment was sound, and that such research could be conducted safely at the BU Medical Campus site. The risk assessment examined a series of scenarios and potential consequences of procedural failures, including containment system failures and malevolent acts.
In a 76-page opinion, Saris found that "the NIH provides sufficient scientific support for its ultimate conclusions that the risks to the public are extremely low to not reasonably foreseeable, and the differences between the Boston location and the suburban and rural sites are not significant. In light of the benefits of placing the lab in an urban area like Boston, which provides opportunity for expert medical research collaboration, and the low risk of harm to the public, NIH's decision is rational."
In March of last year, the Massachusetts Secretary of Energy and Environmental Affairs gave approval for the lab to conduct research at Biosafety Level 3 and Biosafety Level 4. Since then the lab has received additional required approval for BSL-3 research, and scientists at the lab are now gearing up for BSL-3 tuberculosis research that could someday stem the disease's lung lesions in humans and prevent TB transmission by coughing. Research at Biosafety Level 4 requires a wait for further approvals from state courts, the Boston Public Health Commission, and the federal Centers for Disease Control and Prevention.
An editorial in the April 13 Boston Globe advised readers that passage of Yancey's ordinance "would be to overestimate any danger that the biolab poses to nearby residents—and to retreat from the singular role that Boston plays as the world's greatest repository of life-saving expertise."
The Globe cited the elaborate security measures that protect the lab, including perimeter fencing and walls that would resist truck bombs, auxiliary generators, a requirement that scientists who work in BSL-4 biohazard areas clean up after themselves and assist with medical emergencies that occur in biohazard areas, and elaborate biometric security systems in high-level laboratory areas that require the presence of two scientists, "reducing the possibility that one scientist working alone with pathogens could spirit a vial outside."
The newspaper also pointed out that Yancey "had been invited more than once to tour the lab but hasn't yet done so."
The Boston City Council is expected to decide whether or not to vote on Yancey's proposed ordinance in the coming weeks.
Amy Laskowski contributed additional reporting for this article.