Reading of Alum's Play at New Repertory Theatre Tonight
Second of three works by BU playwrights featured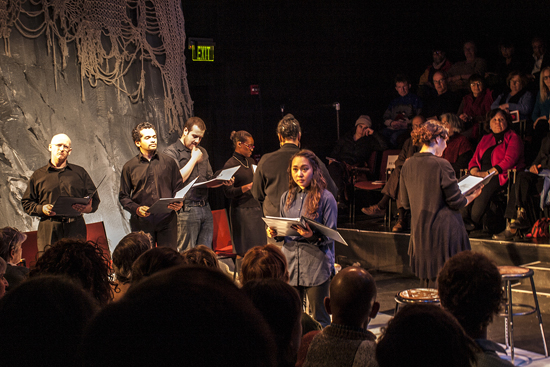 A scattering of folding chairs and a rope net backdrop transformed a cafe in Tel Aviv into a West Bank refugee camp for the March 24 reading of The River and the Sea, by Danny Bryck (CFA'09), the first of three Next Voices readings of plays by BU alums on the New Repertory Theatre stage. In Bryck's drama, 10 actors clad in black embody more than 50 characters, whose lines are all taken directly from interviews the playwright conducted in Israel and Palestine, the land between the Jordan River and the Mediterranean Sea.
Bryck's play is a mosaic of voices, according to his website—"from a young soldier in Tel Aviv to a young mother from Gaza, from residents of a West Bank refugee camp to an American living in a West Bank settlement to a Holocaust survivor, an Eritrean refugee, a Filipino migrant worker, a young Druze man refusing army service, a German convert to Judaism turned antioccupation activist."
Each season, through its the Next Voices fellowship program, now in its third year, the New Repertory Theatre gives four promising playwrights the opportunity to develop a script, with guidance from peers and access to actors, directors, and producers. At season's end, one play is chosen for full production and the others are featured in readings for live audiences. New Rep artistic director Jim Petosa is the director of the College of Fine Arts School of Theatre.
"It's pretty major," says Next Voices founder Bridget O'Leary (CFA'08), New Rep associate artistic director. "We have so many strong writers here in the Boston area, and we're using these local writers as a resource for our season. We're inviting playwrights in with the promise that one out of four will get a production next year."
The second reading, which takes place tonight, is Reconsidering Hanna(h) by Deirdre Girard (GRS'11). The play follows the story of Hanna, a journalist working on an assignment profiling Hannah Duston, a Colonial Puritan woman who was kidnapped from her Haverhill, Mass., home by a local Native American tribe. Hannah escaped, killing and scalping 10 of her captors, most of them women and children, and returned to Haverhill, where she was hailed a hero, becoming the first woman in American history to be commemorated with a statue, which still stands in Haverhill.
But as the contemporary Hanna learns, Duston's story, like much of history, has been rewritten over time. Whether she represents the resilient strength of Colonial people or their ruthlessness against Native Americans depends on who's telling the story.
"At its heart, the play is about confronting truths head-on—about ourselves, about our history—and what the ramifications are when we don't do that," says Girard. "But it's also a play about American identity and the fine line between civilization and savagery."
Readjustment, by Evan Sanderson (CFA'10), the final Next Voices reading, is the story of Scott, a recent college graduate whose lack of direction leaves him feeling unmoored. Hoping to find direction and purpose, Scott enlists in the Army. The play focuses on his return from a tour of duty in Afghanistan.
"He has to deal with this dual experience of being an American kid and the added, extremely difficult, almost impossible burden of being a civilian again," says Sanderson.
The play centers on Scott's sudden inability to drive, a metaphor for a basic life skill that has been lost, and on his efforts to readjust.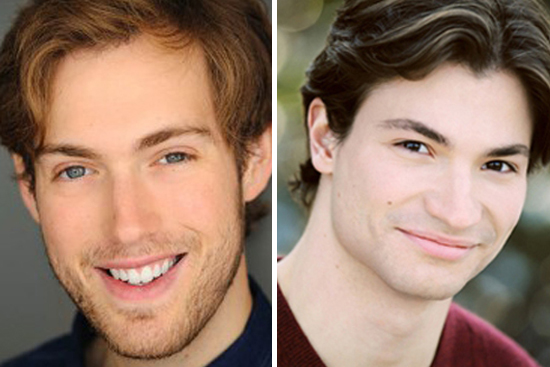 "It was a very difficult play to write," says Sanderson. "I really wanted to capture the tension and the nature of the experience of being a young person in this country with veteran experience. I felt like it was my duty to write it."
Deirdre Girard's Reconsidering Hanna(h) will be read tonight, April 9, at 7:30 p.m. Readjustment by Evan Sanderson will be read on Monday, April 21, at 7:30 p.m. Performances are at the Black Box Theater, New Repertory Theatre basement, 321 Arsenal St., Watertown; they are free and open to the public, but reservations are recommended; call the box office at 617-923-8487 or email tickets@newrep.org. By public transportation, take a Green Line B trolley inbound to Park Street, transfer to the Red Line outbound toward Alewife, get off at Central Square, and take the #70 or 70A bus to School Street.
Paula Sokolska can be reached at ps5642@bu.edu.