NY Times Photographer Tyler Hicks Receives Pulitzer Prize
COM alum's skill, bravery during Kenyan mall attack cited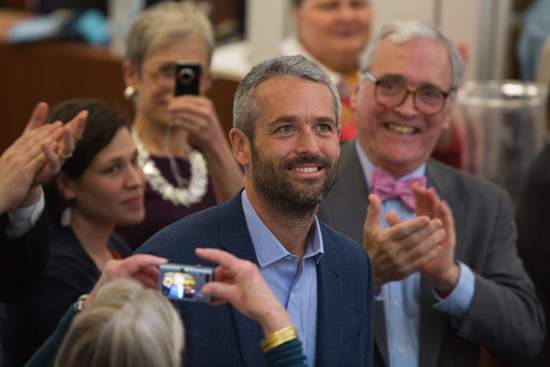 New York Times photographer Tyler Hicks has covered conflict and upheaval from the Sudan to Libya, a country where he spent six days in captivity during the March 2011 revolution.
On September 21 of last year, Hicks (COM'92) was living in Nairobi, Kenya. He was running an errand when he learned of a terrorist attack at the city's upscale Westgate mall. He rushed to the scene, to see people fleeing the mall and badly wounded victims being rolled out in shopping carts. Hicks went to work, documenting the unfolding events and following security guards as they searched for gunmen and rescued civilians. Somali militia with al-Qaeda ties claimed responsibility for the attack, which left 67 people dead.
Today, Hicks' work at Westgate mall is being honored with the 2014 Pulitzer Prize in Breaking News Photography at the Pulitzer Prize luncheon ceremony at Columbia University. The Pulitzer committee cited the combat photographer's "compelling pictures that showed skill and bravery."
This is Hicks' second Pulitzer—he was among the New York Times staff members who won the 2009 Pulitzer for International Reporting for coverage of Pakistan and Afghanistan. He received a College of Communication Alumni Award in 2004. Bostonia spoke to Hicks about the Nairobi tragedy and this year's win.
Bostonia: You shared a Pulitzer in 2009, but this is your first individual award. What does it mean to you?
Hicks: It's a huge honor and a particularly personal award for me to receive. I moved to Kenya almost three years ago, and I lived here in the 1990s when I was freelancing for the New York Times, so I have quite a history here.
What did you see when you entered the mall?
There were some Kenyan soldiers and police at the back entrance, and that gave me some relief. At this time there was still a lot of shooting and many innocent people left inside the mall, most of them hiding in shops or ventilation ducts. There were hundreds of people inside a movie theater. Everyone was trying to stay quiet and out of the way of the gunmen.
No one knew where the shooters were when you were walking through the mall with security. That must have been scary.
Yeah, because at times, security were walking around corners without clearing, and walking in front of shop windows, any of which could have contained one of the militants. They could have had grenades, IEDs, they may have set booby traps, so to move quickly through that type of environment and without clearing the way ahead of you is very dangerous.
You were in the mall for about four hours. What has stuck with you the most about what you saw?
The amount of carnage in such a small space was something I'll never forget. The goal is to capture as much of the truth of what has happened with as little violent content as possible. There were people who had been killed while taking money out of their bank, people who still had shopping bags in their hands and were lying facedown where they were shot. And there was an eerie silence outside of the gunfire that I'll always remember. The only other sound was the music that continued to play over the mall's intercom. I'll also remember the occasional discovery of hundreds of people hiding inside shops. It was a relief to see that there were still many survivors.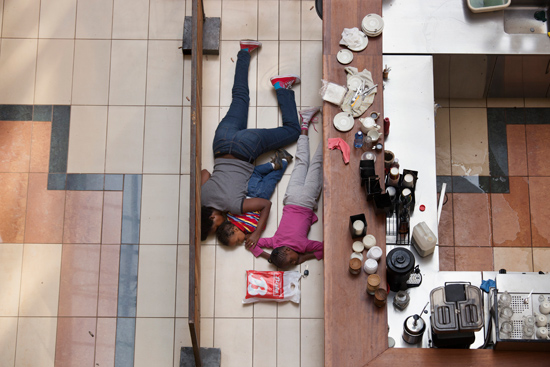 One of your images was of a woman hiding with her children on the floor of a café. What was happening when you took this photo?
One of the downsides to this job is that you see very dramatic things happen to people and rarely have the opportunity to find out what happened to them. In this case, because the photograph was so publicized, the woman contacted me by email. We talked by Skype, and she told me how she laid on the floor of the mall for five hours with her 2-year-old son and 11-year-old daughter while shooting was going on. Something you can't see in this photograph is that there are bodies all around her, 15, 20 feet away. She mentioned the music playing over the intercom and how they were singing along quietly. She was using that to entertain her kids and keep them from panicking.
During our conversation, she walked me over to her dinner table and introduced me to her family. I was able to see her kids laughing and acting like kids their age, and it was such a rare gift to have seen them in such a difficult time and then see them safe and sound at home.
Why is this work important enough to put your life at risk?
Well, no picture is worth your life, and as I get older, I hope I gain valuable experience about how to keep myself and those around me safe. I've had friends and colleagues injured and killed, and that's been difficult to swallow and it makes me think differently about how I conduct my work, because it's not only they who have been affected, but also the people they left behind. If I cover something and put my safety at risk, it's because I care about that situation enough to do so.
What's the most difficult, and the most uplifting, experience you've faced on the job?
One was being abducted along with others from the New York Times in Libya. That incident cost our 21-year-old driver his life. Another was being with Anthony Shadid when he died a year later in Syria. Both these unfortunate events really have caused me to reevaluate how to move forward and how to really appreciate the things I have at home. And that would be the positive effect of those things: that I hope I have become a better person as a result.
Also receiving a Pulitzer this year is photographer John Tlumacki (DGE'76, COM'78), a member of the Boston Globe team that won Breaking News Reporting for coverage of the Boston Marathon bombings. Tlumacki was a finalist in the Breaking News Photography category.
Julie Rattey can be reached at jrattey@bu.edu.