Men's Soccer to Host Patriot League Tournament
Women's soccer advances to second consecutive NCAA tournament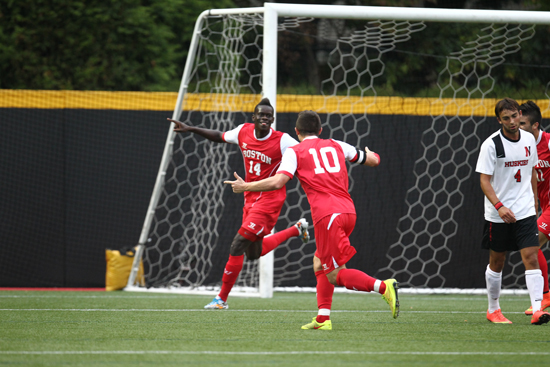 For the BU men's and women's soccer teams, 2014 will be a memorable year. And it's not over yet.
Earlier this week, the women  clinched their second consecutive Patriot League tournament title to advance to the NCAA tournament  which begins Saturday. Meanwhile, the men earned their first Patriot League regular season title after a 1-1 draw at Bucknell, finishing the season 11-3-4- overall, and 6-0-3 in conference play.
Men's Soccer
The men will take on Army in the semifinals of the Patriot League championship tomorrow at 4 p.m. at Nickerson Field. As the number one seed, the Terriers get to host the semifinal and final matches this weekend.
"Home advantage means a lot," says captain Jordan Barker (CAS'15). "We feel comfortable here and hopefully we can get some home support to help us get the result we want."
The result Barker is aiming for is the program's first Patriot League title and an automatic berth to the NCAA tournament. Winning this weekend's championship would demonstrate just how far the team has come since last year, when the Terriers failed to finish the regular season with a winning record.
"We really hadn't played Patriot League teams before last season," says head coach Neil Roberts, who has been named 2014 Patriot League Coach of the Year, "so it was a whole new kind of experience. We were the new kid on the block." This season, he says, the Terriers were more familiar with the competition.
That familiarity helped. The team posted its first undefeated conference record since 1994. But Roberts, who is marking his  30th season as head coach, knows there's still work to do, particularly if he's unable to play Dominique Badji (SMG'15), who missed the team's regular season finale with an injury.
"He's got so much skill and he's so good with the ball," Roberts says of Badji, who led the team with seven goals and won Patriot League Offensive Player of the Year honors. "Everyone always has a couple guys who are able to dominate, so if he can't do it, it'll come down to other people to do it."
The team will look to players like Bjarki Benediktsson (CGS'16), the 2014 Patriot League Rookie of the Year, as well as Felix De Bona (CGS'15) who added four goals of his own this season, and Barker, who wants to finish his BU career with a championship under his belt.
"It would mean a lot," Barker says. "We have all bought into a system that works for us, and this helps the day-to-day running of the team."
If the Terriers win Friday's game against Army, they will host the championship game on Sunday at 1 p.m. at Nickerson Field against the winner of the other semifinal, either Bucknell or Navy.
Women's Soccer
Having already captured this year's Patriot League championship after shutting out Navy 2-0 in the semifinal round of the tournament last Friday and pulling off an upset victory over Colgate 2-1 in Sunday's final game,  the women Terriers (14-4-3 overall, 6-1-2 in conference) received an automatic berth to their second consecutive NCAA tournament. Ana Cuffia (SHA'15) and Clare Pleuler (SAR'16) each scored in the deciding game to propel the Terriers..
"The grit that this team shows is unbelievable, and that definitely helps in making us successful," says forward Erica Kosienski (SAR'17). "Besides that, we've worked very hard to find our style and to consistently play the way we know we can every game. Every player works hard to play her role and do the little things right, and it makes a big difference as a whole."
The Terriers will play a familiar foe on Saturday when they take on the Northeastern Huskies in the first round of the tournament, at 2 p.m. at Nickerson Field. The Huskies defeated BU 1-0 in a nonconference game in September, but  head coach Nancy Feldman says the team is doing its homework.
"We'll look at the tape and what they did in that game…and we'll look at some more recent games and see how they've evolved and try to get to know them better since it's been two months," says Feldman. "We're a different team than we were two months ago. I'd like to think we're a better team. It's a good matchup for us because we won't be taking them lightly."
"I think our team is very resilient and gritty," says forward Jamie Turchi (SAR'15). "We've worked really hard to improve on imprinting our style on every game."
This is the Terriers' 12th NCAA tournament appearance. Last year, they defeated Harvard in the first round of the tournament before falling to Santa Clara in the second round in Blacksburg, Va. A win against Northeastern on Saturday could set the Terriers up to compete against national championship favorite Florida State in the second round, on Friday, November 21.
The BU men's soccer team hosts Army in the semifinals of the Patriot League tournament tomorrow, Friday, November 14 at 4 p.m. at Nickerson Field, 285 Babcock St. If the Terriers win, they will play in the Patriot League final on Sunday at 1 p.m. also at Nickerson Field. Tickets for both games are $2 for students with an ID and $5 for general public. The first 100 students at each game get in for free.
The women's soccer team hosts Northeastern in the first round of the NCAA tournament on Saturday, November 15, at 2 p.m. at Nickerson Field. Tickets are $4 for students with an ID and $8 for the general public. The first 100 students get in for free.
Andre Khatchaturian can be reached at andrekha@bu.edu.