Men's Basketball Begins Season Sunday
Takes On Northeastern at TD Garden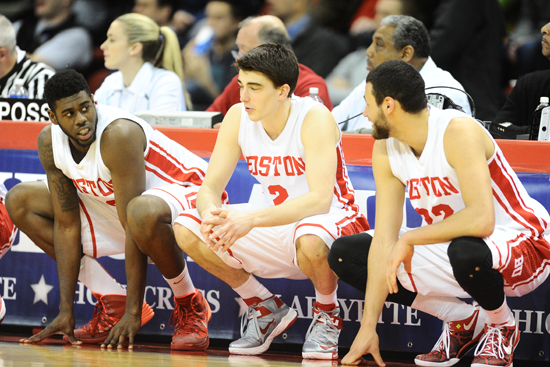 During last year's inaugural season in the Patriot League, the BU men's basketball team kicked down the door, winning the regular season title with a 24-11 (15-3 conference) record. The Terriers are hoping for a repeat of last year as they prepare to kick off their 2014–2015 campaign this Sunday, November 16, when they take on Northeastern at TD Garden in the second annual Coaches vs. Cancer Tripleheader, a fund-raiser for the American Cancer Society.
Despite their success last season, the team failed to qualify for the NCAA Tournament, losing to American University at home in a heartbreaking 55-36 defeat in the Patriot League championship game before losing in the National Invitational Tournament to Illinois in the first round, 66-62.
"There's always going to be a part of me that will want that game [against American] back," men's head coach Joe Jones says. "But you kind of have to leave it there, and you can't let that crowd your judgment on what we're trying to do with this year's team."
"Obviously, for the guys that were here, it's very motivating," John Papale (CAS'16) says. "You never want to lose the last two games like that. It's in the back of our mind, but it's a new season and we have a lot of new guys."
Replicating last season's conference title won't be easy. The team graduated last season's tricaptains, Maurice Watson (CGS'14), D. J. Irving (MET'14), and Dom Morris (MET'14), the latter two both 1,000+ point scorers. Papale, a junior guard, and forwards Nathan Dieudonne (SAR'16) and Justin Alston (SMG'16) are expected to lead this season's young team. The 2014–2015 roster includes four freshman and two sophomore transfers who were forced to sit out last season because of NCAA rules. With so many new faces, the Terriers find themselves entering the season as an underdog.
Players say that could work to their advantage. "Mostly, I think it's a good thing," Dieudonne says. "A lot of people are going to sleep on us, not a lot of people are going to expect us to be any good, like last year. So, hopefully, it'll be a lot of fun this year and we can surprise some people, shock some people, and get some wins."
Dieudonne says he's taking a cue from the example Morris, Irving, and Travis Robinson (SMG'14) set in bringing younger players along. "I just go back to the last two years and look at how they handled things," he says. "They tried to make me and John [Papale] comfortable. So I just try to motivate the young guys and keep them going. It's a grueling season, they've never done anything like that before, so I just try to keep them positive."
To prepare for the new season and to build chemistry on the floor, the Terriers traveled to Europe to play against teams from Italy and Switzerland in late August, something Jones says helped to bring the team closer together (they won all four games, as well).
"Every time you go through something like that as a group, it's powerful," Jones says. "Touring through Rome and Florence and having the chance to take four-hour bus rides and stay in a hotel, I think that was awesome, not only from a basketball perspective, but also because it gave us the chance to go and compete together and build some confidence."
One of the Terriers' strengths last season was their outside shooting: they shot 36 percent from beyond the arc. Despite Irving and Watson's departure, Jones expects this year's Terriers to be a superior shooting team and to use solid outside shooting as a recipe for wins. "That's one of the things that I think we'll be able to do better this year than last year," Jones says.
"Some of the new guys can shoot the ball really well, and obviously Cedric [Hankerson] (SMG 17) and I can shoot it, too," Papale adds.
The Terriers will face a huge test of their prowess early in the season when they travel to Lexington, Ky., to take on the University of Kentucky next Friday, November 21. Kentucky played in the NCAA national championship game last season, losing to Connecticut. Jones says he wants his team to use the game as a barometer of how they measure against a top-ranked team.
"Every game that we play, we're trying to get better and learn," Jones says. "Each game there's a chance to learn. A game like that, you play to win, but you want to get an opportunity to learn from the experience."
The BU men's basketball team tips off their season against Northeastern in the second annual Coaches vs. Cancer Tripleheader at TD Garden, 100 Legends Way, Boston, this Sunday, November 16, at 12:30 p.m. Following the game, Boston College will play the University of Massachusetts at 3 p.m., and Harvard will take on Holy Cross at 5:30 p.m. Tickets can be purchased online at the TD Garden website or through the Agganis Arena box office and are good for all three games. Prices are $13.50 for students with a valid BU ID and from $13.50 to $78.50 for the general public. A portion of the ticket sales will benefit the American Cancer Society. By public transportation, take any MBTA Green Line trolley or Orange Line train to North Station and walk over to Causeway Street.
Andre Khatchaturian can be reached at andrekha@bu.edu.