High Hopes for BU Track and Field
Competing in first Patriot League championships this weekend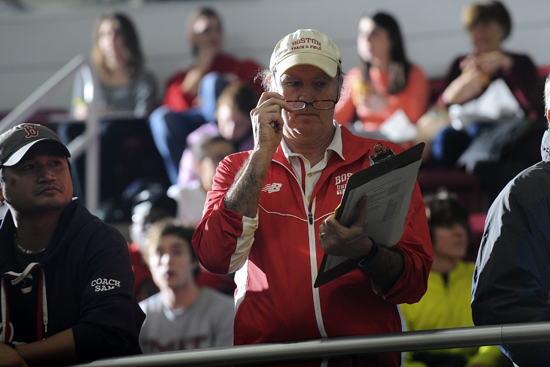 Bruce Lehane expects his BU indoor track and field athletes to take the Patriot League by storm this weekend at their first conference championships meet. The men's and women's teams are heading to Pennsylvania, where the league championships are being held at Bucknell University.
Lehane has coached BU's cross country and track and field teams for 32 years, but this is his first championship effort in a new conference. So far, the shift from America East to Patriot League competition has gone well, as the Terriers have recorded the top Patriot League time in eight events this season. Lehane is hoping that success will continue.
BU is entering the contest with some of the best times in the conference, but there is some serious competition waiting for them. Navy has won 5 of the last 10 Patriot League titles on the men's side, while the Bucknell women have taken 10 titles in the past 12 years. The championships get under way today and continue through the weekend, with individual medals and team results determined by Sunday.
"There are going to be a lot of differences in this league," says Lehane. "There are different athletes, timetables, and procedures in the Patriot League that certainly change the dynamic, but I think we're going to have a major impact on this league. The women's team in particular looks very strong, and we're really looking forward to the meet."
Women's track and field will be paced by Rosa Moriello (CGS'12, SMG'14), this season's Patriot League Runner of the Year and individual conference champion in cross country, and by Monica Adler (SAR'14), who was named Patriot League Female Track Athlete of the Week after qualifying for regionals with an outstanding mile time at BU's Scarlet and White Invitational Meet February 15.
Lehane believes that each of these veteran athletes has a great chance to qualify for the NCAA championships in March, but, he says, they will have to train extremely hard to record one of the 16 best times in the nation. Moriello says she's glad to have a seasoned coach to help guide her through the process of improving her time.
"Bruce is very honest about what he thinks about your running," she says. "And since he's been coaching for so long, he's usually spot-on. I completely trust his decisions about my running and have faith that his training programs will help me qualify."
Regardless of whether she qualifies for nationals, Moriello has an excellent chance of becoming Patriot League champion again. She has already qualified for regionals in the mile and the 3,000-meter run and leads the conference in both events. She will look to repeat those results and steer the Terriers to victory in their inaugural Patriot League championships.
Fresh off a record-breaking performance, miler Rich Peters (CGS'12, COM'14) will lead the men's team into action this weekend. The Bristol, England, native broke his own school record with a mile time of 3:57:27 at the David Hemery Invitational earlier this month. That is the third best time in the nation, which gives Peters a virtual lock on qualifying for the NCAA championships.
Peters came to BU with plenty of racing experience, but he credits Lehane's coaching for part of his continued improvement.
"It's not an easy sport, and every day counts toward something larger," he says. "It can be difficult to stay on top of everything and keep moving forward, but Bruce makes that part easy. He inspires me to become a better athlete and push myself to new levels without doing anything more than sharing his own experience and love for the sport."
Many of Lehane's athletes say the veteran coach recognizes the importance of striving to compete without placing too much emphasis on results. Stuart Ross (CGS'12, COM'14) believes that balance may be the key to his coach's sustained success.
"His skill as a coach is probably in large part due to his personality," says Ross. "It's the way he simplifies everything. I think the most effective pointer on running form I've received from Bruce is just to smile."
Lehane believes that the relationships he's built are the most memorable part of his more than 30 years of coaching. "I think it's the same way with the athletes," he says. "I stay in touch with some of the kids I coached a long time ago, and I get the sense that when they reminisce amongst themselves, they don't even remember if they won or lost a specific competition. They feel that the lifelong friendships they formed are most important."
The Boston University track and field teams will compete at the Patriot League championships from Friday, February 21, to Sunday, February 23, at Bucknell University's Gerard Fieldhouse, in Easton, Pa. Admission is free and the event is open to the public.
Nate Weitzer can be reached at nweitzer@bu.edu.