Celebrate World Oceans Day at the New England Aquarium
Honor the ocean alongside fish, penguins, and sharks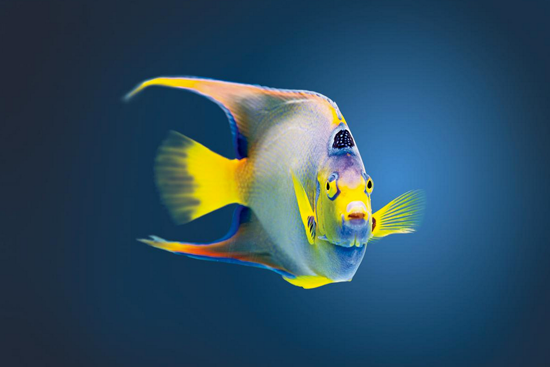 Oceans play a vital role in our lives. They generate much of the oxygen that we breathe, clean the water we drink, and even regulate our climate. Water covers 71 percent of the Earth's surface, and 96 percent of all water on Earth is in oceans. And this weekend they get their due, with the annual observance of World Oceans Day, launched by the United Nations six years ago, on June 8. Where better to celebrate the ocean than at the New England Aquarium, which on Sunday will host a number of special activities for the entire family to commemorate World Oceans Day.
The aquarium is one of the best places for visitors of all ages to learn about the ocean's diverse inhabitants. You'll see lionfish, sea turtles, northern fur seals, California sea lions, and a giant Pacific octopus. All told, the aquarium is home to more than 2,000 aquatic animals, among them midnight parrotfish, trumpetfish, guitarfish, and angelfish in the aquarium's star attraction, the Giant Ocean Tank, which underwent a 10-month, $18 million renovation last year. Cozy up next to cownose rays, Atlantic rays, and epaulette sharks at the aquarium's Shark and Ray touch tank, the largest tank of its kind on the East Coast. Or take a closer look at some of the smallest organisms in the reef—such as pipefish, garden eels, and spiny sea urchins—in the Yawkey Coral Reef Center's seven-tank exhibition. You won't want to miss checking out the home of over 80 African, rockhopper, and little blue penguins and a stunning seadragon exhibit.
Throughout the afternoon on Sunday, you'll be able to learn about ocean animals and plants, and have the chance to try on real water survival suits. There will be cooking demonstrations, featuring squid, trout, and Pacific halibut, with aquarium head chef Bill Bradley, Josh Lewin from the pop-up culinary concern Bread and Salt, and Peter McCarthy from Cambridge's EVOO. Expect tons of arts and crafts activities throughout the day, including a design your own Hard Rock Guitar Save the Planet pin. There will be a live appearance by Magic 106.7, as well as free Ben & Jerry's ice cream at noon.
The day's events are designed to help visitors learn more about living blue and making conscientious decisions to help protect and conserve the environment. Among the suggestions are eliminating lawn pesticides, buying eco-friendly seafood, and using fuel-efficient vehicles. To learn more about ocean conservation, check out the aquarium's Blue Planet Action Center, which documents the challenges oceans face and how the aquarium's research programs are searching for solutions.
The New England Aquarium is open Monday through Friday from 9 a.m. to 5 p.m. and Saturday and Sunday from 9 a.m. to 6 p.m. Admission is $24.95 for adults, $22.95 for students with ID, $17.95 for children ages 3 to 11, $22.95 for seniors (60+), and free for aquarium members and children 3 and under. The aquarium offers $2 off the general admission price to visitors with MBTA Charlie Cards. By public transportation, take an MBTA Blue Line train to Aquarium.
The New England Aquarium's observance of World Oceans Day is Sunday, June 8, from 11 a.m. to 4 p.m. at the aquarium's Front Plaza and Harbor View Terrace Tent. All World Oceans Day activities are free, but admission to the aquarium is not included.
Irene Berman-Vaporis can be reached at imbv@bu.edu.