Campaign for Boston University Surges Forward
BU community sees benefits of $720 million raised so far
When BU announced just over two years ago that it was launching its first comprehensive fundraising campaign and that its goal was $1 billion, it seemed University officials were shooting for the stars. Now they're well on their way.
The Campaign for Boston University has already reached more than $720 million and is on pace to meeting its goal by 2017.
"We haven't had a sophomore slump, like a lot of campaigns do," says Scott Nichols, senior vice president for development and alumni relations. "There's usually an initial burst of energy and then nothing else happens for a while. We've been a straight line up."
"I've been immensely gratified by the progress we've made towards our goal of raising $1 billion," says President Robert A. Brown. "Alumni and friends have lots of choices about where they direct their charitable giving. That they are choosing to generously support Boston University reflects, I believe, the very real progress we are making as a community of students, faculty, and staff committed to excellence. It is a virtuous cycle, as the generosity of alumni and friends gives us the means to build even better programs and increase our quality and impact as a major private research university."
The campaign, titled Choose to Be Great, has flourished through a healthy combination of generous gifts and grassroots support. Injections of goodwill and credibility at the campaign's onset came from Board of Trustees members, who put up $178 million. Other major gifts—such as $25 million from Rajen Kilachand (GSM'74) to support the Arvind and Chandan Nandlal Kilachand Honors College and $10 million to renovate a residence hall for its students, $25 million from Frederick S. Pardee (SMG'54, GSM'54, Hon.'06) to endow the Frederick S. Pardee School of Global Studies, and $18 million from Sumner M. Redstone (Hon.'94) to renovate and add a new building to the School of Law—helped to propel the effort. And nearly 100,000 individual contributors, a third of alumni, have given to the campaign.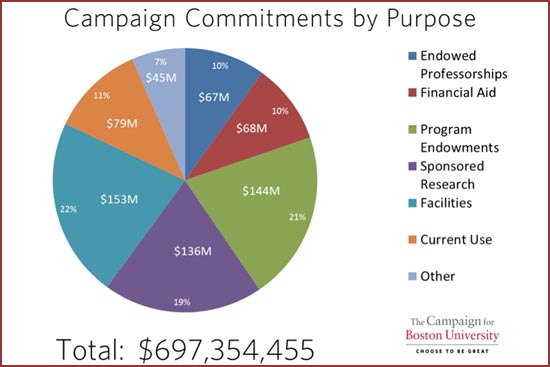 Kenneth Feld (SMG'70), a University trustee and chairman of the campaign committee, says alumni are eager to reconnect with their alma mater. Boston University "changed people's lives," says Feld, who is chairman and CEO of Feld Entertainment, Inc., which owns Ringling Bros. and Barnum & Bailey circus and Disney on Ice. "It changed my life. And I know that's happened to a lot of these alumni. When you think of the amount of money raised internationally, it says a lot about the prestige of Boston University—not just in the United States, but globally."
Feld emphasizes that the campaign "is not just raising money to raise money, but to articulate the mission for the University and to determine in which areas Boston University can be the best in the world."
A walk around BU's Charles River and Medical Campuses illustrates the campaign's accomplishments. In mid-September, the University hosted ceremonies for three new facilities in one week—the Yawkey Center (formerly the Center for Student Services), which bundles a new dining facility and multiple student resources under one roof on East Campus, LAW's Sumner M. Redstone Building, and the new admissions reception, the Alan and Sherry Leventhal Center. The School of Medicine Student Residence, which opened in fall 2012, provides the University's first on-campus housing option for as many as 208 medical students. And New Balance Field in West Campus doubled the University's field capacity when it opened last fall, allowing BU to launch men's lacrosse and bring home its itinerant field hockey team.
In addition to enhancing the University's footprint, the campaign has improved recruitment and retention of top-notch faculty. At last count, 42 new endowed professorships have been created. It has also allowed the University to offer more financial assistance through 172 new endowed scholarship funds.
The outside world has noticed the campaign's impact, Nichols says. Moody's awarded BU two bond-rating upgrades in the past five years. The University's standing in the U.S. News & World Report rankings moved from the low 50s to the low 40s, a gain that was driven in part by alumni participation in events and giving. And BU gained admission two years ago to the Association of American Universities, joining 62 other leading research universities across the country.
Nichols says that BU students are also on track to complete the one million hours of community service they pledged as part of the campaign effort.
Alumni participation in University events has increased almost ninefold, he says. BU averaged two alumni events a week from 2005 to 2006, compared to three alumni events hosted every day now around the world. Nichols credits Steve Hall, vice president of alumni relations, and his team for creating more opportunities for alumni to reunite and network.
"That's big," he adds, "because alumni engagement is the secret ingredient to our success."
Nearly three-quarters of the way to their fundraising goal, campaign officials don't plan to coast to the finish line.
"I think people have become true believers in what Boston University can do," Feld says. "They want to be part of it. And I think that's the key: to sustain that, maintain it, and meet new people that have an interest" in giving.
"The key question at this stage in the campaign is: Do we have more prominent, successful alumni and friends to talk to?" Nichols says. "And the answer is, You bet!"