BU Playwrights Triumph at Kennedy Center Festival
Awards for best comedy, ten-minute-play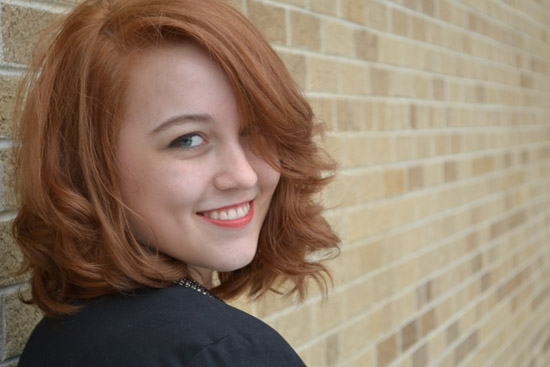 Stephanie Brownell was out walking in the wake of a huge snowstorm in winter 2013, trying to come up with an idea for a 10-minute play, assigned as part of the new master's in playwriting program at BU. "I was navigating a tiny path through these columns of ice, and meditating on the word ice—on ice floes, icebergs," she recalls. She imagined these words spoken by a female character. The experience was her inspiration for the play Eskimo Pie—an oblique, poignant glimpse of mental illness and how it colors the world of those touched by it. Since then, the play has been staged several times and drawn several honors, one of them the National Ten-Minute Play Award, announced in Washington, D.C., in mid-April at the 46th annual Kennedy Center American College Theater Festival (KCACTF).
Brownell (GRS'15) is one of two students in the master's program honored at the festival, where BU has had a major presence over the years. Abbey Fenbert (GRS'15) was awarded the Mark Twain Comedy Writing Award for her play Intentions, which, like Eskimo Pie, grew out of a class assignment. "Our professor gave us a writing exercise—to create five characters in a specific setting and have someone new come in," says Fenbert. Set at Tillerman House, a fictional "intentional community/urban farm on the outskirts of Chicago," Intentions is often laugh-out-loud funny, but also deep and real, reflecting the playwright's belief that "having wonderful ideals doesn't always make you the best at interacting with other people."
Fenbert, who has lived in hipster Brooklyn and is familiar people deep into the co-op, locavore movement, chose the setting because "I know people who live in intentional communities; it's a very interesting setting, and one that determines language, and the pressures on people." Although Fenbert has a gift for the one-liner ("Are you a micro-brew in Coors clothing?"), she feels strongly that "humor lands better when there's real feeling and real pain and real questions. I wasn't interested in writing a blanket parody," she says. "That wouldn't reflect how I feel about the world." She believes she inherited her comic aptitude from her father, a former Detroit radio host.
Annual entry in the Kennedy Center festival is part of the curriculum of the three-year MFA in playwriting, a Graduate School of Arts & Sciences program that launched last year and that works in close collaboration with the CFA School of Theater. The innovative program  expands on the study of theater history, criticism, and drama and enables graduate writers to have their plays workshopped and produced in close collaboration with directors, actors, and designers.
"The Kennedy Center American College Theater Festival is the foremost competition for emerging writers and playwriting programs across the nation," says Kate Snodgrass (GRS'90), artistic director of the Boston Playwrights' Theatre and of the Elliot Norton Award–winning Boston Theater Marathon and a CAS professor of playwriting. "Hundreds of playwrights vie for recognition, and winning can mean national acknowledgment, publication, representation, and monetary rewards."
The new master's program is "really a great opportunity," says Fenbert. Along with Brownell, she will have her play staged in July at the nonprofit Know Theatre in Binghamton, N.Y. Fenbert did some playwriting as an interdisciplinary undergraduate at New York University, but had very little training in dramatic writing. At BU she has "the chance to hear my work read, to work with local actors, and be exposed to different voices and different types of instruction. I've improved astronomically." She is an ardent admirer of the plays of Tom Stoppard and Vaclav Havel. A former Peace Corps volunteer in Ukraine, she is working on her thesis play, based on the Stalin regime's enforced famine of the 1930s, which is believed to have killed 7.5 million.
A lover of absurdists like Samuel Beckett and Eugene Ionesco, Brownell sees her plays as having an "absurdist tilt." The nuanced turn of events in Eskimo Pie is provocative, but open to interpretation. "I like the audience doing the work because I like to do the work as an audience member," she says. "I don't love plays that tie things up in a tidy little bow."
"I'm proud of both Abbey and Stephanie, both gifted writers with singular points of view," Snodgrass says. "And their achievements speak to the continued success of our new three-year MFA program. I look forward to what they write next."
In addition to Brownell and Fenbert, two BU alumni were honored at KCACTF. Michael Parsons (GRS'12) won the Rosa Parks Playwriting Award for his two-act Sumner Falls, and Steven Barkhimer (GRS'08), an Eliot Norton Award–winning director, was a corecipient of the David Mark Cohen Award for his play Windowmen.