Engineering Profs Awarded $1.5 Million
Bird, Khalil, and Schwager net NSF CAREER awards
Assistant professors James Bird (mechanical engineering, materials science and engineering), Ahmad ("Mo") Khalil (biomedical engineering), and Mac Schwager (mechanical engineering, systems engineering) have each received prestigious National Science Foundation (NSF) Faculty Early Career Development (CAREER) awards in recognition of their outstanding research and teaching capabilities. Collectively, they will receive more than $1.5 million over the next five years to pursue high-impact projects that combine research and educational objectives.
Bird intends to apply his CAREER award to explore how submicron aerosol droplets are formed from small bursting bubbles. Using direct, high-speed observations, numerical simulations, and experimental models, he will seek out the primary mechanism behind this phenomenon. Because these droplets can persist in the atmosphere for weeks, pinpointing this mechanism is important in engineering applications ranging from turbine corrosion to the dispersion of respiratory diseases.
Bird's research may also improve models used to predict the progression of global climate change.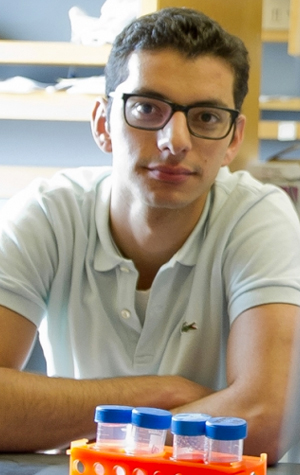 "On a global scale, a better understanding of aerosol production is necessary to reduce uncertainty in global climate models," said Bird, "and will allow policy makers to better assess the risks and rewards of geoengineering mitigation strategies, such as deliberately injecting large amounts of sulfur particulates into the atmosphere in hopes of countering the warming effects of greenhouse gases."
Khalil will use his CAREER award to better understand the mechanisms underlying how organisms adapt to changing environments, a classic problem in evolutionary biology. The goal of his project will be to test a theory that prions—proteins that can switch between multiple conformational states or shapes—equip microbes with an enhanced capability to survive under fluctuating environmental conditions. Khalil will develop microfluidic systems to study prion behavior and synthetic biology methods to optimize their adaptive properties.
"This work will have broad implications for our basic understanding of evolution, development, and cellular systems," said Khalil. "The project will also shed light on the diverse roles of prions, unique elements that are emerging to be common in the microbial world, and have a transformative impact on synthetic biology, enabling new schemes for rationally engineering a wide array of cellular functions."
Khalil also aims to inspire and train students to explore how engineering approaches can be applied to better understand how life works, through a "systems & synthetic biology boot camp" for high school students, related high school design challenges to be facilitated by College of Engineering Inspiration Ambassadors, undergraduate research opportunities through the International Genetically Engineered Machine (IGEM) synthetic biology competition, a new integrated course on quantitative systems biology, and other educational activities.
Schwager's CAREER award will support his efforts to develop algorithms enabling groups of robots to control harmful ecological phenomena such as forest fires, oil spills, and agricultural pest infestations. Schwager's research aims to use a group of robots not only to sense an environment (a passive operation typical of most of today's research on multi-robot coordination), but also to control the evolution of processes in the environment. He plans to demonstrate the viability of his control strategies through laboratory and outdoor experiments with a network of quadrotor aerial robots.
"Ultimately, the project seeks to alleviate the economic, societal, and ecological damage caused by destructive environmental phenomena by laying the foundations of a new robotic technology," said Schwager.
He also plans to bring quadrotor robots into the classroom to illustrate the principles of feedback control by partnering with the Technology Innovation Scholars Program (TISP). The goal is to engage students from diverse backgrounds at all grade levels and to stimulate their interest in robotic solutions to environmental stewardship.
To date, 37 College of Engineering faculty members have received NSF CAREER awards during their service to the College.