WTBU Snags College Radio Station of the Year Honors
Spring semester brings new faces and challenges
Haejee Park has already been at work for two hours as most of the campus stirs on this Thursday morning. The 6 a.m. time slot for the WTBU Sounds of Boston radio program wasn't her first choice, but she took what she could get.
"Last semester I was an intern, so this is my first semester hosting my own show," says Park (SMG'15). "It's painful to wake up that early, but it's what I had to do. At least having the early time slot gives me a chance to learn my way around."
Park is one of the 100 members of Boston University's student-run radio station WTBU, which broadcasts 20 hours a day from the third floor of the College of Communication and is home to 63 shows that give a decidedly student-focused spin on the news, sports, and music.
WTBU is perhaps most famous for signing on Howard Stern (CGS'74, COM'76) (who claims he was fired because ran a segment called "Making the Bishop Blush" on his show King Schmaltz Bagel Hour), but its staff is most proud of being named Station of the Year at the College Radio Awards, held in New York City in October. The station was also nominated for "Best Use of Limited Resources" and "Champion of the Local Scene," and James Miller (COM'14) was nominated for "Music Director of the Year."
Anne Donohue (COM'88), a COM associate professor and WTBU's advisor, says the award celebrates the students' dedication and long hours, and has "been a long time coming." She points out that executive board members (the students who collectively run the station) receive two class credits per semester.
WTBU general manager Deanna Archetto (COM'14) says the station offers a perfect opportunity for deejays to learn how to handle the responsibility of live broadcasting. "College radio is the place to learn how to be a deejay and how to promote a show," says Archetto, who hosts Internet Killed the Radio Star, which broadcasts Saturdays at noon and features music from little-known YouTube performers. "When I started, I remember learning the art of talking on air without being awkward. When it's your show, you're the center of attention. Even though your face isn't visible, it's your moment to be in the limelight."
"To work here, you really have to have a love for the campus and community," says Matt Paterno (COM'13), last semester's general manager. "It's a part-time job, but over the last two years I've spent so much time at this station that I've seen more of the night janitors than my professors."
Like other media, radio stations across the country find themselves threatened by slashed budgets. In Boston alone during the last few years, WFNX 101.7, Oldies 103.3, WBCN 104.1, and WTKK 96.9 have closed; other stations have opted to change to an uninspired non-deejay format.
WTBU has a different kind of problem: while the 56-year-old station is technically on 89.3 FM and 640 AM, its signal isn't strong enough to be heard outside the walls of COM. So like so many other college radio stations, WTBU encourages listeners to stream its shows online. The strategy has proved successful, says Archetto. The station gets about 300 visits a day, some from as far away as China, England, and California.
Before stepping up to the microphone, hopeful deejays learn the ropes by interning, says programming director John-Michael Sedor (COM'15). One of the most popular shows is WTBU News, which airs Tuesdays and Thursdays at 6 p.m., and features interviews with student government members, BU faculty commenting on politics, and campus events. WTBU Sports also draws many listeners.
Students can apply to host their own show at the end of a semester-long trial period. This semester, 80 applicants applied, so many that the station opened the midnight to 2 a.m. slot for more shows. "I really try to move stuff around if it means I can give more people a spot," Sedor says.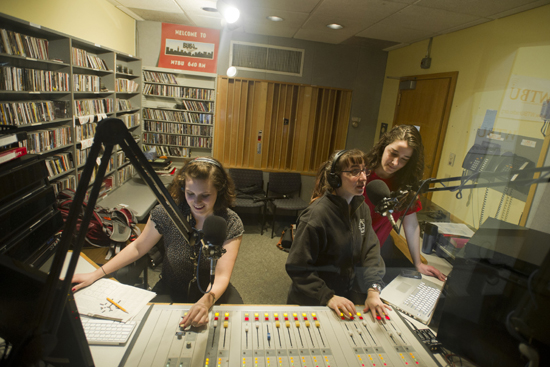 Music falls under the hands of WTBU music director Laura Jane Brubaker (COM'13), who considers herself the station's "tastemaker." She reviews all music submitted to the station by bands, promoters, and record companies to sift through what should be played on the station. In her free time, she stakes out artists at local venues, inviting those she likes to come into the station to perform. She plans to host a WTBU-sponsored concert this semester, and hopes to match the success of last semester's remote broadcast from the Warren dining hall.
"Local indie music is the stuff that doesn't get out there unless someone wants it to get out there," says Brubaker, who cites as her favorite bands of the moment Norwegian Arms and DRGN KING. "I get kind of irked when I see people playing Taylor Swift on their shows, because that isn't the point of why we're here. We are in a metropolitan university in a major city. We should promote stuff that won't get out there otherwise."
This call to arms might make for a challenging semester, but Sedor is geared up for the coming weeks. "With this Station of the Year award," he says, "our biggest goal is to show BU that it has the best college radio station in the country."