Women's Hockey Terriers Head to Frozen Four
Their goal: first NCAA Championship
When the puck drops onto the ice at Ridder Arena in Minneapolis at 9 p.m. tonight, the BU women's hockey team hopes to come one step closer to a goal that has so far eluded them: a coveted NCAA championship. The Terriers secured a trip to the NCAA Frozen Four when they defeated Clarkson University 5-3 last Saturday. They will face off against Mercyhurst College in game two of the semifinals tonight.
The number-three-ranked Terriers (27-5-3) go into the game owning the Hockey East regular season title, the Hockey East tournament championship, and a victory in their NCAA first round matchup.
"I think our goal when we started this program was to play in some big games," says head coach Brian Durocher (SED'78). "To be in the NCAA tournament four years in a row is a great tribute to the players that have played here. To have won twice and gotten to the Frozen Four is something special."
The top line was the difference maker for the Terriers in last weekend's game against the Golden Knights that clinched their spot in the final four, with Sarah Lefort (CGS'14) registering two goals and Jenelle Kohanchuk (SAR'13) and cocaptain Marie-Philip Poulin (SED'14) each contributing two points.
One word summed up the feelings of cocaptain Jill Cardella (COM'13) after Saturday's victory: elation. "I think it feels better knowing it's my senior year. You know it's your last shot," says Cardella. "It's the culmination of all the years of hard work just right there in that last moment when the buzzer goes off. It's a pretty good feeling."
Kerrin Sperry (CAS'14) was spectacular in net once again for BU, stopping 34 shots during the game and earning Hockey East Defensive Player of the Week honors for the second straight week. Sperry has allowed just six goals in the Terriers' four playoff games in the Hockey East and NCAA tournaments.
"I think I've been playing more confidently," Sperry says. "Not only that, the defense has stepped it up too. They've been blocking shots and the last game you can see they blocked a lot of shots. Coming into this weekend, I think we just need to be prepared for anything."
The Terriers will face a formidable opponent tonight in the Mercyhurst College Lakers (29-6-1). The Lakers upset number-two seed Cornell in overtime to get to the NCAA semifinals, and like BU, they are riding an eight-game winning streak. This will be the third NCAA tournament meeting in four years between the two teams. The Terriers are 1-1 in the previous games, winning the most recent battle 4-2 back in 2011.
"It's been a couple of years since we've played them, so some of our older kids remember those games, but not everybody," Durocher says. "If you look at their season, they split with Boston College, they split with Cornell, they split with Clarkson. You don't need to know much more than that to know that this is a good hockey team."
No one knows better what it's like to take on the Lakers than Terrier forward Isabel Menard (CAS'13). A transfer from Syracuse University, Menard played 10 games against Mercyhurst with the Orange before joining the Terriers last season. Menard is the only senior on BU's roster who has not skated in a Frozen Four, but her 44 points this season prove she is ready to play in the biggest of games.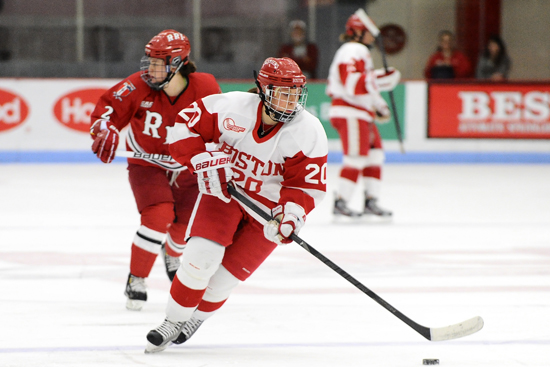 "I'm excited," Menard says. "Just to get the chance as one of the top four teams in the country is amazing, and I can't wait to start the tournament. And Mercyhurst is a well-coached team. It's a different style of play, because they're in a different conference, but we're going to watch some tape on them and we're going to be ready."
Rounding out this year's Frozen Four are the Terriers' archrival Boston College and last year's champion, Minnesota, who will face off in the first game of the semifinal at 6 p.m. tonight. The Eagles have made it to the NCAA semifinals for three straight years, but have yet to play in a title game, while Minnesota is looking to complete an undefeated season, currently sitting at 39-0-0. The winners of each game will go head-to-head in the championship match Sunday, March 24, at 4 p.m.
Durocher acknowledges that the prospect of a BU-BC title game is tantalizing to consider.
"I was a part of it as a student many years ago," Durocher says, recalling the national championship BU wrested from BC back in 1978. "It would certainly bring an awful lot of excitement and energy to the game. It would take a big upset to knock off Minnesota, because they're just off the charts this year. Other than that, it would guarantee that a championship would come back to the East, and I hope it's on Babcock Street and not down on the reservoir at BC."
The Boston University women's hockey team will take on the Mercyhurst College Lakers in the NCAA semifinals tonight, Friday, March 22, at 9 p.m. at Ridder Arena in Minneapolis, Minn. Boston College and the University of Minnesota will compete in the other semifinal game starting at 6 p.m. The championship game will be played on Sunday, March 24, at 4 p.m. All times are ET. All games will be live-streamed. See the games here.
Paul Ryan can be reached at pryan15@bu.edu.