Women's Hockey Terriers Defend Their Title
Top-seeded team vies for second straight Hockey East championship
Few teams have accomplished more in such a short time than BU women's hockey: in just eight years as a Division I varsity team, the Terriers have won two Hockey East regular season titles, made three NCAA tournament appearances, and had a shot at the big one—playing in an NCAA championship final game. Starting tomorrow, the top-seeded Terriers hope to grab their third Hockey East title in four years when they take on number-five seed Providence College in the conference semifinals in Hyannis.
"The reality is that Providence has been in the final four every year that Hockey East has been in existence," says head coach Brian Durocher (SED'78). "We've come up with results, a couple of championships, making it to the NCAA tournament, but so has Providence in yesteryear."
BU won last year's Hockey East tournament final in a double overtime thriller thanks to two goals from Jenn Wakefield (CAS'12) that secured the 2-1 victory over Providence.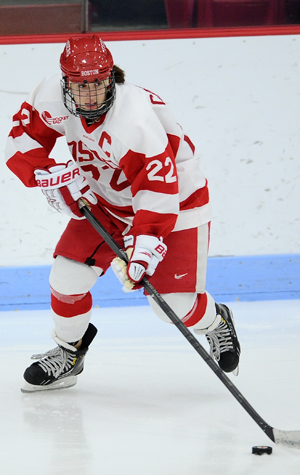 "Being there before obviously gives you experience and confidence that we can pull it off," says BU cocaptain Jill Cardella (COM'13). "The freshmen know what to expect. We've tried to help them along. I think we've been playing well these last couple of games and we know these teams that are playing, so just sticking to our game plan and playing hard are key."
Looking back on the 2012–13 campaign, the Terriers swept the season's three games against the Friars, including a 7-1 drubbing at Walter Brown Arena back in November. Jenelle Kohanchuk (SAR'13) and team cocaptain Marie-Philip Poulin (SED'14) both have nine points against Providence this season, with Kohanchuk recording at least one goal in each game.
The top-seeded Terriers have compiled an impressive 24-5-3 record this season, outscoring opponents 118-76. They were nearly unbeatable in conference this year, dropping just 2 out of 21 contests. Durocher says he doesn't plan to make any significant changes for this weekend's tournament—he just wants his players to stay loose.
"I really try not to have the kids get tight playing for me," Durocher says. "I'm not going to show them too much film, give them too many Xs and Os. If they come and play and they're loose, I think it'll be to our advantage. That's going to be important in any playoff game."
Leading the team in offense is Poulin, who made history last weekend when she scored her 50th career goal in a 5-1 victory over UConn at Walter Brown Arena. Sarah Lefort (CGS'14) and Kayla Tutino (CGS'13) are tied for the team lead in game-winning goals, with six each. Kohanchuk has been on an absolute tear lately, scoring 7 goals in her last four games, giving her a team-leading total of 20.
In net, Kerrin Sperry (CAS'14) had yet another stellar regular season. Her 2.20 goals against average and .915 save percentage put her at second in the conference, and her 20-4-3 record gives her one of the best winning percentages in the nation.
Despite all those accolades, the Terriers know that with the Hockey East semifinals and finals looming this weekend, regular season stats no longer matter. One game can make or break the season.
"The stakes are higher, but you don't want to get too hyped up," says Cardella, who recently won this year's Hockey East Sportsmanship Award. "When you get there, the Friday practice is pretty exciting…we're a little more hyped up because of that, but otherwise, we just plan to stick to what we know and what we usually do."
The BU women's ice hockey team faces off against the Providence College Friars on Saturday, March 9, at 12:30 p.m. at the Hyannis Youth and Community Center, 141 Bassett Lane, Hyannis, Mass. The championship game will be played on Sunday, March 10, at 1 p.m. at the same location. Tickets are $8 for the general public or $5 for groups of 10 or more.
Paul Ryan can be reached at pryan15@bu.edu.