Women's Golf Shooting for Bid to NCAA Regionals
Cocaptain Kristyna Pavlickova leads a winning team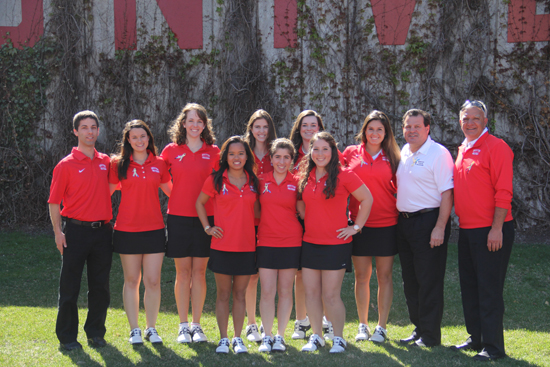 When BU's women's golfers hit the links this weekend, they will be vying for their first Metro Atlantic Athletic Conference (MAAC) Championship, where a win would lock down a spot in the NCAA regionals, something they have not been able to accomplish as a Division I program.
"I like to think we're the team to beat," says head coach Bruce Chalas. "There's no question we have the skill level, but we just have to get it done."
The Terriers came out of the gate strong, starting the season 34-1 in team play. They opened their schedule with a win at the Bucknell Invitational last September, beating 14 other teams. Just a week later, the team finished second in the Dartmouth Invitational, only two shots off eventual winner Yale.
In their third tournament, the Terriers found themselves in fifth place after the first day of the two-day ECAC Championship. They were down by 10 strokes going into the final round, but came out hungry and determined to win. By the end of the day, the team was crowned tournament champion, finishing two strokes ahead of the pack.
"We actually waited for about an hour and a half after our round because we were unsure if we were even going to place in the top three," says Christine Silen (CGS'12, COM'14). "As more scores came in, I said, 'You know, we actually have a shot at winning.' So we stuck around as the numbers came in, and we were number one."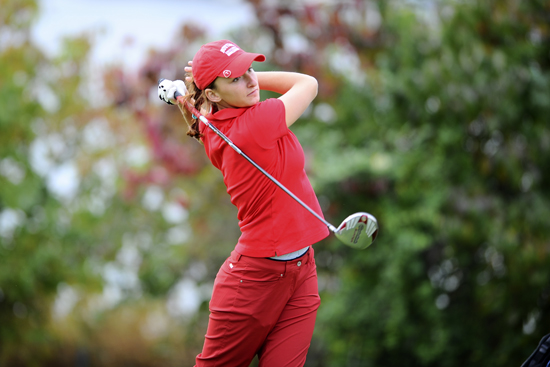 After a four-month break, from October to mid-March, the Terriers struggled a bit, but they are rapidly regaining their form. Two weeks ago, the team won its third tournament of the year, taking home the Columbia Roar-EE Invitational. Cocaptain Kristyna Pavlickova (SMG'15) helped lead BU to the title, finishing individually in a first-place tie, with a score of 79.
Pavlickova "is an amazing player," Silen says. "Her work ethic and the way she goes about the tournaments are amazing. She's extremely humble and loves the sport, which is really great."
Winning MAAC Golfer of the Month honors in September, October, and March, Pavlickova has been the Terriers' anchor. She has won five individual titles in her first two years on the BU team and was named 2011–2012 MAAC Rookie of the Year. The Prague native has a shot at making the Czech national team for the 2016 Olympics.
"She's thirsty to compete," Chalas says. "She always wants to be in the mix. Not only that, but she wanted to come to a top-level academic school. She's smart. She has a 3.5 GPA. She came to a school where we were building a program. Not rebuilding—but building—and she liked that challenge."
Maddy Silverman (CAS'16) and Emily Tillo (SMG'16) are strong players as well, both earning top-10 finishes early in the season. With no seniors and Silen the only junior, the Terriers are sporting an extremely young roster. That means two sophomores—Pavlickova and Flor Canedo (CGS'13)—are captains this year, but judging by the results, this does not seem like such a young squad.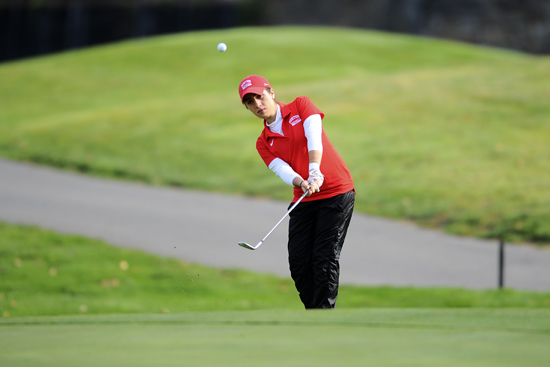 "We improved a bit last year, but that really set the stage for this year and our incoming freshmen," Chalas says. "The freshmen have played great. We're getting well-seasoned student-athletes. These are well-traveled players. They've had national exposure, and they're experienced tournament players."
This weekend, the team plays in its fourth MAAC Championship competition, at Disney's Palm Golf Course in Lake Buena Vista, Fla. The Terriers have never finished higher than fourth in the tourney, but also had never won a tournament before this year.
"We have pretty high expectations since we've been doing so well," Silen says. "The past three tournaments we've played in, we've had horrific weather, so we're actually hoping it rains a little in Florida since we're so used to it. We're going in with a really positive attitude. Everyone's excited, and it's really good timing for this team."
BU switched conferences in 2010, joining MAAC as an associate member to try for an automatic bid to the NCAA regionals, something the team could not do in America East. BU switches to the Patriot League for the 2013–2014 season, again losing the chance to compete for an automatic bid to the NCAA regionals.
The BU women's golf team will compete in the MAAC Championship this weekend, from Friday, April 26, to Sunday, April 28. The event will take place in Orlando, Fla. The team, along with the coaches and spectators, will be sporting Boston Strong ribbons during the tournament to show their support for the city.
Paul Ryan can be reached at pryan15@bu.edu.