Should a Family Declare Their Father Legally Dead?
Dan Hunter's dark comedy at Boston Playwrights' Theatre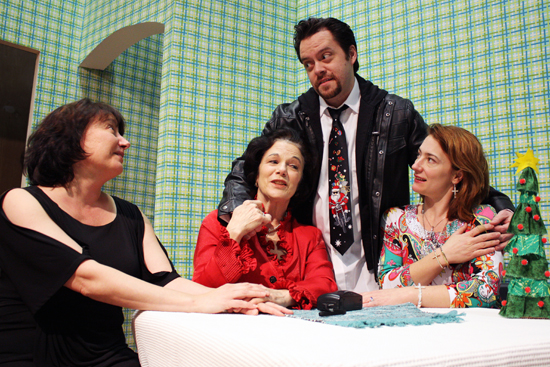 The American theater is rife with dysfunctional families: think of the Tyrones in Eugene O'Neill's Long Day's Journey into Night, the Wingfield clan in Tennessee Williams' The Glass Menagerie, and the Westons in Tracy Letts' August, Osage County.
Now add to that storied list the Lincoln family in Dan Hunter's new play, Legally Dead, currently running at the Boston Playwrights' Theatre. Hunter's dark comedy peers inside a family with more than its share of peculiarities and explores the mayhem that ensues when business and religion mix. "It can be hilarious at points," says Hunter (GRS'98), a College of Arts & Sciences lecturer in creative writing. "It's a story that people will find interesting and engaging. They won't agree with parts of it, but they'll be intrigued by how people respond within the situation."
The play opens on Christmas Eve. The family matriarch, Marsha Lincoln, has gathered her three adult children to celebrate the holidays. The audience soon discovers that the Lincolns haven't seen their father in five years. He's missing, and they've done quite enough waiting. It's time to take action. Son Tommy has just been released from prison, daughter Annie is newly divorced, daughter Rebecca has found Jesus, and Marsha has rediscovered alcohol. Everything the Lincolns own is in their father's name, including the family car dealership (Lincoln Cadillac), but they can't seem to find the will. Annie has prepared papers to declare their father dead so they can finally sell the dealership and move on, but the others are hesitant.
The play explores the complexity of family life and the notion of forgiveness, says the playwright. "It's about what happens inside a family where lots of members do bizarre things to each other," he says. "Sometimes families split up over that, sometimes they don't. What happens if you have a family member who does not want to reconcile, but the others do and they try to force a reconciliation?"
Religion plays a pivotal role in Legally Dead. Several characters use it as a way to wield power and manipulate other family members, a subplot Hunter thinks will resonate with audiences. "I think this is fairly common in families—fighting out power struggles through ancillary issues," he says. "The issue is the family business, but the argument is over religion, for example, or dog food."
Hunter, who has also written the critically acclaimed plays Un Tango en la Noche, for which he won a national Kennedy Center award, La Mujer Sin Cara, The Monkey King, and Red Elm, says that Legally Dead has its roots in his own family. The play "began when the support beams of my family had a tectonic shift and grew out of observations about myself," he says. The production slowly evolved from a tragedy into a comedy. The playwright says that he came to see the story's comedic potential and to push it in a more humorous direction after input from director Steve Bogart, Boston Playwrights' Theatre artistic director Kate Snodgrass (GRS'90), and the cast.
"The line between tragedy and comedy is thin," Hunter says. "But finding comedy is a powerful release and healing. And isn't that what art should do: show us a different, new way of seeing? Help us find and understand our emotions? And laughter is a good emotion."
The Legally Dead cast includes Kippy Goldfarb as Marsha/Mama, Adrianne Krstansky as Annie, Jen Alison Lewis as Rebecca, and Christopher James Webb as Tommy. Set design is by Cristina Todesco, costume design by Rachel Padula Shufelt, and sound and lighting by Boston Playwright Theatre's David Wilson.
Legally Dead runs through Sunday, February 24, at the Boston Playwrights' Theatre, 949 Commonwealth Ave., Boston. Performances are Fridays at 8 p.m., Saturdays at 4 and 8 p.m., and Sundays at 2 p.m. Tickets are $30 for adults, $25 for seniors and BU faculty and staff, and $10 for students 25 and under with a valid ID. Purchase tickets here, call 617-353-5443, or visit the box office.
Tom Vellner can be reached at tvellner@bu.edu; follow him on Twitter @tomgvellner.