Red Hot Hockey: Terriers Face Off Saturday against Big Red
BU to take on old rival Cornell at Madison Square Garden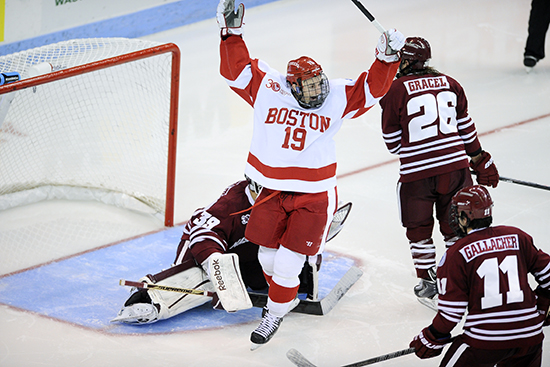 When the BU men's hockey Terriers take on the Cornell Big Red at Madison Square Garden on Saturday, they'll be hoping for a repeat of their last matchup, back in November 2011. The Terriers won an overtime thriller in front of a sold-out crowd at the garden. This weekend, the BU team returns to New York City to face off against the Big Red in the fourth edition of the biennial event that pits the two teams against each other, billed as Red Hot Hockey because of the color both teams share.
Red Hot Hockey has been a sellout since it began in 2007. The Terriers have a 2-0-1 edge going into the game.
The two teams were rivals for decades when both were members of the Eastern College Athletic Conference. Each team won five ECAC titles and between them took five national titles from 1967 to 1978. Red Hot Hockey provides a rare opportunity for alumni from both schools to relive that rivalry.
David Quinn, BU's new men's hockey head coach, was an assistant coach under longtime coach Jack Parker (SMG'68, Hon.'97) when the Terriers played their first Red Hot Hockey game. "It's pretty remarkable that we're looking at our fourth straight sellout there," says Quinn (CAS'89). "Obviously it's a great experience for the guys and one of the many things that make this program special. Cornell is a great opponent, and it will certainly be a big test for our team."
With a 6-6-1 record, the Terriers have faced some fierce competition this season. Of the 13 games, 8 were against teams ranked in the top 15 nationally by US College Hockey Online polls. BU split a home and away set against third-ranked Providence and defeated Wisconsin, then ranked number two. But the Terriers fell to Boston College, Michigan, and Rensselaer.
Last week, however, BU defeated 15th-ranked North Dakota, and played the team to a tie the following night. The Terriers are looking to build on that momentum when they take on 18th-ranked Cornell (4-3-1) in what is sure to be a raucous arena Saturday.
For the large contingent of BU alumni living in the New York area, the game is a great chance to cheer on their alma mater. The BU Alumni Association and the Friends of BU Hockey will sponsor a Pep Rally at Madison Square Garden two hours prior to face-off.
For the BU players, the Red Hot Hockey matchup is an opportunity to compete in one of the world's most storied arenas. "We're lucky that BU gets to play in so many big games, and that's especially true this year," says cocaptain Pat MacGregor (CGS'12, COM'14). "Playing at MSG two years ago was definitely one of the coolest experiences I've ever had."
MacGregor is one of only seven upperclassmen on this year's roster, so for most of the Terrier icemen, the game will mark their Madison Square Garden debut. "Only a few of us played in the last Red Hot Hockey game back in 2011," MacGregor says. "It's going to be crazy having so many guys get out there in that atmosphere for the first time. I know everyone on the team can't wait to get down to New York City to play in such a big game."
The BU Terriers face off against the Cornell Big Red this Saturday, November 30, at 8 p.m. at Madison Square Garden. Tickets range from $25 to $250 and can be purchased online through Ticketmaster. The BU Alumni Pep Rally begins at 6 p.m. on the MSG ninth floor west balcony. Tickets to the rally are $10 and include a food/drink voucher, and may be purchased here.
Nate Weitzer can be reached at nweitzer@bu.edu.