Nightlife: Club Oberon's The Donkey Show
A disco version of Shakespeare's A Midsummer Night's Dream
Twice each Saturday night, Club Oberon—the small second stage at the American Repertory Theater in Cambridge—is transformed into a discotheque—replete with feathers, plenty of polyester, and enough mirror balls to make the old Studio 54 crowd happy. Add to that a bunch of actors clad in little more than glitter and spandex and '70s disco staples like "We Are Family," "Ring My Bell," and "Last Dance," and what you have is The Donkey Show, a modern retelling of Shakespeare's comedy A Midsummer Night's Dream. And when we say "retelling"—we mean it loosely. The Donkey Show doesn't use a single paragraph of the original.
Conceived by Randy Weiner and directed by him and his wife, Tony-winner and ART artistic director Diane Paulus, the production ran for six years in New York before opening at the ART in 2009. In Paulus and Weiner's reimagined version, the ethereal Robin Goodfellow (aka Puck), who dispenses love potions in the Shakespeare play, has been transformed into Dr. Wheelgood, a roller-skating, nymph-like, pill-dispensing character adorned in Christmas lights and a bodysuit that leaves little to the imagination. And Oberon, king of the fairies, who oversees the woodland goings-on, is now Mr. Oberon, owner of the discotheque Club Oberon, bent on curbing the rebellious ways of disco queen Tytania (Shakespeare's Titania). Hermia now goes by Mia, and Lysander is Sander in this cheeky, sexy take-off.
And did we mention that The Donkey Show is a fully interactive experience? Audience members are encouraged to dress in '70s regalia and sing—and dance—along to classic disco tunes. We can attest to the fact that the songs will remain stuck in your head for hours after the performance.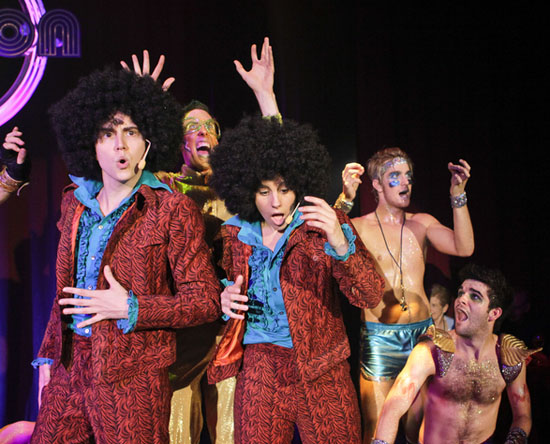 The show is a full-blown sensory experience, and it takes a while for your adrenaline level to drop after it ends. The visual spectacle is mesmerizing: butterfly-shaped confetti and go-go dancers swinging from the rafters will do that to you. And the various nods and winks to '70s club drug culture popping up throughout are hilariously parallel to the "love in idleness" potion given to Titania by Oberon.
While The Donkey Show has none of the original's text, as the title suggests, it explores the same interesting relationship between a donkey and the love-struck Tytania that Shakespeare did—but somewhat more explicitly.
The Donkey Show—with its gratuitous amounts of skin and laced with one sexual innuendo after another—is not everyone's cup of tea. And you'd better be prepared to dance: it's almost mandatory. The night we attended, groups of middle-aged women, presumably out for a girl's night, were a decent portion of the audience: they knew by heart the lyrics to songs that topped the charts long before we were born.
A couple of other words of advice: first, be prepared to stand. There are only two small seating areas, so most patrons are corralled around the long bar flanking the back of the club or on the dance floor (used by the actors as an extension of the stage).
Warning number two: be prepared to become part of the show. Before it began, we were greeted by a man in dark aviators, bellbottom jeans, and a leather trench coat, chest hair peeking out from a half-buttoned paisley shirt.
"Ladies, ladies! Where we standin' right now? That's right, the dance floor! Y'know that means we gotta dance!" he said, proceeding to prance around us to the Weather Girls' "It's Raining Men."
Come to find out he was the actor playing the club's bouncer. The actors keep the audience engaged not just during the show, but before and after as well, all while remaining strictly in character.
If you're looking for a night out that will keep you on your toes and have you talking for weeks afterward, The Donkey Show is a must-see. The experience is galaxies away from bar-hopping in Allston or Fenway—be prepared to head home with glitter in your hair and a sudden urge to embark on a closer reading of all those Shakespeare plays you were once familiar with, but now have forgotten.
The Donkey Show, at Oberon, 2 Arrow St., Cambridge, runs every Saturday at 7:30 and 10:30 p.m. The box office does not have regular business hours, but tickets can be purchased here or by phone at 617-547-8300. Take an MBTA Green Line B trolley to Harvard Avenue, then the 66 bus toward Harvard Square and get off at Harvard Square. The show is all ages, but patrons under 18 must be accompanied by a guardian. Tickets start at $25 and all major credit cards are accepted.
This story was originally published on April 25, 2013.
This is part of a series featuring Boston nightlife venues of interest to the BU community. If you have any suggestions for places we should feature, leave them in the comments section below.
Ashleigh Fryer can be reached at afryer@bu.edu; follow her on Twitter at @ashleigh_fryer.