Marsh Choir to Sing Backup for Rolling Stones Tonight
TD Garden 50 & Counting gig a "crazy" surprise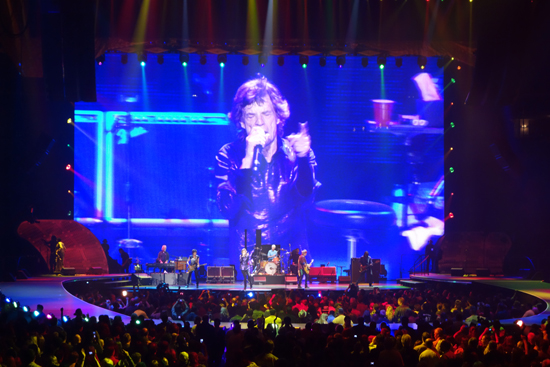 When Scott Jarrett arrives at TD Garden today for the Boston stop of the Rolling Stones 50 & Counting tour, he'll be able to declare, accurately and proudly, "I'm with the band."
Thanks to a serendipitous series of events and the close-knit nature of the choral community, BU's own Marsh Chapel Choir, directed by Jarrett (CFA'99,'08), has been accorded the rare privilege of accompanying the Stones on their iconic anthem "You Can't Always Get What You Want." Originally recorded with London's Bach Choir for the 1969 album Let It Bleed, the song has become one of the band's most recognized and is featured in the current tour of 10 North American cities. At each stop, the band is teaming with a local choir to perform the song. The 2013 tour marks the first time the Stones have performed it with a live choir, and fans are forking over as much as $500 for tickets.
The campus-based choir, which includes professional singers as well as students, alumni, and Boston residents, goes on tour every year and has recently graced stages in San Francisco, New York, and Montreal. But to sing with the Stones in front of nearly 19,000 people is a gig beyond his wildest imagination, says Jarrett, who couldn't wait to share the news with his 60-year-old father. The elder Jarrett was part of the Stones' original fan base. "My dad was completely beside himself. He said, 'You never cease to amaze me.'"
"You Can't Always Get What You Want," which begins with an a cappella choir section and is punctuated with high Cs, is not easy to sing. With just three weeks' notice, Jarrett had to put together a group of 24 singers, heavy on sopranos, find a conductor to lead half the choir, and negotiate a contract. Students had already gone their separate ways for the summer, but Jarrett had no problem finding the two dozen singers. Those singers, in 2 groups of 12, will take their places on either side of the TD Garden stage when they perform with the Stones tonight and again on Friday, June 14.
"I still haven't completely processed it, to be honest," says Bethany Saul (CAS'14). Saul, who is from Sheffield, England, says friends and family back home were shocked at the news. "I'm a little nervous, but mainly about silly things like tripping over a wire or saying something completely embarrassing to Mick Jagger," she says. "It's so outside the realm of anything I've ever done."
For the Las Vegas stop, the Stones were joined by the Green Valley High School Choir, and in Toronto the performance featured the Cawthra Park Secondary School Chamber Choir. "I got an email from a woman from Cambridge, England, who's been the person scouting for choirs for this tour," says Jarrett. "She said our name came to her attention." The choir will receive what Jarrett describes as a "nice check," which will underwrite its visit to New York City for next year's Bach Experience.
Jarrett and his singers aren't exactly immersed in the music of the Stones, whose ages run from 65 (Ronnie Wood) to 69 (Mick Jagger). But when you consider their remarkable staying power, "who isn't a Rolling Stones fan?" says Jarrett. "These guys have been playing this music for 50 years—that's remarkable. It's a miracle." One younger student, he says, did ask whether the group "started that magazine." But when he told choir members about the historic opportunity, the general reaction was, "You're joking."
One person who was mightily impressed was Jarrett's close friend John Paulsen (CFA'98), who was Marsh Chapel assistant choral conductor a decade ago and met his wife in the choir. Jarrett, godfather to the Paulsens' son, asked his friend to conduct with him on the TD Garden stage. "He's completely thrilled; he knows the music backwards and forwards," says Jarrett, describing Paulsen, in his early 40s, as "80 percent classical musician" and 20 percent rock musician.
Jarrett, Paulsen, and the 24 singers will arrive at TD Garden this afternoon, meet with the Rolling Stones musical director and rehearse a bit, after which they'll do a run-through with the band. "They'll give us dinner and then we hang out and wait," says Jarrett. For the performance, the choir will wear headpieces with earbuds, their first experience with live tracking technology. Jarrett thought it would be fun to don their usual choir robes, but "they want us in all black, young, hip, and sexy," he says.
Perhaps the most triumphant moment, higher than those high Cs, will be the choir's introduction by the man himself, Sir Mick Jagger. "It's kind of cool; they've been confirming our names and the ensemble's name so Mick can announce us on stage," says Jarrett, who says he has great respect for Jagger. "He sounds great—it's really inspiring. I hope that I'll be waving my arms around making music when I'm that age." For the students, he adds, the performances are a chance to "connect with a sound and a cultural force that shaped several generations and changed social dialogue."
And they'll have quite a story for their future grandchildren.