It's Official: Men's Soccer Is a Club Sport
Inaugural season a winning one so far
On a warm evening earlier this month, 110 men gathered under the bright lights of New Balance Field hoping to land a spot on the BU men's club soccer team. For two hours, they drilled, ran, and scrimmaged as club president Phil Welsh (SAR'14) and coach Tyler Foster (SAR'15) scouted the field for players confident on the ball and possessing a good first touch. A second round of tryouts two days later saw 40 students called back, this time on Nickerson Field, to vie for one of the 12 remaining positions on the team, which has just been named an official club sport.
For Welsh, the tryouts were a significant milestone. He recalls joining the team as a freshman, when it was in its infancy, and having to trek to Magazine Beach across the river in Cambridge for practices. "It was difficult and frustrating playing there at times," Welsh says. "The field has poor drainage, so there would be large puddles after it rained, and one player had his soccer bag stolen with a few expensive items in it, so we never felt 100 percent safe there."
As player-coach sophomore year, Welsh helped guide the team to a conference championship. But without official recognition, members had to pay for everything out of pocket, including travel costs and equipment.
Welsh's job as a FitRec intramural supervisor put him in close contact with intramural and club sports manager Scott Nalette, and he started lobbying for club status. "I've been nudging Scott in the shoulder all the time these past few years," Welsh says. "He's always been on board with the idea, but it was a bit of a monetary issue. So this past year, when club lacrosse dissolved and became a varsity team, they ended up bringing us on."
Nalette says the decision to elevate the team to club status was the result of a number of factors, "including increased field space with the opening of New Balance Field, lacrosse being promoted to varsity status, and a critical mass of students interested in soccer." Students had been pushing for club status as far back as 2007. Nalette says that although the University has a men's varsity soccer team, "offering it at the club level provides an opportunity for those people who were not recruited specifically for soccer to have an outlet representing their university playing the sport they love."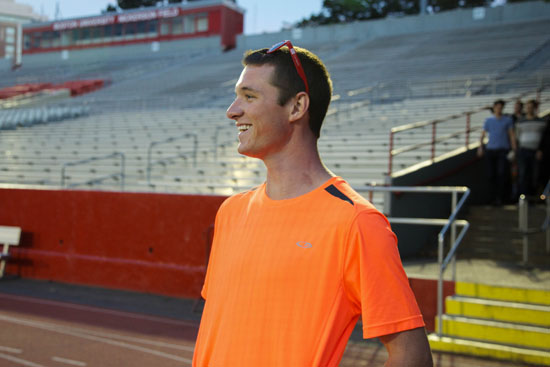 Welsh heard the news on the last day of summer classes in August. "I was ecstatic," he says, "especially because a few months earlier I had been told that gaining official club recognition would be unlikely for the fall 2013 semester."
Getting club status has been a great relief for team treasurer James Davis (CGS'14). "When we were unofficial, we had to fund everything ourselves," Davis says. "Now, since FitRec covered our league registration fee, paid for our equipment, and gave us jerseys, we have a lot more options."
One of those options is the possibility of a trip to Phoenix in November for the national club soccer tournament, something the team couldn't afford to do in years past. Qualifying for nationals, which Davis feels is possible this season, requires a $1,200 registration fee, as well as an estimated $500 in travel costs for each player. "We want to start off our first year right," he says. "We feel like we're a great team and we deserve a shot at nationals. This is something the upperclassmen have been working towards for years."
Early indications are that they have a good shot. The team is currently 3-0 after dismantling Tufts' A and B teams and defeating Dartmouth College 4-0 September 22. "Every win will help team morale," Davis says, "and make people feel like the cost of going to nationals is worth it." This weekend's three home games at Nickerson, two on Saturday, against Brandeis and the University of Vermont, and the third Sunday, against Boston College, will give the club a chance to extend its winning streak.
The division the BU team plays in includes the above named schools as well as Holy Cross. Finishing first means an automatic berth in the regional tournament, being held in Downingtown, Pa., but the team has to decide by September 27 whether to register for nationals as well.
"Honestly, with the team we have right now a national championship is winnable," says Foster. "It's just a matter of getting the money together to get there."
Davis estimates that at least 13 players are willing to cover the costs of traveling to Arizona, and he's confident that fundraisers and other events will help to defray expenses.
Although club soccer doesn't require the same level of commitment that varsity soccer does, Foster says the student-athletes are extremely invested in building the team. "The fact that it's student-run makes the kids a little more passionate, because they're putting their own time into it," he says. "School is a priority of course, but right now I have kids telling me they're willing to skip an hour of work to come to practice."
Team vice president Chris Sondej (SMG'14, CAS'14), who is majoring in finance and economics, says that being able to play at the club level is an advantage for student-athletes. "It's great to be able to balance both academics and athletics without the varsity commitment of playing six days a week," he says. "I came to BU knowing that I wouldn't try to pursue soccer any further after college, so I wanted to focus on school and enjoy the other aspects of college. I think a lot of other people on the team would echo that sentiment."
Team member Muhammad Elfaham (SAR'14) knows what it's like to compete in the sport at both levels. An elite scorer at Brooklyn Technical High School, Elfaham was "offered many opportunities to play soccer at Division III schools," he says, but came to BU because of its academic reputation. He made the varsity team freshman year, but tore his rotator cuff the following summer. Unable to return to Division I action the next year, he joined the club team.
He found that the lack of organization and practice facilities made the transition to an unofficial club difficult at first, but says it was worth it. "This has to be the most closely knit team I have ever been a part of," he says. "We all eat together, some of us study together, and of course, we all party together. It really feels like a second family."
Elfaham says that "those of us who have been on the team from the beginning are extremely grateful for the opportunity" granted by the team's new status as an official club sport.
The BU men's club soccer team hosts Brandeis University this Saturday, September 28, at 1:20 p.m. That evening, at 6:20 p.m., the team plays the University of Vermont, both at Nickerson Field. On Sunday, September 29, at 10 a.m., the team takes on Boston College, again at Nickerson. All games are free and open to the public.
Nate Weitzer can be reached at nweitzer@bu.edu.