Arts Initiative Dances from Stage to Clinic
BMC patients, CFA join in creative collaboration
The BMC Cancer Care Center's chemotherapy unit is a busy place. Adult patients of all ages and prognoses settle into curtained-off sections called "boxes" and endure up to five hours at a time being hooked to IVs. Some watch TV and some doze, but on a recent spring day, Lucia (not her real name), a patient in her early 50s, gratefully accepted Amanda Britton's offer to sit beside her and recite poetry. As a downpour streaked the hospital windows, Britton (CFA'13) read Lucia the sunny quatrains of William Wordsworth's "Daffodils," along with Elizabeth's Bishop's "I Am in Need of Music" and selections from Khalil Gibran's The Prophet. When it was over, Lucia gave the theater arts major a hug, and before moving on to another patient, Britton declared the experience "awesome." The intimacy of reading poetry one-on-one "allows me to make a new friend," she says. "And I've learned that any one of us can be hooked up to that IV."
This poetic interlude was one of many recent efforts of the fledgling Arts Outreach Initiative of the College of Fine Arts, which enlists students like Britton to nurture a partnership with the Medical Campus through its diversity and multicultural affairs office. Since the program was launched in October, students have shared their talents in a range of nontraditional venues, from monthly concerts in the lobby of BMC's Menino Building (a string quintet) to the hospital's surgical unit (soloists on cello and viola) to the pediatric outpatient clinic (various soloists).
"It's like you light a direction for the patients to exit from their reality," says Moisès Fernández Via, curator and researcher of the program, which has trained about 65 undergraduate and graduate students from the Schools of Music, Visual Arts, and Theatre. The CFA musicians also provide occasional stress relief for BU medical students, who can take late afternoon study breaks and hear 20-minute concerts in the lobby of the School of Medicine Student Residence.
"No one predicted that the Medical Campus would be such a fertile ground for the arts," says Fernández Via, a professional pianist who has performed on the Medical Campus. The program began modestly with musicians positioning themselves in corridors. Initially, there were just a few takers among the patients for the poetry readings. It took time for busy, often overwhelmed hospital staff to warm to the idea. But now, he says, "the nurses know about us and when we're coming." He increasingly coordinates performances by request in patients' rooms. Student artists in the program must first get a tuberculosis test and attend a training session with Rafael Ortega, a MED professor of anesthesiology and associate dean of diversity and multicultural affairs, where they learn about BMC's standard codes of behavior around patients, cultural and religious diversity, and language limitations.
In November the outreach initiative joined with the BMC neurology department and MED's Office of Diversity and Multicultural Affairs to present When Patients Heal You, a concert featuring a group of six performers, all neurology patients successfully treated at BMC. This Sunday, May 12, CFA will join with Hispanic Voices/Voces Hispanicas of the College of Arts & Sciences romance studies department, in another innovative collaboration, DIWAN, featuring poetry, music, contemporary dance, and theater. The event, being held at 7 p.m. at the BU Dance Theater, is billed as "a garden for the senses" and will feature patients from the Cancer Care Center, the neurology department, and the Complementary and Alternative Medicine Refugee Health Clinic, who will perform, with Fernández Via on piano and Spanish flamenco dancer Auxi Fernandez (no relation).
"Nurses introduced me to the patients, and I wrote the script of DIWAN with them in mind," says Fernández Via. "It's another example of artistic creativity according to this model of interaction between patients and artists." Rehearsals for Sunday's event began three months ago, with the help of acting coaches from the School of Theatre.
Shared humanity of performer and patient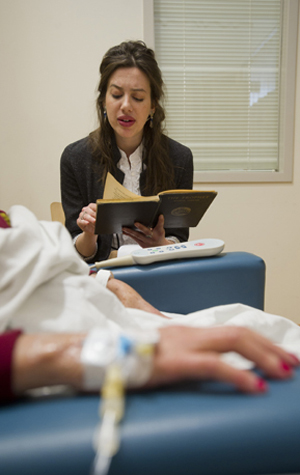 Last month, when Cherry Kim (CFA'17), a doctoral candidate in music, sat down to play Bach's unaccompanied cello suites in a corridor of a BMC surgical unit, she faced a room guarded by two Boston police officers. Within minutes the patrolmen disappeared into the room and emerged guiding a young man in leg shackles to a chair in the corridor for what turned out to be a kind of command performance. When Kim finished playing, the man applauded, then a janitor who'd been hovering nearby began to sing to the prisoner in Spanish, his pleasant alto offering words of faith and solace. Outreach performers like Kim say you never know what to expect. Like Britton's instant bond with Lucia, this was a defining moment, a nod to the shared humanity of the performer and the patient, says Fernández Via.
Elsewhere on the unit, a CFA violist recently encountered a patient who used to play guitar in the Boston subway, and patient and student watched the man's YouTube video on the student's phone. "The nurses had no idea that this man used to play," says Fernández Via. It was one of those moments where he and the students realized "how powerful the music can be, even if it is for just one person." He says patients and hospital staff are becoming more accustomed to live music and poetry readings in the clinical setting and have begun to welcome them as soothing, therapeutic, and an antidote to the hospital's ambient noises, like the buzz and hum of equipment and blaring of phones. "It may seem out of place to hear rhymes about the seasons and the sea among the beeping monitors," says Britton, but like the music, "the simplicity of the spoken word shuts out all that noise."
The arts initiative is part of a national trend. Health care workers around the country are using music to enhance treatment of patients with a long list of conditions, from depression to stroke. When a BMC surgical patient woke up to strains of Bach floating in from the corridor, he later told Fernández Via, "I thought, this has to be the medication." In a way, the patient was on the mark—though unquantifiable, music has a healing aspect. According to the American Music Therapy Association, music helps patients manage stress as well as alleviating pain, promoting rehabilitation, and helping people communicate more and express their feelings. But Fernández Via stresses that whether it involves playing chamber music in the lobby, having visual artists brighten bland institutional walls and stairwells, or recruiting former patients as performers, the initiative's mission is as much about educating students about communicating through art as it is enriching the lives of BMC patients and their families.
The Arts Outreach Initiative "brings students out of their practice rooms and studios and encourages them to think, expand, and explore the power of the arts in a complex environment," says Benjamin Juárez, dean of CFA. "It is an experience that shapes them not only as artists, but as human beings."
Fernández Via is hoping to document the program's impact over time. "Obviously everything is very lovely, but we have bigger goals, and now that we've built this partnership with the hospital, we're able to do more serious research on how we can impact the recovery of these patients." He refers to the program as a "win-win educational experience" and a laboratory for CFA students like Britton, who next year will train other students to follow in her footsteps.
On the same day Britton read to Lucia, she was ushered to another patient, an elderly man who joked that he was celebrating his 21st birthday. When she finished reading a poem about a person standing on a shore, the man said, "I like that. I like watching ships go by." Then he began to weep, but implored her to continue with another poem. When the reading was done he thanked her and said something that made her realize he was doubly grateful. "I can't read," he said.
DIWAN begins at 7 p.m. on Sunday, May 12, at the BU Dance Theater, 915 Commonwealth Ave.; it is free and open to the public. More information is available here.