Alcohol Companies Marketing with Music Lyrics
SPH study: four brands account for more than half of all references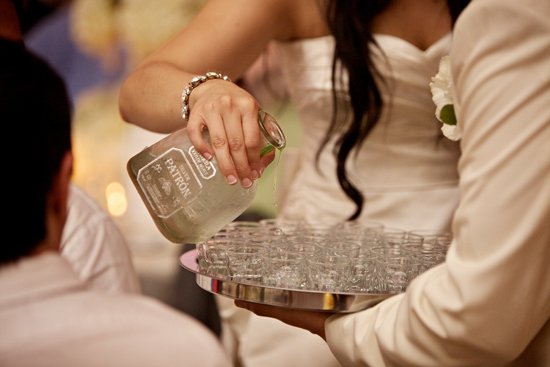 Almost anywhere you see young people, you hear their music—on the street, in groups, even in stores. It has enormous influence on them, as most parents can attest, and it starts a young age. And public health researchers, concerned about the destructive aspects of such behaviors as drinking alcohol, are aware of it too.
With well over 1,000 alcohol brands on the market, School of Public Health researchers expected that their review of brand names found in popular music would turn up a jumble of random names.
Instead, they discovered something striking: as they pored over lyrics from Billboard's most popular song lists in 2009, 2010, and 2011, four brands appeared with surprising frequency: Patron tequila, Hennessy cognac, Grey Goose vodka, and Jack Daniel's whiskey. They accounted for more than half of the brands named in songs that referred to alcohol brands.
"You would expect there would be hundreds of brands that are randomly mentioned," says Michael Siegel, an SPH professor of community health sciences. "But we found that those top four accounted for 52 percent of all the brand mentions. That can't be coincidental."
The findings—published online in August in Substance Use & Misuse—raise questions about the relationship between alcohol companies and the music industry, in terms of both specific marketing and the larger influence on youth drinking behavior. The study, coauthored by researchers from the Johns Hopkins Bloomberg School of Public Health, is the first to examine in depth the context of the use of specific brand names in music.
In addition to identifying a small number of brands frequently mentioned in popular music, the study found that alcohol use was portrayed as overwhelmingly positive in lyrics, with negative consequences almost never referred to.
The study—citing the heavy exposure of youths to popular music—said preliminary data about youth alcohol consumption suggests that many of the brands that were recurrently named in songs also are popular drinks for underage drinkers. The authors called the results "alarming, because they suggest that popular music may be serving as a major source of promotion of alcohol use in general—and of consumption of specific brands in particular—to underage youth." But Siegel (right) says that further research is needed to determine a "causal connection" between promotion in music and actual consumption.
What the research did uncover was that the alcohol brands mentioned in songs often had sponsorship or other relationships with the artists—sometimes in the form of concert sponsorships or endorsement agreements. For example, Sean "Diddy" Combs is a paid spokesperson for Ciroc vodka and has a $100 million marketing deal with Diageo, the manufacturer of Ciroc. Grey Goose sponsors a television show on Black Entertainment Television that highlights up-and-coming urban music artists. And Patron sponsored a concert that was part of the Austin City Limits Music Festival, which showcased a number of urban artists.
"What we have to recognize is that the placement of brands in music is a form of alcohol marketing," Siegel says. "It's similar to when cigarette companies used to pay production companies to feature their brands in movies. Alcohol companies are now the ones developing financial relationships to encourage this kind of marketing. It really needs to be recognized as marketing, not random chance."
Of the 720 songs examined in the review, 167 (23.2 percent) mentioned alcohol, and 46 (6.4 percent) named specific alcohol brands. The leading four brands accounted for 51.6 percent of all alcohol brands specified by name.
The study found that alcohol was most commonly referred to in so-called urban songs (rap, hip-hop, and R&B, with 37.7 percent), followed by country (21.8 percent), and pop (14.9 percent).
At least 14 long-term studies have found that exposure to alcohol marketing in the mass media increases the likelihood that young people will start drinking, or if already drinking, consume more. Adolescents in the United States spend an estimated 2.5 hours a day listening to music.
Siegel and his colleagues used the Billboard listings to identify 720 unique songs in four genres: urban, pop, country, and rock. Three coders analyzed the lyrics of each song to determine alcohol references, brand references, and the context for each.
The researchers found mention of alcohol in 167 songs. Tequila, cognac, vodka, and champagne brands appeared more prevalently in urban music (R&B, hip-hop, and rap), while whiskey and beer brands were more common in country or pop music. Surprisingly, there was no alcohol referred to in the rock-genre music examined.
Only 4 of the 46 songs naming alcohol brands had a negative context, negative consequences, or negative emotion associated with alcohol use, the study found. The majority of songs portrayed alcohol use as "a fun part of the youth lifestyle that is free of consequences," the authors wrote. "Furthermore, we found evidence that many songs glamorize underage drinking and excessive alcohol consumption and their association with sex and partying."
Alcohol is responsible for at least 4,700 deaths annually among people under age 21 in the United States. Surveys indicate that more than 70 percent of high school students have consumed alcohol, and about 22 percent engage in heavy episodic drinking.
Siegel says that if further research shows a causal connection between marketing and consumption, there are several interventions that could be adopted—not in an effort to censor music, but instead to educate youths about the marketing influence. One intervention, he says, would be to teach young people "media literacy skills" that would educate them about marketing techniques.
"They're being used in a way…to try to influence their consumption," Siegel says. "If we can educate them about that, it might mitigate the effect."
The research was supported by grants from the National Institute on Drug Abuse and the National Institute on Alcohol Abuse and Alcoholism.
Lisa Chedekel can be reached at chedekel@bu.edu.