The Job Hunt: Career Counselors' Best Advice
Pros stress face-to-face meetings, not just online intros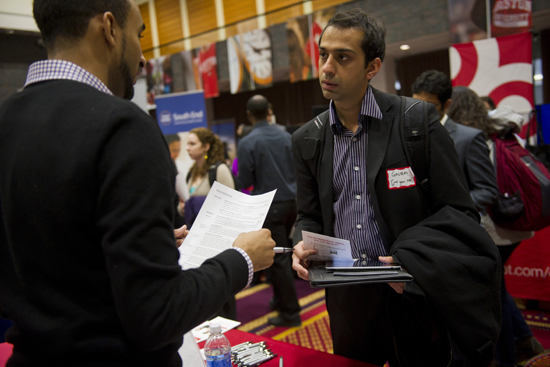 This week BU Today continues its annual series, for graduating seniors and others looking for a job, offering info, advice, and real-life accounts of how to go about finding a job. Today we feature advice from experts on campus about how best to prepare for a job hunt, what to do if you can't find a job immediately, and whether delaying the job search in favor of graduate school makes sense. Tomorrow we examine the ways social media can help and hurt job applicants and the importance of developing a personal online brand. In our last story, Thursday's "What Worked for Me," three graduating seniors who have found jobs talk about what they did right.
This year's seniors are hearing conflicting messages about how easy it's going to be to get a job. The AP recently reported that 1.5 million, or nearly 54 percent, of bachelor's degree-holders under the age of 25 were jobless or underemployed last year, the highest share in at least 11 years. Then there's the National Association of Colleges and Employers, which reported that a survey of 160 employers suggests that they anticipate hiring at least 10 percent more recent college graduates than they did last year. Engineering, business, accounting, and computer science degrees drew the most interest. Agriculture, health sciences, and education degrees were the least appealing to prospective employers. The reality is, the job market may be good or it may be bad, but it's the only job market we've got, and every senior has to make the most of it.
BU Today spoke with several on-campus career counselors about their advice to graduating seniors. Deborah Federico, the School of Management Feld Career Center's associate director of undergraduate career services, and several staff members from the Center for Career Development, among them director Kimberly DelGizzo, associate director of marketing and communication Eleanor Cartelli, and associate director of employer relations Patty Piquette, had this to say.
BU Today: How can seniors best prepare for the job hunt?
Federico: Make sure your résumé is in the best possible shape, write effective cover letters, and make sure your interviewing skills are top-notch. Do a mock interview with a counselor. Another thing that's extremely effective is informational interviewing. If students can go in and meet with somebody at companies they're interested in, when a job opening occurs the person may notify the student about the opening before it even gets posted. It's part of what we call the hidden job market.
Piquette: Going on an interview doesn't mean that you have to take that job. Go if you are interested in the job, but an interview is also an opportunity for you to evaluate the organization as a possible fit for you. Some students don't even want to apply to things unless they're 100 percent sure that this is what they want. Interviewing is still part of the exploration process, until they make you an offer, and even at that point it's okay to say no.
Cartelli: Networking is not just emailing people you know; it's not just connecting with people on social media platforms. It's meeting with people in person. It could be connecting with BU alumni a student finds through the Career Advisory Network. It could be joining a professional association and going to events.
What should graduates do if they can't find a job immediately?
Federico: Definitely stay active. Have an agenda for the week so you're not just letting hours while away. Have a goal, even if it's going to the gym every day, so that it gets you out and motivated. Maybe have a goal of meeting with somebody once a week to do an informational interview or go to a professional association meeting. Do something each week that moves you toward your goal.
Piquette: Many employers now will hire graduating seniors as interns during the summer. Students may land an internship that will give them some experience and direction and may also lead to a job with that employer or with another.
DelGizzo: Students are so accustomed to doing things electronically. They think that if they network through LinkedIn and apply to lots of jobs through BU CareerLink and other job boards, they will land something. And some students do, but the vast majority of people who find the right fit in positions do it as a result of networking. Students should not assume that if they go in for an informational interview, they're going to come out with a job. But that face-to-face contact is so critically important for students to navigate the job search process. Learning about how to position themselves is, for many people, what makes the difference between employed and unemployed.
Some seniors say graduate school is their Plan B. Is that a good idea?
Federico: I would say it's not so good for business students, because most of them want to do an MBA. It's really important they get at least two to four years of job experience before they decide to do so. They should really give it careful consideration, because they're incurring more debt. The other problem is that with a master's, employers think you want a higher salary and you should be getting a higher salary. But if you don't have any full-time experience and you're demanding a higher salary, then you're actually less employable.
DelGizzo: Graduate school is a great endeavor when students are ready to specialize and they know exactly what they want to specialize in and why. For some students, going on immediately is a great decision. But for many students it's the default because they assume there are no jobs out there. By and large, most industries really want students to get out and get some experience.
The Center for Career Development provides many services to students and alumni, including career counseling appointments to discuss the job search. The office also offers 15-minute Quick Questions sessions that allow students to ask a counselor one question about the job hunt process. It also has InterviewStream, an online system available through BU CareerLink, where students record interviews and have them reviewed by a career counselor, friend, family member, or mentor. For more information or to make an appointment, call 617-353-3590.
The School of Management's Feld Career Center offers career planning appointments to its students. For more information or to make an appointment, call 617-353-2834.
Tomorrow, in the next part of our series, ways social media can help and hurt job applicants and the importance of developing a personal online brand.