Elliot Norton Award to Boston Playwrights' Theatre Director
Kate Snodgrass: a tribute to sustained excellence in theater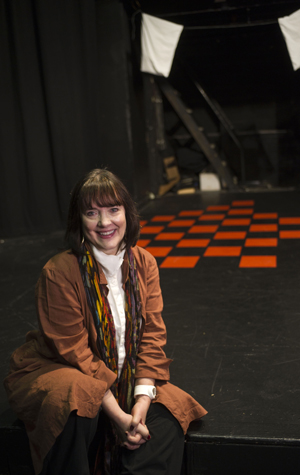 To anyone who has a connection to theater in Boston, Kate Snodgrass has been overdue for a vigorous citywide standing ovation. Longtime fans of the passionate teacher, playwright, and director were joined this month by the Boston Theater Critics Association, which has awarded Snodgrass (GRS'90), artistic director of BU's Boston Playwrights' Theatre, its 2012 Elliot Norton Award Prize for Sustained Excellence, the Boston theater community's highest honor.
"People in the theater work 16-hour days, and I've been doing that for a very long time," says Snodgrass, who expressed delight that "someone not hooked up to my theater was saying, 'You did good.'"
Tucked away on Commonwealth Avenue on BU's West Campus, Boston Playwrights' Theatre was founded in 1981 by Nobel Laureate Derek Walcott (Hon.'93), a BU professor emeritus. A favorite of budding directors and actors, the theater stages new works by BU students, and has programs for high school students and writers throughout New England. It's a place that encourages original, groundbreaking work, and will serve as the heart of BU's new Playwriting MFA program, which is offered through the Graduate School of Arts and Sciences in collaboration with the College of Fine Arts School of Theatre.
Snodgrass' support of emerging playwrights and commitment to local actors has earned her widespread admiration. "Kate has changed all of our lives," says Paula Plum (CFA'75), an accomplished Boston actress and 2004 winner of the sustained excellence award. Snodgrass teaches playwriting and dramaturgy in the Creative Writing Program, and "is not only a consummate theater artist and playwright, she is an extraordinary teacher, arts advocate, and community builder," says Jim Petosa, director of the School of Theatre. And Creative Writing Program director Leslie Epstein, a CAS professor, describes Snodgrass' dedication and selflessness as "unmatched in any branch of the theater that I've seen or heard about. She is patient, not flappable, always encouraging, and filled with great and sensitive insight."
"I do love to help new writers," says Snodgrass, who beams over her playwriting students' successes at the Kennedy Center American College Theater Festival. "I have a passion for it, and I want to communicate that." Author of the much-anthologized award-winning play Haiku, which has been performed around the world, and The Glider (at BPT in 2004), which was nominated for the American Theatre Critics Association's Steinberg New Play Award and won the 2005 Independent Reviewers of New England Award for Best New Play, Snodgrass is also the recipient of a Theatre Hero Award from StageSource in 2001. She is a former Kennedy Center American College Theater Festival Chair of the National Playwriting Program, a former vice president of StageSource, Inc., a member of Actors' Equity, A.F.T.R.A., and the Dramatists Guild, and is currently a Huntington Theatre Company playwriting fellow.
Snodgrass has bachelor's degrees from Kansas University and Wichita State University and a master's from BU. She studied at the London Academy of Music & Dramatic Art (LAMDA) and in New York City with disciples of Michael Chekhov and Sanford Meisner. She has appeared at Lincoln Center, in regional theaters, and on national television. Her BPT directing credits include Blackout and Prayin' Hands by Tom McClellan, Michael Moss' Twosome, Kimberly Brown's Re: Pirth, Karen Zacarias' The Barechested Man, Joyce Van Dyke's Love in the Gulf, and Patricia Smith's Life after Motown. Snodgrass has taught at Wellesley College, Brandeis University, MIT, the American Repertory Theatre Institute for Advanced Theatre Training at Harvard, Suffolk University, and Lesley University, among others.
"No one in the Boston theater community has been unaffected by her generous and untiring support of our collective endeavor," says Petosa. "We are all the richer for the strength of her commitment to advancing the cause of every theater artist in the region." The Elliot Norton Award, he adds, "is much deserved and comes with the unanimous applause of the entire community."
The awards are named for the eminent Boston theater critic Elliot Norton (Hon.'80), who remained an active supporter of the stage until his death in 2003 at age 100. For 48 years Norton was a drama critic for Boston newspapers; concurrently, from 1958 to 1982, he was moderator of Elliot Norton Reviews on WGBH television.