Nightlife: BU Pub
Trivia, beer tastings, specialty sandwiches
During the summer months, BU Today is revisiting some of our favorites stories from the past year. This week, we feature stories from our ongoing "Nightlife" series, exploring various dining, music, and cultural options.
Tucked away in the basement of the Castle on Bay State Road, the BU Pub offers a relaxed environment for sitting back and enjoying classic bar food and a wide array of beers—at inexpensive prices.
We stopped by on a recent Tuesday to find tables of students gathered for the weekly Trivia Night, hosted by Josh Howard (CAS'13), Mike Amberson (CAS'13), and MC Emma Burns (CAS'13). Questions tested patrons' knowledge of politics, astronomy, geography, history, politics, and pop culture: "How many times has Britney Spears been married?" Answer: Twice. Howard, Amberson, and Burns come up with new questions for each Tuesday's contest, and prizes are awarded to the winners.
We decided to order some nachos while testing our trivia mettle. The loaded nachos, normally $7.95, are a bargain at only $5 if you're playing trivia. Topped with cheese, jalapeños, pico de gallo, olives, and chili, and served with sour cream and salsa—the dish was a hit.
The BU Pub offers an extensive food menu. Bar snacks include jumbo Buffalo wings ($8.95), spinach and artichoke dip ($8.50), mini sliders ($7.75), and pita chips with hummus ($4.25). Soups and salads are available as well.
We recommend trying the pub's BU-themed specialty sandwiches. One bite and you understand why they've become the pub's most popular item. Try the Politician (turkey, ham, Swiss cheese, cranberry sauce, pub spread, and onions), the Economist (bacon, mushrooms, cheese, sprouts, pepperoncini, onions, and pub spread), or the Master's (turkey, roast beef, corned beef, pastrami, salami, three cheeses, hot sauce, and three slices of bread). At just $7, they're not only delicious, but a bargain. There are other creative combinations to choose from as well.
In addition to Trivia Night, the pub is also popular for Monday night food specials, starting at 8 p.m., weekly beer tastings each Wednesday, from 6 p.m. to 8 p.m., and Thursday's karaoke nights.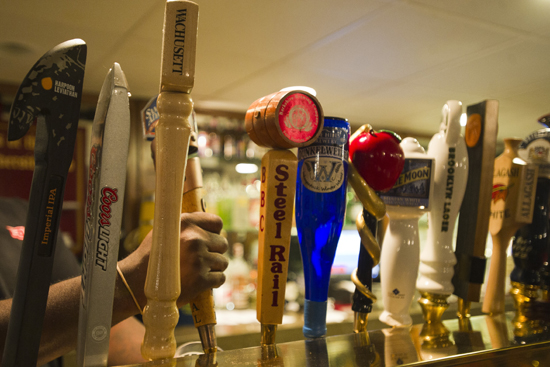 Speaking of beer, the BU Pub is known for its long-standing Knight's Quest challenge. To win, patrons must sample all 50 beers on the quest list. There are a few stipulations: you cannot order more than two beers in one day (one before 5 p.m. and one after 5 p.m.), and you must take more than four weeks to complete the quest. Stories abound of alums who began the quest as students and returned to complete the challenge after graduation. Once a person satisfies the requirements, he or she is feted with a knighting ceremony at the pub, where invited friends bestow a "knight name" on the person being knighted and the pub bestows a glass mug personalized with the knight name.
Gerry Dunn (CAS'13) was knighted this September. He started his quest the day after his 21st birthday, and says it took him about a year to complete. "It's an excuse to go to the pub and catch up with friends between classes," says Dunn. "And it's a chance to try a lot of different beers that you would never order otherwise."
BU Pub manager Josh Brochu estimates that between 50 and 75 people are knighted each fall, and nearly double that in the spring.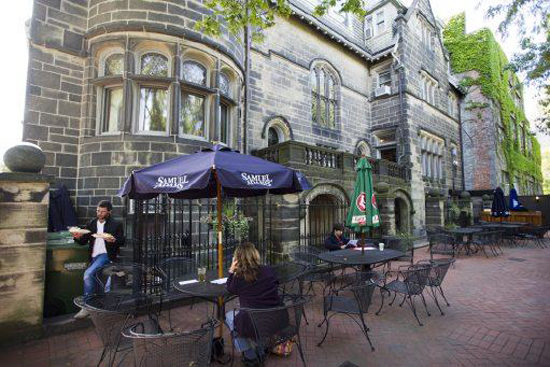 Even when the pub is not hosting one of its themed nights, there's plenty to do there. Two televisions provide news, sporting events, and popular television shows, and dart boards and shuffleboard are on offer as well.
The BU Pub is in the basement of the Castle, 225 Bay State Road; phone: 617-353-7782; summer 2014 hours: Monday to Wednesday, 11:30 a.m. to 2:30 p.m., Thursday and Friday, 11:30 a.m. to 8 p.m.; closed weekends. The BU Pub accepts MasterCard, Visa, Discover, and dining and convenience points and is open to faculty, staff, and students who are 21+.
This is part of a series featuring Boston nightlife venues of interest to the BU community. If you have any suggestions for places we should feature, leave them in the comments section below.
Andreia DeVries can be reached at adevries@bu.edu; follow her on Twitter at @andreia_dev.
This story was originally published on November 8, 2012.