Mayor of Terrier Nation Honored
Case Center lobby to be named for Elliot Driben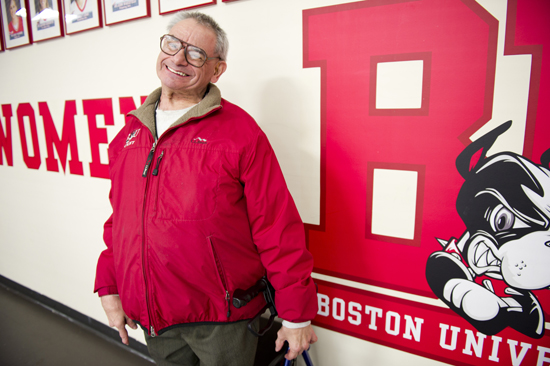 Elliot Driben is as synonymous with Terrier athletics as Boston University's mascot, Rhett.
A veteran of over 5,000 BU athletic events, Elliot, who has had cerebral palsy since childhood, began his association with BU in 1955 as a 10-year-old taking Saturday morning speech courses at the University with the late Albert Murphy. The School of Education psychology professor and Sargent College speech and language pathology professor took a liking to his pupil and got him tickets to a BU-Syracuse football game. Despite a lopsided defeat, a true fan of the scarlet and white was born that November night in 1958 at old Braves Field.
From that moment on, Elliot was hooked on sports.
When he was a student at Brookline High School, his special education teacher, Clem McCann, happened to be the school's varsity hockey coach. Before long, Elliot was a team manager and statistician for the school's hockey, basketball, baseball, and soccer teams. He earned his diploma and then headed into the workforce, taking a clerical job with John Hancock—a position he held for more than 30 years before retiring.
It was Tim Regan (SED'72), a standout goaltender for the Terriers' 1971 and 1972 back-to-back NCAA championship teams, who welcomed Elliot into the BU hockey family in the fall of 1968. As a freshman that year, Regan was in one of Murphy's classes and met Elliot, who was taking another speech class. Regan gave him tickets for the next Terriers' game, and before long, Elliot had met the rest of the team and developed the first of hundreds of long-lasting friendships with BU student-athletes.
Just before the Terriers moved into Walter Brown Arena in 1971, at the suggestion of Northeastern athletic director Herb Gallagher, Elliot began providing hockey fans with what became known affectionately as the "The Driben Report." This one-sheet insert, available in game programs and also in the press box (where it was nicknamed "The Dribble), provided updated standings and results from the Eastern College Athletic Conference. Elliot would trade scores late at night or the morning after a game with Bob Olson, the voice of the Michigan Tech Huskies and the originator of the first national college hockey poll. As each regular season wound down, he also started providing the local media with a sheet listing all the potential playoff scenarios.
In 1983, Elliot began traveling with the men's hockey team, and when football games prevented sports information director Ed Carpenter from making the trip, he let Carpenter know the scores and goals. Soon he started supporting several other Terrier athletic squads, quickly becoming a fixture at Nickerson Field and Case Gym. After moving into his own apartment on Babcock Street in 1991, Elliot began going to away competitions, hopping on team buses when his schedule permitted.
More than 50 years after attending his first BU sporting event, Elliot continues to keep up with a busy athletic calendar and can be found cheering for his beloved Terriers from his perch in centerfield at softball games, from above the south-end goal at Walter Brown Arena, from the dock of the DeWolfe Boathouse, from Eilberg Lounge, where he takes shelter from inclement weather at soccer and lacrosse games on Nickerson Field, or from his designated spots at each of the other venues.
Elliot isn't only the Mayor of Terrier Nation. He has been a generous financial donor to the athletics department for the past four decades. He joined the Friends of BU Hockey in 1972 and has supported the program ever since. A decade later, he began his annual tradition of donating money to every BU athletic program—from basketball and lacrosse to dance and pep squad. As time went on, he also gave annually to the student-athlete academic support center fund, and his support of the athletic communications department is acknowledged by a plaque in the Agganis Arena press box honoring his parents and sisters.
Elliot's greatest gift to the University, however, has been his ability to connect over the years with its student-athletes. Each fall, dozens of freshman Terriers are introduced to him, either by upperclassmen, coaches, or staff members, and they quickly discover they've made a true friend. And his interest extends far beyond students' performance on the playing field. He keeps track of the athletes' academic lives as well, frequently asking them about their studies and grades.
In recognition for his decades of commitment to BU, the Boston University Athletic Hall of Fame has twice honored Elliot—first in 1993, with a Special Recognition Award, and again in 2010, when he received the Roger "Moose" Washburn Memorial Award.
On Sunday, he will be honored yet again when the Case Center lobby is renamed the Elliot Driben Lobby. Student-athletes, coaches, former players, friends, and family will gather to celebrate BU's number-one fan for his legacy of friendship and support.
The Elliot Driben Lobby naming reception is on Sunday, May 6, at 4:30 p.m. at the Case Center Gymnasium Roof, 285 Babcock St. The event is free and open to the public. 
Brian Kelley can be reached at bkelley@bu.edu.