Lunch, Anyone? Toro
Spectacular tapas in the South End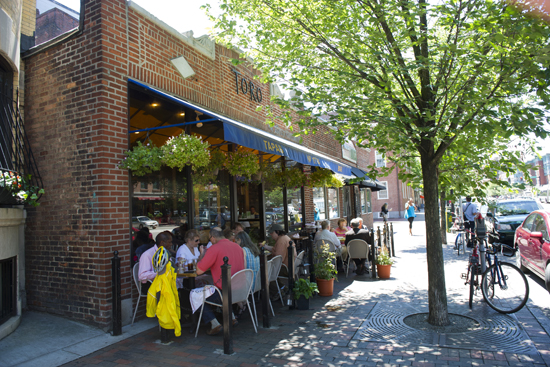 Time was when we saw tapas as merely a precursor to a meal. We'd order marinated olives or hummus as a warm-up for the entree to come. These small plates were usually forgettable. But a visit to Toro, the award-winning tapas restaurant in Boston's South End, was a revelation and changed our opinion of this Spanish cuisine.
Tapas consists of small plates of cold and hot appetizers that when ordered together comprise an entire meal. In much of Spain, where the lifestyle is more relaxed, plates are shared with friends and eaten over several hours of dining and conversation.
Founded in 2005 by award-winning chef Ken Oringer (known nationally for his appearances on the Food Network's Iron Chef) and run by him and Jamie Bissonnette (who won Food & Wine's 2011 People's Best New Chef Award), Toro is regularly named one of the city's best restaurants—as evidenced by the hoards of people lining up to squeeze in almost every night. (Note: the restaurant is small and does not take dinner reservations; seating is first-come, first-served.)
Even on our recent Monday afternoon visit, we found the place hopping—filled mostly with young professionals on their lunch break and moms with young children. Whether tapas novice or enthusiast, you'll find dishes here for every palate: the extensive menu includes vegetarian, vegan, dairy-free, gluten-free, and nut-free dishes.
It took a minute to adjust to the dark interior when we entered. The first thing that stands out is a long wooden bar that runs along its length. Hundreds of wine bottles peek out of the shelves. The chalkboard behind the bar lists drink specials (sangria, cocktails, and wines by the glass) and has a depiction of an angry bull stomping his foot. The middle of the restaurant has long communal tables, which make sharing food easy.
When the hostess finally appeared, we took our chances and opted to eat outside, since the weather was nice. Toro is on a busy stretch of Washington Street, but has carved out an intimate 10-table outdoor dining area.
As we sat down, we were handed a no-frills paper menu with dozens of items. The lunch menu is divided into five sections: pinchos (small bites), tapas frias (cold tapas), ensaladas y bocadillos (sandwiches and salads), tapas calientes (hot tapas), and paella (a traditional Spanish rice dish).
While we were spending a good 15 minutes just mapping out how best to attack the menu, our waiter arrived with a basket of bread—crucial for sopping up the dishes' sauces. Don't be afraid to ask for more. You'll probably need it.
Everywhere we looked, someone was eating bright yellow corn on the cob, so that was our first selection. The maiz asado con alioli y queso cotija, a house special of grilled corn smothered in aioli, lime, cracked pepper, and aged, crumbled cheese ($8), was amazing, perfectly blending sweet and spicy. Next time, we'll order two.
We moved on to the atun crudo ($15), fresh sushi-grade yellowfin tuna served in a light sauce of soy, spicy cucumbers, citrus, and avocado, both sweet and spicy. This was unlike any tuna we'd ever had.
We also ordered ostras en escabeche ($12), marinated oysters with grains of paradise (a West African pepper), lovage (a herb sometimes used in salads), and citrus. The four large oysters were plump and salty, served on mounds of sea salt on a cutting board.
Finally, we selected the datiles con jamon ($6), Medjool dates filled with Marcona almonds and Cabrales blue cheese, wrapped in Serrano ham. This was our least favorite dish. The dates were oddly sugary and in our opinion, didn't stand up to the rest of the meal.
When we return to Toro, we'll do some things differently. It was a mistake to order three dishes at once. Next time, we'll order more slowly. It's best to take your time, look around at what other people are enjoying, then decide what you want to try. Like at any good tapas restaurant, the dishes at Toro aren't inexpensive, especially if you're ordering enough to make a meal. If your budget is tight, you might consider a more filling sandwich ($8 for a fancy cheeseburger, $8 to $10 for a panini) or a salad served with chicken ($11).
Oringer and Bissonnette have opened a second Toro in the Chelsea neighborhood of Manhattan. Even in a city boasting some of the world's best restaurants, Toro should be a standout.
Toro, 1704 Washington St., Boston, is open for lunch Monday through Friday, noon to 3 p.m.; for dinner Sunday through Thursday, 4:30 p.m. to midnight (dinner hours vary, but the bar is open those times) and Friday and Saturday, 5 to 11:45 p.m.; for brunch Sunday, 10:30 a.m. to 2:30 p.m. The restaurant accepts all major credit cards. Reservations are accepted for lunch and brunch for parties of six or more. By public transportation, take an MBTA Green Line trolley to Hynes Convention Center, then the #1 bus to Massachusetts Avenue at Washington Street. It's about a two-minute walk to the restaurant. Or take the BUS (BU Shuttle) from any stop inbound to 710 Albany St., turn left onto E. Newton Street and left onto Washington Street.
This is part of a weekly series featuring Boston lunch spots of interest to the BU community. If you have any suggestions for places we should feature, leave them in the Comment section below. Check out our list of lunchtime tips on Foursquare.

This article originally ran August 1, 2012; it has been updated to reflect current information.
This Series
Also in
April 18, 2018

April 11, 2018

March 29, 2018