Lunch, Anyone? Brown Sugar Café
A taste of Thailand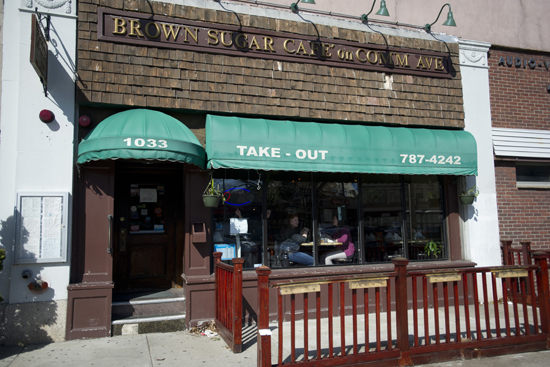 Brown Sugar does what any good Thai restaurant should do: combine tastes and textures that bring out the best in a cuisine noted for being spicy, sweet, sour, and aromatic. Visitors to this cozy Commonwealth Avenue restaurant won't be disappointed.
Walking to our table on a recent weekday, it was hard not to want everything we saw others eating. The lunch menu offers every Thai staple and delicacy imaginable. There are pages dedicated to curry, special rice dishes, noodles, fried rice, salads, soups, Thai-style dishes, and gourmet originals. Everything is fresh at Brown Sugar—kaffir lime leaves, galangal, and other ingredients that often Thai restaurants use dried. Vegetarians will be pleased by the wide selection—from the fried tofu triangles ($5.50) and vegetable spring rolls ($5.95) to the vegetable pad thai, noodles stir-fried with assorted vegetables, tofu, and egg ($8.50).
To buy some time to peruse the extensive menu, we ordered the satay beef appetizer ($7.95) (below) to share. The dish arrived promptly, the beef fresh and piping hot and accompanied by a sweet peanut sauce and a fresh cold cucumber sauce. Among our other favorite appetizers: the stuffed wings ($7.95), packed with minced chicken, vegetables, and Thai herbs, and the tofu triangles ($5.50), scrumptious crunchy nuggets of tofu with spring roll fillings and sweet sauce.
After a thorough analysis of the menu, we decided on the Drunken Noodle, flat rice noodles with onions, green beans, basil, and hot peppers, with a choice of chicken, beef, pork, tofu, or shrimp. We chose shrimp ($12.95). Loaded with fresh green beans, onions, basil, and hot peppers, this stir-fried concoction put any noodles and vegetables I could have prepared to shame. The tangy, yet not-too-hot sauce served with the noodles was so good, I wished the restaurant sold it bottled so I could pour it over hamburgers, salad, and waffles at home.
My more adventurous friend ordered one of Brown Sugar's Thai-style dishes, Duck Choo Chee ($15.95). The tender duck was sautéed in a spicy red curry sauce with hints of coconut and lime that gave it a nice balance. Here again, it was the vegetables that set this dish apart from what you'll find at other Thai restaurants. The snow peas, summer squash, zucchini, and carrots were steamed to perfection.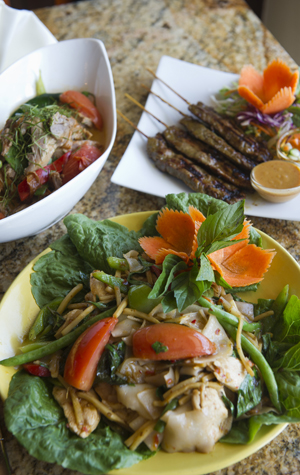 If you're a fan of curry, you won't be disappointed. Brown Sugar offers red, green, and yellow curry ($11.95), each seasoned with basil and coconut milk, with assorted vegetables and fruits and a choice of chicken, beef, pork, tofu, shrimp, duck, or vegetarian ham. The salads are also quite impressive, from Som Tum Papaya, with shrimp and papaya strips ($10.95), to the Brown Sugar salad ($9.95), a feast of garden fresh greens topped with turmeric chicken, sliced tofu, and hard-boiled eggs.
Neither of us managed to finish our food and wound up taking leftovers home, but we wanted to try one of the restaurant's unique desserts, which include ginger and mango ice cream ($5.50), Brown Sugar Custard ($5.95), and a must-try chilled lychee ($4.95). We opted to split a dish of fried ice cream ($5.95), which arrived as a perfect sphere in a little sundae glass. We consider ourselves fried ice cream experts, and happily, Brown Sugar's had the perfect crust to ice cream ratio. Drizzled with honey, it provided just the right amount of light sweetness to satisfy us, ending the meal on a high note.
Brown Sugar Café is a cozy place. With its mix of professionals and students sitting at tables of different sizes, it is easy to feel at home, whether you're dining with one friend or 20. There is always something to look at: the walls are decorated with butterflies and statues are scattered throughout. We were seated next to a tank of unique but happily cohabiting fish. The restaurant is a great place to celebrate birthdays, too, converting from a relaxed, quiet venue into a club complete with strobe lights, disco balls, and singing waiters who do an exceptionally thorough job of embarrassing the birthday star.
Brown Sugar Café is at 1033 Commonwealth Ave., Boston. Lunch is served Monday to Friday from 11 a.m. to 3 p.m. and dinner from 4 to 10 p.m.; Saturday and Sunday, lunch is from noon to 3 p.m. and dinner from 4 to 10:30 p.m. The restaurant takes all major credit cards and delivery is available. For take-out orders, call 617- 787- 4242. By public transportation, take the MBTA Green Line B trolley to Commonwealth Avenue and Babcock Street, or the number 57 bus to Babcock Street.
This is part of a weekly series featuring Boston lunch spots of interest to the BU community. If you have any suggestions for places we should feature, leave them in the comments section below. Check out our list of lunchtime tips on Foursquare.
Sierra Brown can be reached at hokulele@bu.edu.
This Series
Also in
April 18, 2018

April 11, 2018

March 29, 2018